The organisers of pop-up cafes where householders' goods are repaired are now calling for a shopping centre next to one of Cardiff's tips.
The centre would be based on a Swedish model, made famous by a viral video featuring a shopping mall next to a public tip near Stockholm.
Its 14 shops stocks goods which are all recycled or upcycled.
Repair Cafe Wales, where volunteers fix household items for free, says Cardiff council has an "amazing" opportunity to do the same thing.
Dr John McCrory, Repair Cafe Wales co-founder says, "We believe the council should act now because the public consensus is there and it's something that can really improve life and the environment."
Jane Henshaw, Labour councillor for Splott, where one of Cardiff's repair cafes is based, also believes it's an "absolutely brilliant idea" which "can't happen quickly enough".
At the moment,  people can donate unwanted household goods to the British Heart Foundation charity by putting them in shipping containers at city recycling centres. Dr McCory says this is a step in the right direction but feels there is "room for more to be done" and CJS News has asked the council for a comment.
Repair cafes have proved so popular that in just under two years of starting, there are now five within Cardiff and two opened in Swansea last month.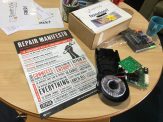 They aim to reduce waste and to provide a social connection for people.
Tea and coffee with biscuits and cakes are available while people wait for their items to be fixed and conversation is encouraged.
The Swedish shopping mall was set up in 2015 and since it opened has sold £2.8m worth of products with 700 visitors a day last year.