Hundreds of Welsh school children, some as young as primary age, are skipping lessons today to protest against climate change.
They are outside the National Assembly for Wales as part of a nationwide campaign calling on governments to declare a climate emergency.
Youth Strike 4 Climate comes in the wake of a UN report which warned urgent action is needed to limit global temperature rises which worsen the risk of drought, floods, extreme heat and poverty for hundreds of millions of people.
Cardiff protest organiser Beth Irving, who's in the lower sixth at UWC Atlantic College in the Vale of Glamorgan, said: "It's an issue that should have been the defining issue of the last generation. Instead people have been ignoring it and it's reached a point where we can't not address it any more.
"We have to make a change otherwise it's going to become irreversible."
The Cardiff protest coincides with strikes taking place in 60 cities across the UK.
The movement, inspired by 16-year-old Greta Thunberg who protests every Friday outside Sweden's parliament, has seen school strikes across the globe.
17 year old Beth Irving organised Cardiff's protest after hearing about the plans.
Talking to CJS News, she said:
"It should have been the defining issue of past generations, but instead people have been ignoring it and pushing it to the side. It's reached a point where we can't not address it anymore."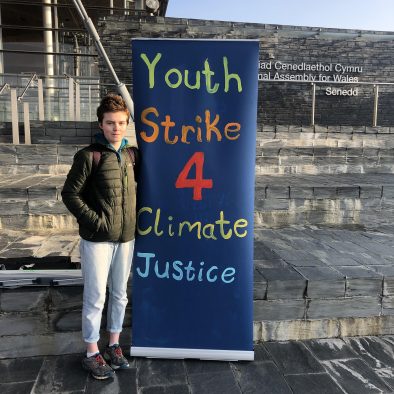 The protesters have four key demands:
They want the UK and Welsh Government to declare a state of climate emergency
They want reforms to what's taught in schools so children learn about climate change
They want people to be educated on the ecological crisis and why it's important to act now
They want the voting age to be lowered to 16 so young people can have more of a say
The National Association of Head Teachers (NAHT) said it supported the right of young people to express themselves but it did not condone students being out of the classroom to take action.
An NAHT statement said: "While a school leader's role is to ensure children attend school, are kept safe and receive a good quality of education, it is right that individual school leaders can decide how best to respond to any proposed protest by students in their school on Friday."