Rise of community gardens in cities are one way to help people to connect with nature and improve their well being. What has been the impact on Cardiff's communities?
Kneeling in the vegetable bed, Ellery's mother passes her the tool she asks for, as she rolls up her sleeves. The pair then set to work, pulling out the weeds and tidying the patch in perfect harmony, laughing and chatting throughout. They made their way here after the end of Ellery's working day; the prospect of their favourite Monday evening tradition removed all the fatigue she felt.
"As a child, we lived in a house, where we had a really big garden. Now that I'm grown up, I live with my mum in a flat, where we don't have one. I feel like this is our way of giving ourselves what we've been missing out on – nature. " says Ellery. For them, Canton Community Garden is a place where they get to spend some quality time together in the midst of nature; precious in her world of mostly looking into screens.
Credits: Poppy Nicol

Credits: Ishah Speers

Credits: Christian Phelps
Community gardens are public green spaces, where people come together to grow a wide variety of flowers, herbs, fruits and vegetables, or even take care of wildlife. In 2019, academics at the University of Sheffield concluded from their Improving Wellness through Nature (IWUN) project that there is a measurable improvement in people's physical and mental wellbeing when they are around nature.
Alice Taherzadeh, an early stage researcher at the Sustainable Places Research Institute, has researched why Cardiff's five community gardens are such an integral part of the society that visits and works in it.
"It integrates something that is very communal, which is food, both growing it and sharing it, and also all the wellbeing aspects around being outside and interacting with nature" she says. "Having a really nourishing space where they can interact with other people, forming those bonds with the community."
A Retreat
Noting the link between green spaces and mental health, one of the gardens' missions is to ensure that the people who visit are transported into a different, more peaceful world where nothing seems to matter except the land.
In the Quiet Garden at St. Peter's Community Garden, all those who seek to be alone with their thoughts find themselves welcome. The Quiet Garden is dedicated to contemplation, peace and meditation. The garden was designed to be as relaxing as possible, with the planting of colourful flowers, and the installation of a water fountain.
In the many years Ian has spent at the garden, he has seen visitors turn volunteers here, allowing the natural environment of the garden to give them peace while they come to grips with normal life. Over fifteen organisations visit and use the Quiet Garden as balm for a variety of reasons – to help with mental health issues, PTSD, and learning disabilities. St. Peter's Garden aims to build confidence, social inclusion and self-esteem by running five skill projects a year, under Ian's skilful eye.
Rosanna Riches, Garden Supervisor at St. Peter's Garden, says "A lot of people who have mental health issues often feel isolated, and the point of a community garden is to bring people together so that they don't have that sense of isolation anymore – so they can feel included socially with everybody else."
Everyone is welcome
The themes of encouraging social inclusion stand across all gardens. Global Gardens, in a partnership with the Trinity Centre, held a project called Soil and Clay, which aims to improve the health and wellbeing of asylum seekers and refugees. Through regular sessions on gardening, ceramics and preparing food together, the project aimed to give them more connection to the local land, and help their transition to the new environment.
"I remember one man, who really loved shades of green, telling me how beautiful the surroundings were."

Poppy Nicol, Project Co-ordinator at Global Gardens.
"From my experience, some refugees and asylum seekers have a connection with the land, and growing. When they suddenly arrive in the UK, for a lot of them, they like feeling welcomed, and being able to work with their bodies, and seeing the green spaces." she says
The program saw an enthusiastic response from its participants, and today, Global Gardens sees visits from groups of asylum seekers working diligently and enthusiastically, enjoying the peaceful environment, or the encouraging company.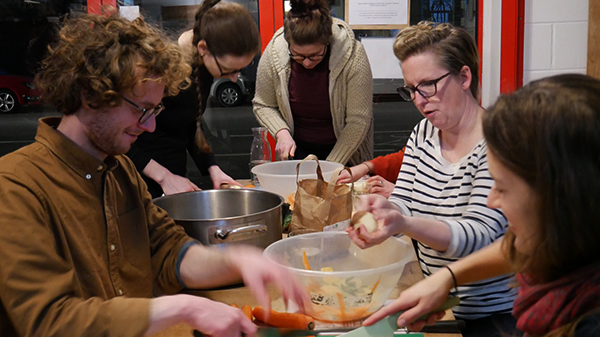 A visitor to the garden might notice groups of volunteers sitting down to tea and biscuits, or lunch, laughing and chatting with each other after a long day of work. They will be greeted with a cheerful smile, and handed a cup of tea, and told to make themselves at home – of course, without a warm welcome, is their visit truly complete here?
Several people have been attracted to the gardens for the chance to meet new and interesting people, and volunteer at the gardens to make new friends as well. Several volunteers have started at the gardens after retirement, in order to give them some extra work in the middle of this new phase in their lives. Carol looks up from raking the soil at Mackintosh Garden and grins at Liz, who is volunteering with her at the moment. "This place is so good for me," she says. "It's given me an opportunity to meet so many interesting people."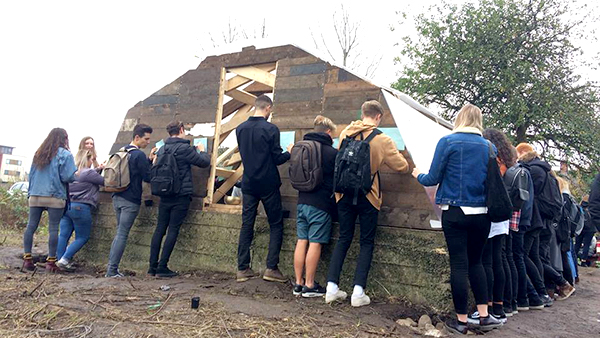 Louis, Project Manager at Riverside Garden, met Tony when he started volunteering at the garden. Their shared passion for music has made them fast friends; with the duo now working on a musical project together. "I might not have met Tony if we hadn't been at the garden together", admits Louis. "That's the amazing thing about community garden, you may get to meet people you might have never seen otherwise here. A lot of volunteers are attracted because of the socializing."
Making the community feel welcome and engaged is the mission of all the gardens. Every last Monday of the month, Global Gardens holds a community supper at Cathays Community Centre, which are open to the public. The suppers feature a rich, experimental variety of cuisines, made with loving hands by members of the community and the garden volunteers. Sitting down at the table, laughter and conversation flow easily – the suppers are a wonderful chance to foster unexpected friendships.
A Community Development Centre
Lucy, on the first day of her artists' residency at Global Gardens, after a hard morning of volunteering, sits down at the wooden table under a tree, notebook open, the words of a poem beginning in her head. Like her, Global Gardens has welcomed many artists, who have sat down, perhaps to sketch or paint on canvas, or to write pieces inspired by the gardens – some even to paint the plants around the place.
The garden has lent its grounds to experimentation and do-it-yourself projects, to encourage members of the community – its greenhouse was built by first-year architecture students at Cardiff University. A visitor there might see a huge group of people there for a day of play, laughter, food and learning. He might be inspired to drop in for one of Global Gardens' regular workshops on topics such as biodynamic planting, salad growing – and even creatively inspired ones such as making dyes and inks out of garden plants, or nature-inspired creative writing.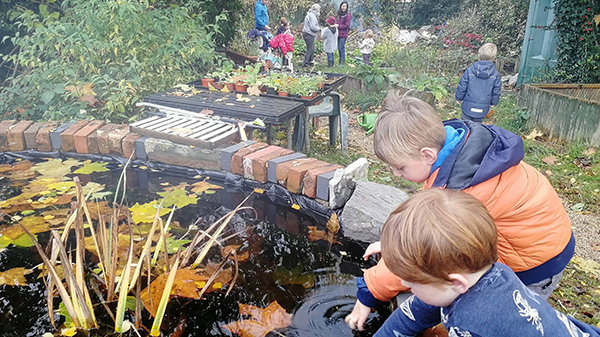 Giving visitors an educational experience is also a key goal of the gardens. Groups of schoolchildren regularly visit, brought by their teachers to learn about the world of plants and nature, a world that they may not be able to see within their classrooms. At Canton Community Garden, students from Radnor Road Primary School spent their time drawing pictures of fruits and vegetables, to be used in a series of bilingual recipe cards, thus tapping into their creativity, and having fun at the same time.
Whether as an educational centre, a community hub or a retreat, the gardens have always aimed to be a port of call for members of the community. A person is free to drop into the gardens at any time to pick any of the flowers, or take any of the fruits and vegetables for their use. They are free to sit down in the peace and quiet of the garden, and enjoy a brief respite from the hustle and bustle of the city. They are free to pick up a shovel, and started planting, if they come in looking for some work.
They enter with the assurance that that their needs will be met.
"Sometimes, I think to myself 'Ah, I don't want to go'!" says Lucy, breathing in the fresh, natural air. She smiles at her notebook, inspiration flowing as a robin perches peacefully on one of the beds. "Then, the second I make my way down here and see it and feel it, I tell myself 'That's why I come here'