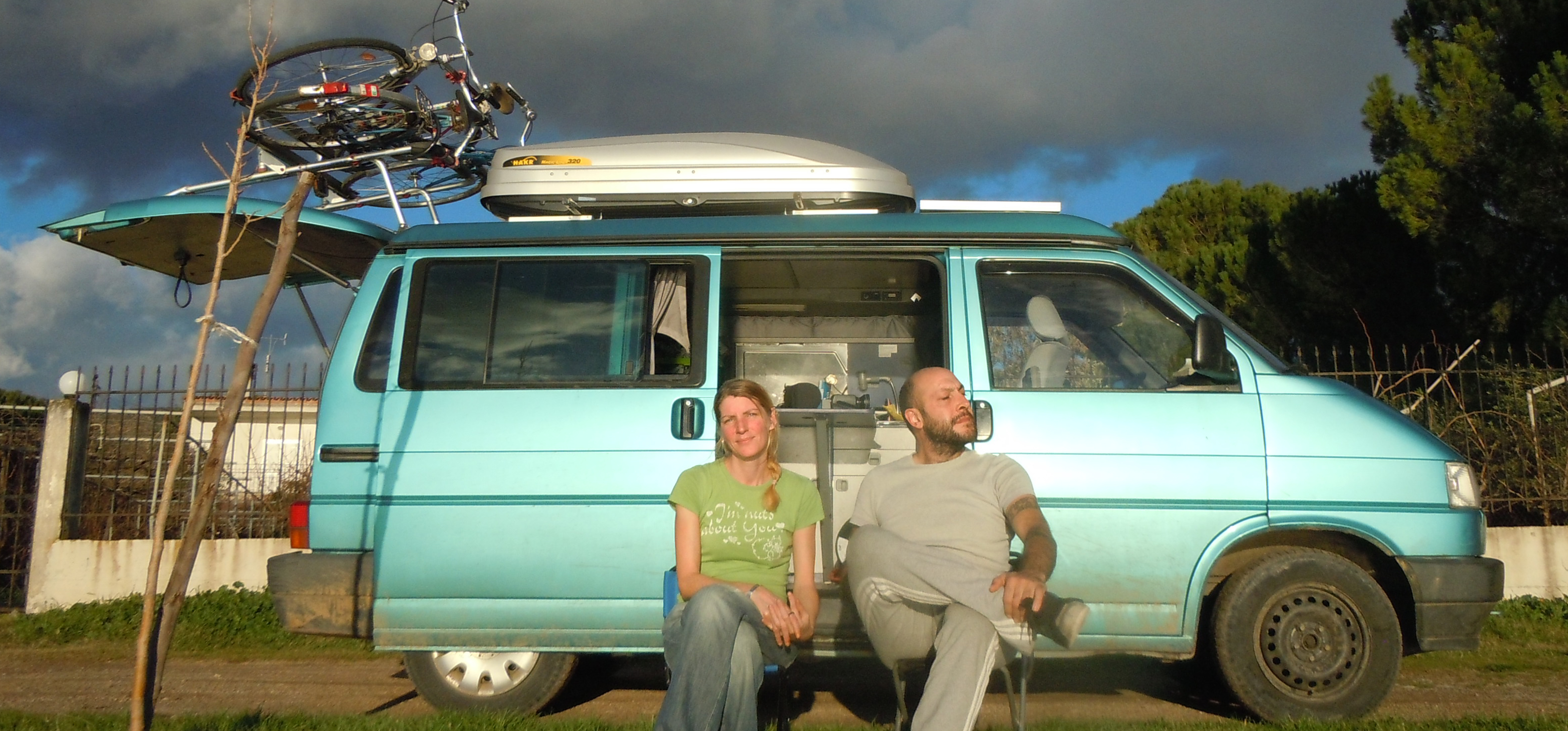 Meet the couple who have travelled far and show no sign of slowing down
Armando Costantino, 40, and Mel Candea, 43, met in 2009 and have now been on the road in their 1995 VW Westfalia, Mork, for five years. With Armando originally from Milano, Mel hailing from Montana and their dog Ziggy picked up along the way in Morocco, the couple are nothing if not well travelled. We caught up with Mel to ask a few questions about their experiences of life on the road.
First of all, where are you guys currently based? 
"We're currently based outside of Rome, Italy. Our friends offered us a parking space at their home so that we could take a few weeks to work on and hopefully finish some of our travel projects. We'll be going back to Sicily in May for an intensive workation on a new project – after that, we'll see."
How did you meet each other?
"We met in Brno, the Czech Republic in 2009. I was living there, teaching English and writing online. Armando and a friend were just passing through. We had a nice moment and stayed in touch off and on, through Facebook and Skype until 2012, when he showed up on my doorstep again. Ha."
After 5 years has it got any easier to live together in such a small space?
"I think it's a lot easier for us now as a couple than it was 5 years ago. One thing a lot of people don't realize is that you adapt to your space. I feel much freer in the van parked on the seaside or in the mountains than I would in a small flat, always in the same place.
The great and ghastly thing about living in a van as a couple is that it's intense. You can't hide, you have to deal, warts and all. A very positive part of it is needing to create communication and keeping it clear. When you only see your better half a few hours each day, it's easier to miscommunicate than 24-7 in a van. It's not always pretty, but it's great for the relationship."
Why did you both decide to make the move to van living?
"When we began a romantic relationship in the summer of 2012, we both wanted a change in lifestyle. We were bored with static and both wanted to travel. The easiest solution (especially considering all of Armando's gear as a filmmaker, and all of his clothes as an Italian – much more than me at the time!) buying a van was logical. Especially compared to flying, taking public transport, etc."
Do you find it difficult to work from the road?
"Initially, it was. When we started out, 'digital nomads' were a fresh concept and #vanlife wasn't even a glimmer on the horizon. We were dependent on 'internet cafés' or free neighborhood WiFi hotspots. We sometimes had feast or famine working as freelancers: too much work, with no down time or not enough work and money to travel far.
Now it's a lot easier. We have solar panels both of our computers can plug into for charging; a mobile WiFi router; established clients; and projects that give us a lot more leeway in what we choose to work on."
Can you tell us a little more about Mork?
"Our van was a serendipitous find. We'd barely started to look into buying a van in the Czech Republic and Armando spotted a bright blue van in Prague. He found the owner to just ask some questions about it, and it had just been put up for sale 3 days earlier. We bought it within the week for €6,000 in pretty great condition.
It's a 1995 VW Westfalia T4, in Jamaican blue. We have a fridge; a stove top with 2 gas burners; a sink; a couch that folds into a bed, plus a bed up top.
We added the solar and also have a solar shower on top, along with extra storage for our insulation and such. Right now we're in a debate on whether to remove the pop top (we rarely use it) for an extended hard top, to get a little more space. The jury's still out."
What has been your best adventure yet?
"We can't really say 'best,' because there are too many and it's really subjective! Most spiritual would be Meteora. Where we'd go back in a heartbeat? Berlin, Sicily and Portugal in the south. Recent adventure? Going to some local hot springs in Sicily and getting deeply stuck, to where Armando found a local tractor manufacturing company that were kind enough to pull us out. They laughed at us, but apparently we weren't the first.
I think a lot of people see Instagram posts of living in a van and it sugarcoats the full experience. It's life, no matter where you sleep at night – and that means that there are hiccups and downsides, too. Perhaps our best adventure is just what we're doing: living and travelling Europe in our van."
Do you have any exciting trips planned for the future?
"We try not to plan too far into the future, because the 'best laid plans…' and such. Sicily in May; and then either the UK/Ireland/maybe Iceland or Serbia/Slovenia/Croatia. It will depend how much time we have, since cold weather plus van living is not a great combination."
What is the absolute best thing about living life on the road?
"We have full freedom, together. Every day we spend quality time with each other. We're outdoors a lot. We get to be inspired from places and people. We get to challenge ourselves in positive ways. I think it makes us both feel more connected, not less connected. We can't imagine living any other way."
If you want to know more you can follow Armando and Mel on Facebook, Twitter and Instagram, or take a look at their own site here.