A local charity in Cardiff says BAME women are scared to report hate crime to the Police.
Women Connect First says women are less likely to report hate crime because of social stigma, and a lack of trust in the system.
According to recent figures from the Home Office, hate crime in England and Wales has increased by 17% since last year, 76% of which were racial.
The charity has been working with South Wales Police to address the issue and has been arranging events to build relationships between women in the community and the force.
An annual cookery competition between police and the charity is one of the joint events and today ,Tuesday December 11th, the semi finals have been held at the police headquarters in the city.
Women Connect First says the event encourages open communication, increases confidence, and breaks the stigma felt when talking to the police.
Event organiser Amal Beyrouty says "usually (hate crime) is hushed as it's a taboo in their culture to have been attacked. It's hushed because they have no confidence in the system, and they would think nothing is going to be done".
She says that events such as these won't stop hate crime but are a way of facing it head on.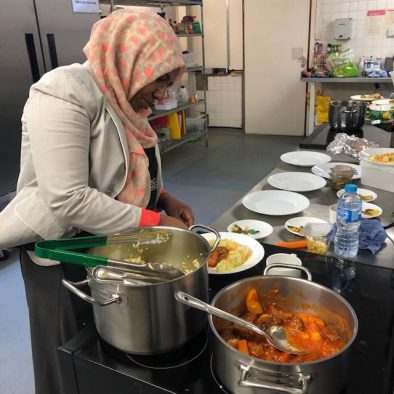 Sector Deputy Inspector Kevin Jones, says the competition "builds bridges and breaks down barriers" as it creates a point of contact for the women.
A traditional meatball and potato dish from Belgium was the winner of this heat. The final will be held next week.
Women Connect First is a local charity who work black and minority women in Cardiff and South East Wales.