People in Gwaelod-Y-Garth say they are in imminent danger from dangerous trees that lean over their homes.
An independent survey commissioned by residents has found that five trees of around 23 metres in height are at risk of collapsing.
The survey was commissioned after what residents say was a lack of safety assurance from the council, and found one ash tree required an "emergency takedown" within 24 hours.
Published at the end of October, the report was immediately shared with Cardiff Council who have said that work to remove one tree and reduce another by 30% in size will not happen until February.
The survey also recommended that three other oak trees have a decay detection survey conducted within four weeks.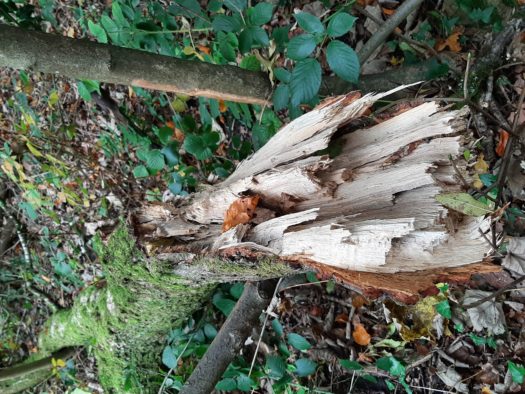 Nick O'Keefe lives on the road and says that he is concerned for the safety of his son and daughter who sleep in the front bedrooms of his house, directly below the trees. The road is also a main route for many children who walk to Gwaelod-Y-Garth Primary School.
Initial concerns about the trees on council-owned land were raised by residents to the parks department of Cardiff Council in 2016.
After visible deterioration and multiple requests to the council for assurances over the trees' condition, residents decided to take matters into their own hands and paid approximately £600 for Wilson Tree Surveys in Ceredigion to carry out a safety and condition survey.
It was only a fortnight ago that Cardiff Council informed residents that they will take action but the date for the work is yet to be set.