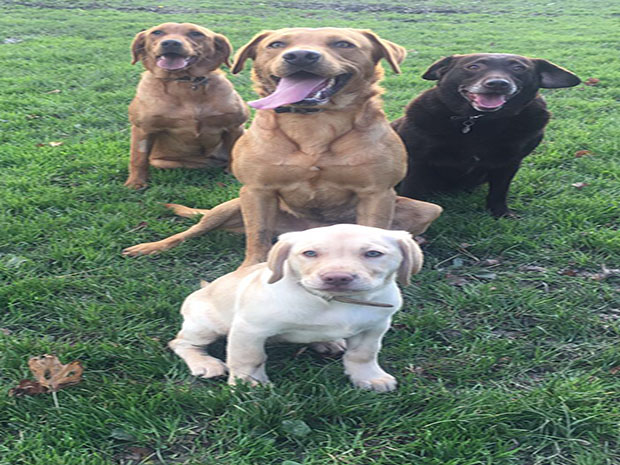 TWO dogs who died after going for a walk in Llanrumney had been in contact with a poisonous substance, police have confirmed.
Nathan Jones, 35, from Llanrumney, said his kids had been left devastated by the deaths.
He walks his four dogs around Eastern Leisure Centre in Llanrumney every night.
Anna Hammond, South Wales Police press officer, said: "A Llanrumney resident contacted police on January 30 to say his two dogs had sadly passed away after he believes they were poisoned.
"We have received confirmation from a vet that the dogs died after coming into contact with a poisonous substance."
Mr Jones said: "The morning after I took them for a walk the dogs became lethargic. Belle the chocolate lab was sick and we stopped their food.
"On Monday morning, I went to work and my wife called me crying saying Willow had passed away. She had kidney failure so we took our other two dogs to get tested, which came back clear.
"Belle had to stay overnight at the vets and seemed to be getting better but she got worse and had to be put down."
The post-mortem for Willow showed the kidneys were full of blood and the dogs had been poisoned. It may have been rat poison or ibuprofen but the vets were not able to confirm what it was.
Mr Jones' two remaining dogs, Max and Luna, have also become ill and are receiving specialist treatment in Bristol.
His three children Elise, 15, Isaac, 8, and Ava, 5 are devastated.
"The kids have hardly smiled all week, my daughter grew up with Belle and they were best friends," said Mr Jones.
"We want to warn other dog owners because I wouldn't want this to happen to my worst enemy."
Llanrumney Labour councillor Keith Jones said: "It is depressing to hear of the incident concerning Mr Jones and the dramatic circumstances that have befallen his dogs.
"Public open space is to be treasured, nurtured and respected. We call on all residents to keep an eye out and report any suspicious behaviour that they witness, on our parkland."
South Wales Police added: "Dog owners in the area should be vigilant and anybody who does have information is urged to contact 101 immediately quoting reference 037137.
The family are looking to raise £8,500 to help fund the medical bills for Max and Luna at a specialist vet in Bristol.
Donations can be made here.