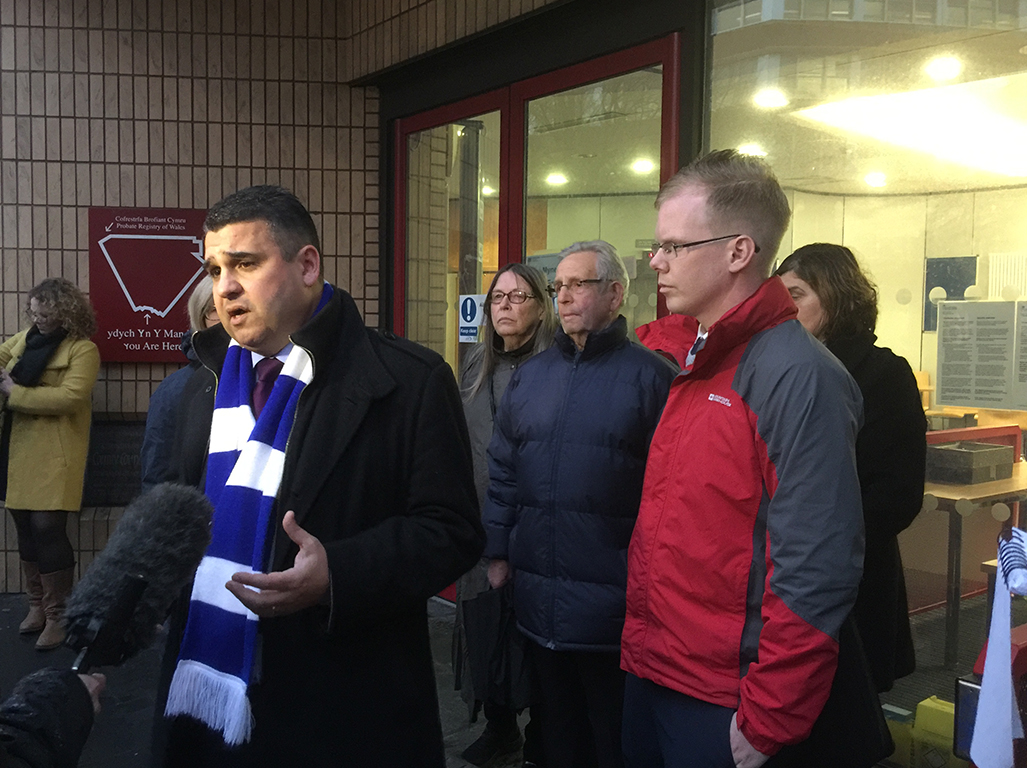 COUNCILLOR Neil McEvoy has described his one-month suspension from Cardiff Council following a tribunal ruling as "a sad day for democracy".
Speaking after the tribunal this afternoon Mr McEvoy, Plaid Cymru councillor for Fairwater, said: "I would like to express my complete contempt for the whole process.
"It's a sad day for democracy. What happened is exactly what I predicted would happen."
During the tribunal the Adjudication Panel for Wales ruled that the councillor had breached the Cardiff Council code of conduct for "bullying behaviour" towards council officer Deborah Carter.
As a result Coun McEvoy will be disqualified as a councillor for one month. The maximum penalty he could have faced is five years.
The incident in question took place on July 23, 2015, after Coun McEvoy attended an eviction hearing with a Fairwater constituent.
Mrs Carter told the panel that after the hearing the councillor told her "I can't wait until May 2017 when the restructure of the council happens".
The finance team manager said: "I took it to mean that there might be some threat to the work I do for the council in future should [Coun McEvoy] get in power.
"I understand exactly how difficult it is in those situations…but I was quite shocked and I did consider it as a threat to me."
In response Coun McEvoy said that the words were said to comfort his constituent and not aimed at Mrs Carter.
"My constituent was extremely distressed. This was just one of a number of things I said to her," he said.  
"I was very fearful she was going to attack the staff. She felt that if she went to custody she would have a roof over her head." 
Overall the panel ruled Coun McEvoy's comment failed to show respect and consideration for others but did not bring the council into disrepute.
"You wanted to upset Mrs Carter and show that her job in future could be at risk," said Panel Chair Claire Sharp.
The panel added that they found Coun McEvoy's evidence to be evasive and that the timeframe given for events was not credible.
"We are not able to put a great deal of weight on his evidence," they said.
During the tribunal, barrister for Coun McEvoy Jonathon Mendus Edwards highlighted that the complaint to the ombudsman was made by Labour councillor Paul Mitchell and not Mrs Carter.
"There are too many complaints by Councillor Mitchell and others and they are aimed at stopping an effective politician," stated Mr Mendus Edwards. 
However barrister for the ombudsman Gwydion Hughes disputed the claim. He said: "You have the independent intervention of the ombudsman so what you get is not Councillor Mitchell and Councillor McEvoy quarrelling and using this process for collateral purpose."
Mr Hughes also noted that neither Mrs Carter or fellow witness Mr Skinner had any political intent.
"Neither has a real axe to grind. Neither had advantage to gain from this process," he said.  
Despite this after the hearing the council Coun McEvoy stressed that he was not able to call the witnesses he wanted, including Coun Mitchell.
The Fairwater councillor added that he was not sure whether he will call for a judicial review in light of the results.
"As it stands now we need to decide where best to use our finances, where best to use our time. It may well be in making sure we get rid of this very corrupt Labour party in this city."