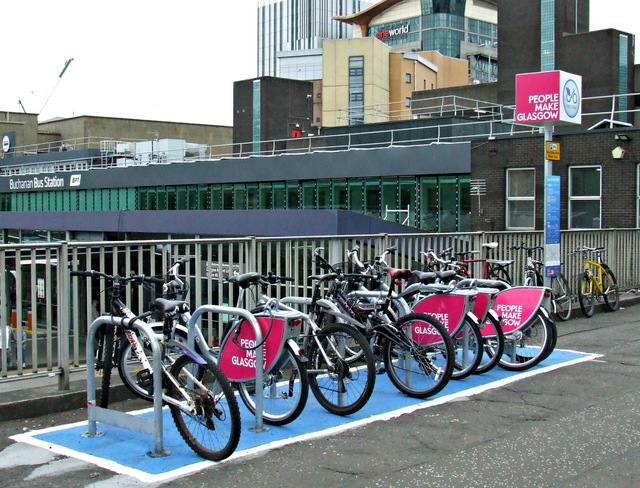 THE Welsh government is to provide £800,000 towards Cardiff's new cycle hire scheme.
From May 250 bikes will be stationed at 25 points around Cardiff. This will be increased later to 500 bikes at 50 points.
Residents can have their say on where they'd like the stations to be set up here.
In 2009, 70 Oybikes were stationed around the city in 10 locations in a pilot scheme which ended in December 2011 due to poor take-up and a lack of sponsorship.
After several years of campaigning, a new scheme is set to begin, part-funded by the Welsh government, with Nextbike investing heavily. 
Cabinet Member for Strategic Planning and Transport for Cardiff council, Caro Wild said: "Campaigners and politicians alike have been calling for a scheme to come to Cardiff for a few years now. The market has changed in the last few years with more companies coming forward to invest in cities with growing cycling cultures."
However, some Cardiff residents think the infrastructure funding would be better spent improving the quality of the roads and making the city more cyclist friendly before money is spent on a cycle hire scheme.
One Twitter user, Wilhelm von Jones, said: "None of these councillors or politicians will cycle daily and experience the dangerous conditions. We don't have a proper safe infrastructure in place. Until then, the only areas we could encourage use are in our parks which are unprepared and don't have paths wide enough."
Ian Perry from Cycling Cardiff campaign group said: "We need to think about what people will use the bikes for and why, and in Cardiff this will mainly be people travelling to and from university. This would mean that there would be a huge task of redistributing the bikes in vans to ensure that demand can be met for the bicycles.
"The general consensus among the public is that, if the scheme had the proper infrastructure to support it, including more safe cycle lanes, it would be fantastic. However, there are concerns that the scheme will fail like the pilot as the same questions are yet to be answered.
"If the scheme is too small then it won't work because people won't be able to rely on the fact that there will be a bike for them to pick up and cycle to work, then cycle home. You wouldn't catch a bus somewhere if you didn't know if you could catch one back."
Coun Wild said: "I agree entirely that we need to improve our basic cycling infrastructure, and that is what we are committed to doing. There is no set order these things need to happen, however. And the more bikes that are around the city the quicker we will change car driver behaviour, journey habits and cycling culture in Cardiff."
Mr Perry said: "We need to encourage people to get cycling and reduce the number of cars on the roads with more car sharing. However, people need secure places to park their bikes and to feel safe.  
"Cycling on the roads, alongside the heavy traffic, is only for a small niche and those people are already cycling and have their own bikes. If we are to encourage more people to we need proper segregated paths."
Mr Perry, thinks that a Bike and Go scheme in which bikes could be picked up from the station by commuters and returned at the end of the day would be more more practical.
"There would be no need for redistribution and the bikes could be maintained more regularly as they would all the in the same place, the problem with the bike hire schemes is that the bikes are always on the streets so hard it's hard to keep them maintained," he said.
Some people are more optimistic. Chairman of Cardiff Cycle City, Gwenda Owen, said: "It's a chicken and egg thing partly. Growing a cycling culture needs things to happen as part of a strategic plan but also as opportunity arises.
"Hopefully the Next Bike scheme will increase demand for infrastructure and so make it politically viable to do. The public are not there yet with giving up car space to bikes but if we did nothing until there was proper cycling infrastructure I don't think it would get built."