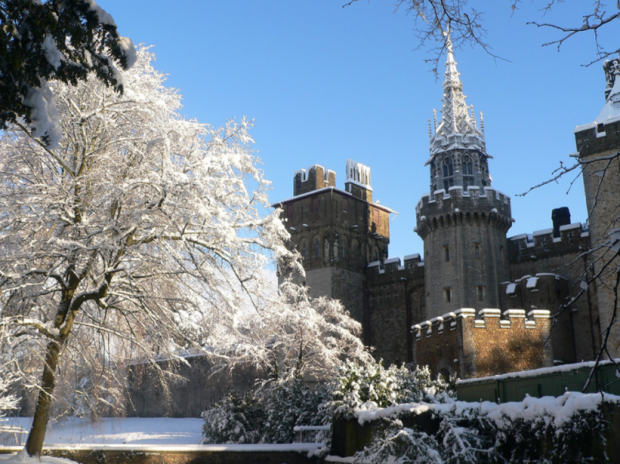 STORM Emma has certainly left its mark on the city, but this certainly isn't the worst Cardiff has suffered…
A two month long cold snap in 1947 made life even tougher  for a country already trying to recover from the Second World War. Historically recorded as the worst winter of the 20th century, the conditions covered many areas in snow up to 30cm deep.
Coal was already in short supply following the war effort, and now trains and lorries struggled to get what limited stocks that were available through to the power stations.
Eventually, power stations simply ran out of fuel and were forced to shut leading to widespread power cuts. People also feared a food shortage as farmers could not tend to and distribute their produce.
In March 1947, the weather continued with even greater ferocity with temperatures below -20C in a number of places. When the temperatures finally began to rise, the thaw created a whole new problem bringing significant flooding. March 1947 is the wettest March on record.
Wales was spared from any serious snowfall for just over a decade following 1947, the next severe winter of note coming in 1962, as a blizzard swept its way across Wales with snow drifting to more than 20ft.
Lakes and rivers froze across the country and there were even reports of the sea freezing in Penarth.
Most sporting fixtures were called off, except the Wales v England rugby match which went ahead at the National Stadium. Ground staff covered the pitch in straw to keep it free of snow.
It was so cold that teams had to wait in the changing rooms while the anthems played. There were also cases of players getting frostbite. Winger Robert Morgan reportedly suffered a wide frost weal that began at his temple and reached his hip.
Wales lost the game 6-13.
Keeping with the rugby theme, the next storm blew in just after Wales had played Scotland at the Arms Park in 1978, leaving hundreds of fans stranded in Cardiff.
Radio presenter Roy Noble told the BBC: "After the rugby we all dashed off to the nearest hostelry for a beverage or two. It was when we emerged that the shock set in; it was snowing heavily.
"So heavy in fact that many people didn't make it home at all. They had to seek refuge in hotels, leisure centres and several convivial houses for days on end. Life-long friendships were made.
"Fortunately, I got home on the last bus that made it to Aberdare. It was 'touch and go' and such was the camaraderie on the bus, that one fellow from Mountain Ash took his cap off and had a whip-around for the driver."
According to the Western Mail at the time, 300 refugees, many from the rugby game, were forced to bed down in Cowbridge Town Hall.
For many though, it is the winter of 1982 that sticks in people's minds. Snow began to fall on the the evening of January 7 and didn't stop for two days.
The snow was a metre deep and buried cars, wiped out livestock and left front doors submerged.
It wasn't all doom and gloom however. Margaret Slocombe, who lived in Splott at the time, has a very special memory from that year.
"I worked in an office on Park Place and walked there and back every day for two weeks. The shops had ran out of snow boots and wellies but I managed to get a pair of gold sparkly, ankle wellies," she said.
"Neil, my husband, walked from Lisvane to Canton every day via Park Place. My gold sparkly wellies were worth every penny. He proposed to me walking back from the Griffin in Lisvane!
"My wellies obviously had an effect!"
The M4 was brought to a standstill by the inclement weather and the weight of snow caused the roof of Sophia Gardens pavilion to collapse.
The storm almost cost Anne Derbyshire her job: "I had an interview for a job and I couldn't get there.
"The interviewers had come up by train from London and couldn't understand why I couldn't get in from Tongwynlais. I still got the job though!"
It was another 28 years before Cardiff was hit badly again. 2010's 'big freeze' closed schools, airports and the M4 was restricted to 30mph. It was the coldest December on record.
Snow caused chaos on the roads, with the AA reporting that it was called out to 12,000 breakdowns in half a day.
So much for  Storm Emma and 'The Beast from the East'.