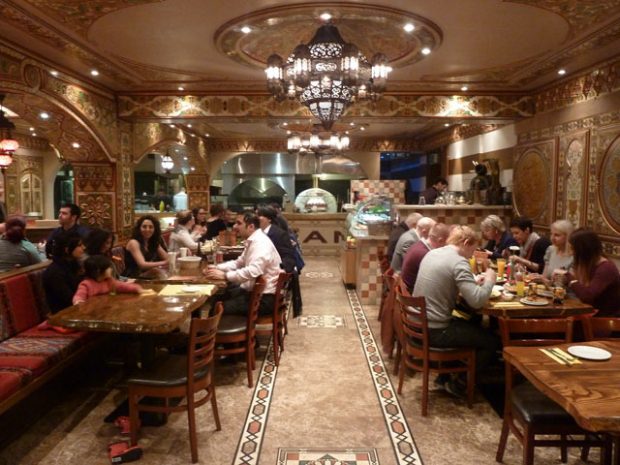 A WELL-LOVED restaurant on City Road will not be demolished any time soon to make way for student accommodation.
The owner of 116-118 City Road, Piazza Estates Ltd, has withdrawn a planning application to demolish the popular restaurant Shaam Nights and build a four-storey student accommodation block.
Shaam Nights is a Syrian restaurant with a highly decorative interior which has been running for five years.  
The owner of the leasehold on the restaurant, Dr Yehya Dadam said: "After consulting my solicitor, I still have at least 13 years left on my lease so it is none of my concern what planning applications are submitted at the moment."
Shaam nights restaurant assure our thoughtful and loyal customers that Shaam nights restaurant is still there for next 13/14 years of the remaining period of the lease and not closing as has been misunderstood after the press release made by Wales online news on 9th March 2018 ?

— shaam nights (@Shaamnights) March 13, 2018
The building of more private student accommodation in Cardiff is controversial for the amount of it and because it is often more expensive than most university-owned halls.
Heath and Birchgrove councillor Fenella Bowden said: "There is so much student accommodation being built that it has surely reached saturation point?
"These flats are often built to a lower standard than those which would be required for residential dwellings and as such any student accommodation that is superfluous to the demand can't be used for regular residential dwellings.
"I think Cardiff faces the prospect of empty student flats while at the same time we have a serious housing need."
On the other hand, Plasnewydd councillor Sue Lent, thinks blocks of student flats are the lesser of two evils.
She said: "It's a bit of a balancing act. Having more student accommodation is preferable to having too many houses occupied by students in the area.
"Elderly people become isolated when students occupy so many of the houses in the streets. They only stay one year and even if they don't make a lot of noise and leave their rubbish on the streets, they are not the best for the community."
Chloe Smart, 24, a relief chef, worries that building more student accommodation could threaten independent restaurants.
"It's also a shame that building student accommodation that will only be used for roughly 27 weeks of the year takes priority over building housing that will be used all year round.
"The increasing appearance of this type of eyesore accommodation will slowly but surely eat away at Cardiff's distinctive character".
Nick Dunn, from Cathays, said: "Demolishing the restaurant to make way for yet more student accommodation would erode the vibrant character of City Road and forces a homogenisation of aesthetic and culture that Cardiff doesn't need.
"Cities have their own identity and building flats risks eroding and destroying Cardiff's own unique cultural identity."