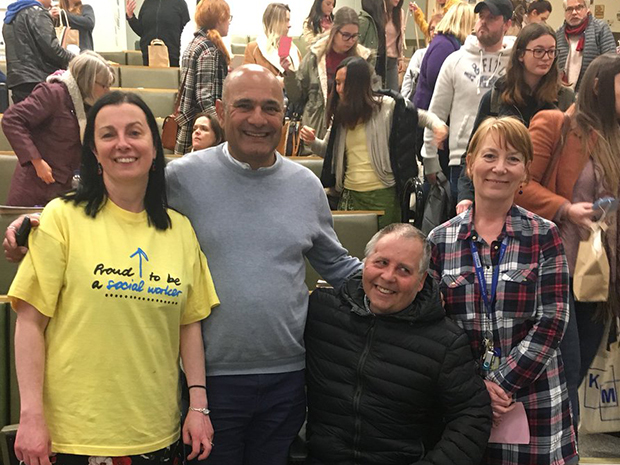 SOCIAL workers and students across South Wales celebrated World Social Work Day at a Cardiff University event.
Over 80 people attended the event on Monday March 19, about the sustainable future of social work and experiences of social care workers.
Abyd Quinn-Aziz, Senior Lecturer at Cardiff University School of Social Sciences, hosted the event and organised the programme of speakers.
"Social work means different things to different people, so it is important to come together and exercise various understandings of it," he said.
The event featured talks from various speakers in social work, including the British Association of Social Workers.
Rachel Dickens, 37, who studies social work at Cardiff Metropolitan University, said she found the day "affirming" to her profession.
"Sadly, social workers are often unable to talk about the work that we do and all anyone hears is negative.
"A day spent with Siobhan yesterday affirmed that the reason I want to be a social worker is because I believe in the inherent worth and dignity of everyone."
Siobhan Maclean, social work educator and co-author of "SHARE", spoke about the multi-sensory model of social work in her book.
"It was a great event giving both students and experienced social workers the opportunity to share experiences, explore challenges and reinforce their commitment to social work," she said.
Ms Maclean has worked for 28 years as a social worker.
Mr Quinn-Aziz said the SHARE model looks at "sharing and working together" which is one of the ways to "create a sustainable future".
Paul Yusuf, 55, travelled from the West Midlands to read his poetry and art, inspired by his experiences in care, at the event.
"It was good to hear people say that they are proud to be a social worker.
"Sometimes people want to duck and hide about it," he added.