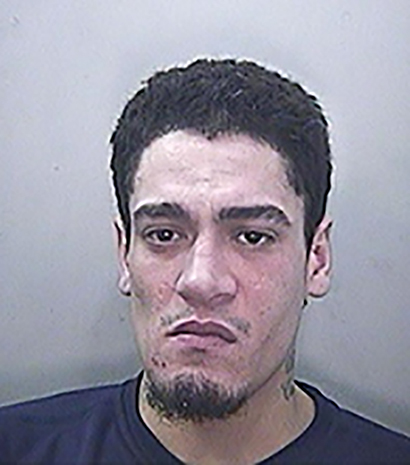 A MAN who put his victim into a "sleeper" chokehold that left him unconscious has been jailed after his victim spotted him by chance at hospital.
Jacob St-Clair, of no fixed address, has been sentenced to four years and eight months imprisonment today at Cardiff Crown Court after targeting Huw Thomson in order to take money from him.
He was caught after Mr Thomson bumped into him in hospital the next day when he was being treated for bruising to his knee and reddening to the neck that he sustained during the attack.
Prosecution lawyer, Rachel Knight, argued that "very significant force" had been used by the 33-year-old when he choked Thomson.
Despite there being no victim statement, Ms Knight told the court that it "must have been frightening" for Thomson, causing him serious physical and psychological harm.
The robbery took place near Cardiff Magistrates' Court in the early hours of Friday on January 19, where St-Clair dragged his victim into Cemetery Park and placed him in a chokehold twice.
It was only after regaining consciousness and returning home that Mr Thomson realised his card had been used to withdraw £50 from a cashpoint on Clifton Street at 4.38am.
St-Clair, who appeared via video link, was arrested on January 21 at the Huggard Centre, a homeless centre where he occasionally lived.
He was also found guilty of contempt of court after repeatedly sticking his finger up at a police officer during a previous court appearance.
Judge Michael Fitton QC cited St-Clair's "terrible record of convictions" dating back to 2004, including many for theft and violence.
St-Clair's more recent convictions include spitting at a police officer, and slapping someone on the buttocks and poking them in the eyes at the Huggard Centre.
Mitigating factors included St-Clair's army service, which had left him with post-traumatic stress disorder.
St-Clair joined his local regiment when he was a teenager and would later go on two 6-month tours of Afghanistan.
It was while in Afghanistan that St-Clair saw a colleague step onto an IED bomb, being blown up in his presence. Defending St-Clair, Eugene Egan, spoke of how his client had tended to this colleague as they breathed their last breath.
Mr Egan spoke of the "significant trauma" that this incident had placed St-Clair under.
In sentencing, Judge Fitton QC determined that "significant force" had been used in the attack on Mr Thomson.
Judge Fitton QC sentenced St-Clair to four and a half years imprisonment for the attack and a further two months for contempt of court.