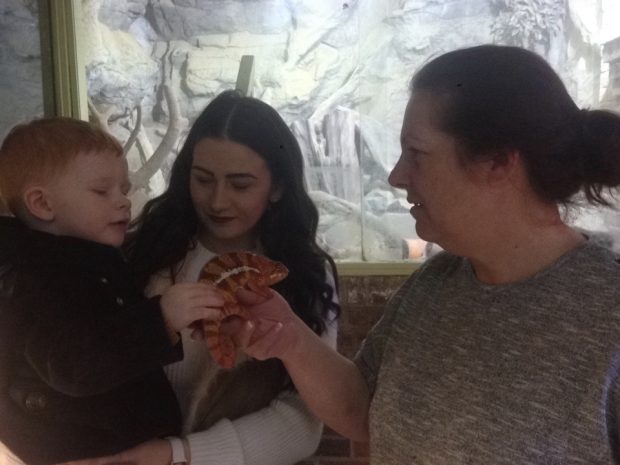 THE owner of Ely pet shop has a few days to find new homes for all her animals, including 12 meerkats, to stop them being put down.
Nicki Clarke, 54, has owned JFM Exotics, on Cowbridge Road West, for four and a half years but it is closing next week.
She was adamant the two packs of meerkats should not be separated and has found places with days to spare.  
One pack will be moving to the Wales Ape and Monkey Sanctuary near Neath and Mrs Clarke is thrilled they will be so close.
"They'll have a beautiful outdoor and heated indoor enclosure, and they've promised that I can go and visit them whenever I want and still go in with them. They're my babies and I hand reared some of them," she said.
The other pack, with any luck, will be moving to Malta, where they will be able to spend more time outside, as the warmer climate suits them.
"I know every single one of them. I'm just heartbroken. But I still have two meerkats at home, Oscar and Crempog. They were kicked out of the pack because they've got disabilities," she said.
"They're so excited, they've already been down to have a look at their new home."
The shop stocks a wide range of reptiles as well as being home to the 12 meerkats: Mia, Bubble, Squeak, GusGus, Timon, the aptly named one-eared van Gogh, Mini, Freddy, Buddy, Winston, Churchill and Taz.
New homes have been found for most of the reptiles but one snappy common water monitor named Daenerys is still looking.
She is a metre long and needs an enclosure with access to water.  
Clyde, a large Burmese Albino Python, is set to move in with one of her college student volunteers.
Mrs Clarke, whose home is quite the menagerie, will also take Rusty the chameleon.
Hugo the chameleon and King the royal python, to name two, are off to their new homes in the next few days.
The closure of the shop is a blow for not only the Clarke family but also their regular clients, and their volunteers, some of whom have special needs.
The property has changed hands and the new landlord plans to pull down the shop and develop the land.
Mrs Clarke said: "We were finding it increasingly difficult because of the state of the building anyway. We had no heating all through the winter and a beautiful, massive iguana froze to death.
"It's really sad to just have to walk away when we've put so much into the business."
Mrs Clarke is also worried about letting down her loyal customers, so she is planning on setting up a reptile food delivery service.
"There's a lovely little lady in her seventies who lives on the corner who comes round on her mobility scooter every week for worms for her bearded dragon," she said.
If you could give a home to Daenerys or any other reptiles, drop in to JFM Exotics at 173, Cowbridge Road West