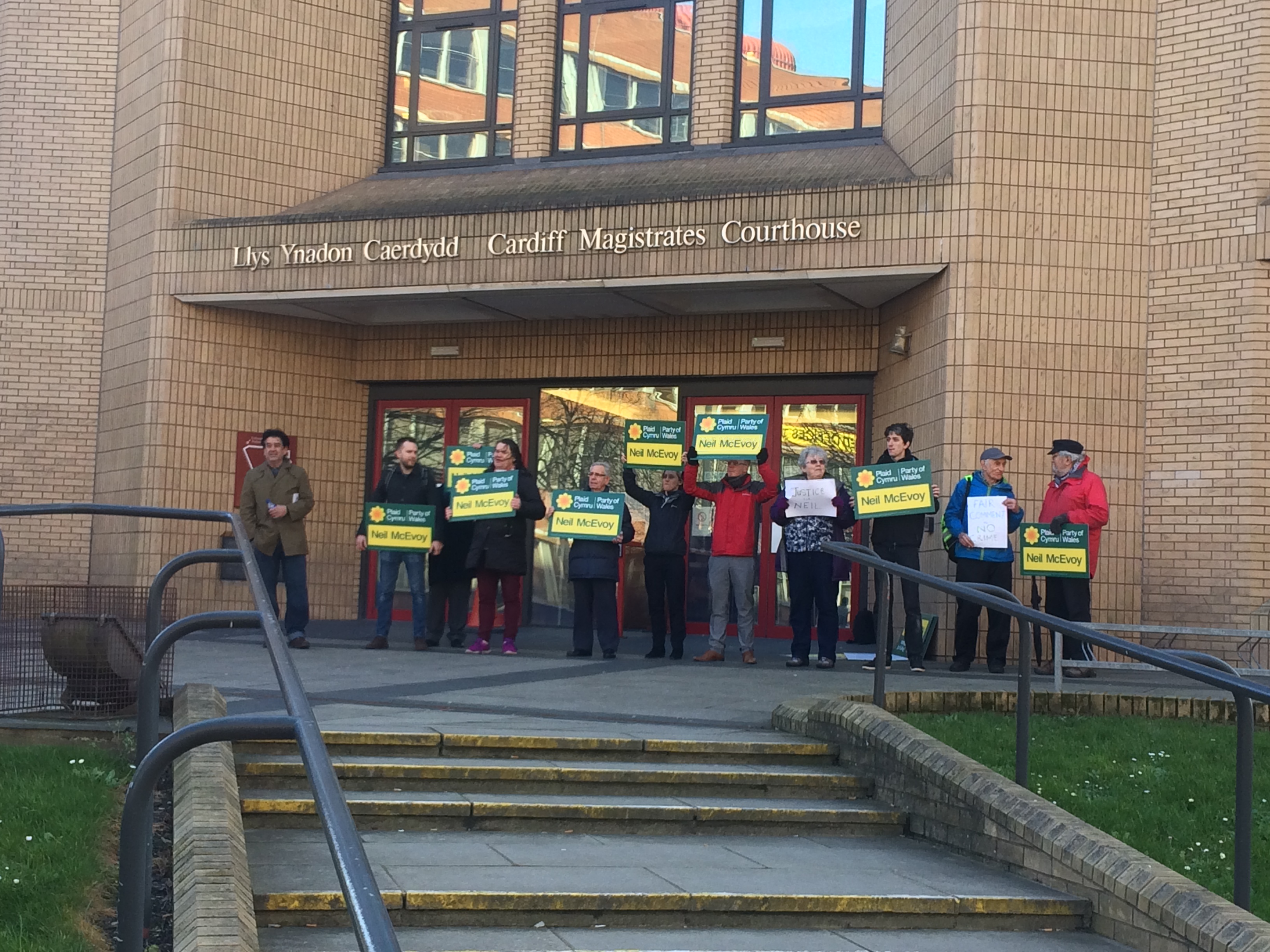 NEIL McEvoy has been suspended from Cardiff Council for a month after a tribunal decided he had shown bullying behaviour towards an employee and broke the authority's code of conduct.
The Plaid Cymru councillor for Fairwater was charged with breaching the authority's code of conduct by telling a council employee: "I can't wait until May 2017 when the restructure of the council happens" while supporting a constituent at a court hearing in July 2015. 
The employee in question, Finance Team Manager Deborah Carter, alleges the comment was aimed at her and that Coun. McEvoy was threatening her job. Coun. McEvoy denies the comment was made to Ms Carter and claims instead that it was directed to his constituent.
After earlier agreeing that Coun. McEvoy's actions did constitute bullying but not harassment, the tribunal panel later decided he also broke Cardiff Council's Code of Conduct but did not bring the authority into disrepute.
When the case started yesterday there were around 20 protesters chanting "justice for McEvoy" outside the court. Staff had to bring in extra seating when the group went into the courtroom to watch the proceedings.
One of the protesters, Mike Deem, 31, from Radyr, said: "I've come down to Cardiff Magistrates Court today to show solidarity with Neil McEvoy. I think it's absolutely atrocious that he's been brought before the adjudication panel today."
In July 2015, Coun McEvoy, who is Plaid councillor for Fairwater and an Assembly Member, was supporting a council tenant who was facing eviction. It is alleged that after the hearing, he made the comment to Ms Carter.
The complaint was first made by Paul Mitchell, a Labour councillor. Coun McEvoy believes that the disciplinary hearing in front of the Adjudication Panel for Wales, which is due to conclude later today, is politically motivated.
Speaking outside court yesterday he said: "I'm really pleased and thankful for people turning up, so many people are here supporting me today. This is an issue of democracy and the lack of it. We will restructure the council, that's a policy."
Kevin Ullah, 53, from Graigwen Road, Morganstown said: "Neil has for a long time always championed the residents of Cardiff and what he's done here I think is stick up for a family in regards to the hated bedroom tax."
"When it comes to someone like Neil McEvoy I believe he is someone that can change things and we've got a bit of a demonstration behind us on behalf of Neil," he added.