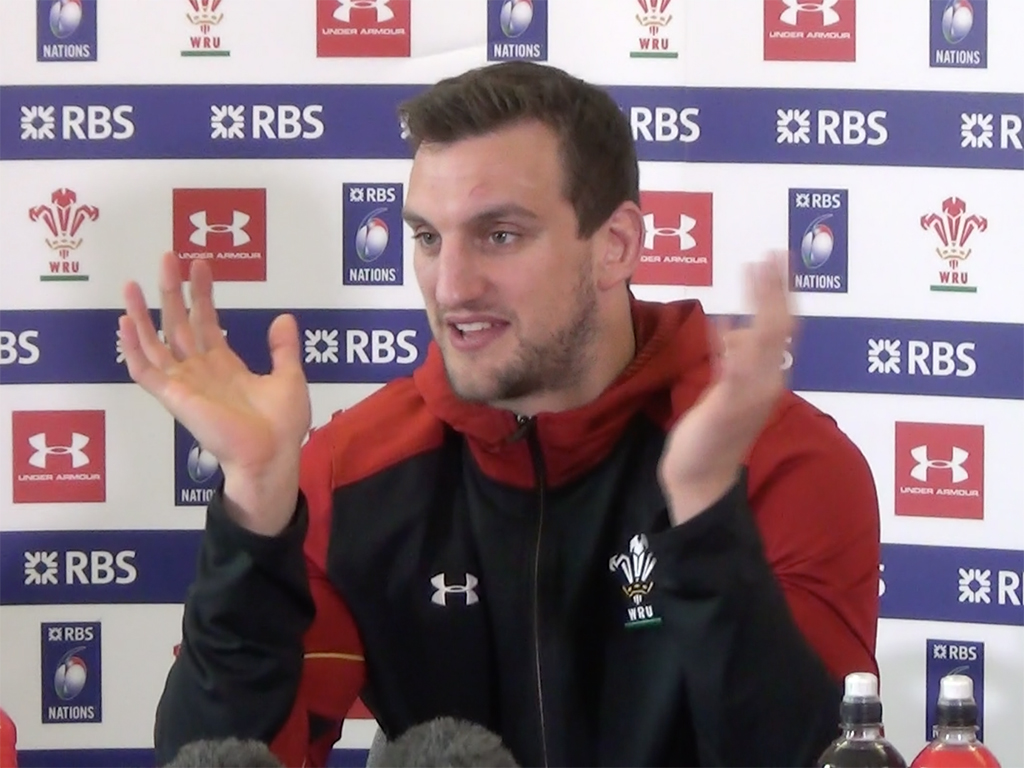 FLANKER Sam Warburton says this weekend's match against France will need to be Wales' best performance so far in the Six Nations, if they are to win.
Speaking after Forwards Coach Robin McBryde had given his assessment of what Wales need to do in their final game of this year's championship, Warburton was in a reflective mood.
For Warburton, a stunning victory over Ireland on Friday was not enough to soothe the painful losses to Scotland and England in this Six Nations competition.
"It's just the way it goes," he said. "You never play the perfect five games and there are always things that don't go your way," he said.
"We have learnt from those mistakes. Whatever championship you play, it's never perfect. You're always going to have "what if" questions."
A "what if" question that had been on every Welsh fan's mind was the strong possibility of slipping out of the top eight teams in the world rankings – and the consequences for another tough World Cup draw to boot.
But after the victory over Ireland, Wales have been spared that disgrace.
"The top eight world rankings are extremely competitive. And before we went into Ireland we were staring down the barrel of potentially finishing fifth in the Six Nations," said Warburton.
"I would have been gutted with that, with the amount of hard work that has gone in from players and coaches.
"We've been in the top three teams consistently for the last four or five years now and we don't really want to slip out of that. I guess if we can finish second that's not a bad championship.
"I think a lot of the teams now are on much more of a level playing field than we have been in the past few years.
"When you've gone into the Six Nations in the past there's been maybe one or two dominant teams, but now you've got five really competitive sides who could all beat each other and that makes the home advantage massively important.
"If we're going to win out in Paris it's probably going to have to be our best performance."
His heroic defence against Ireland was singled out for praise by many commentators.
"It's very difficult not to concede a try these days in international rugby. I didn't realise until we walked off the pitch that it was a try-less performance from a defensive point of view," said Warburton.
"I was really proud of that performance. It was a huge defensive effort and it took a lot out of the players emotionally. We put a lot of pressure on ourselves.
"We want to get right back up to that place against France away in Paris.
"You know what France are like. They're probably going to want to look to their driving game. They've got fantastic ball carriers not just in their pack but in their back line as well.
"One strength that really helped us at the weekend was that the ball was in play for something like 46 minutes against Ireland. Those sort of games… more often than not, when the ball's in play that long, we tend to win more matches than we lose, so we'll try and keep the ball in the park."
Warburton's reflections moved onto his decision to hand over his captaincy to Alun Wyn Jones and his improved performance as a result, a topic that he had mentioned before.
He said: "Looking at my last four performances… I'm really pleased with the way they've gone and I guess that would be a big contributing factor.
"Being captain of Wales, you do carry a lot of weight on your shoulders. I remember when I was first captain, walking around the hotel and constantly thinking: "Oh my God, I'm captain of Wales".
"You do feel that all eyes are on you, that everything you do is under the microscope.
"Now I've taken myself out of that, I guess I feel a bit more under the radar and that just takes a little bit of pressure off I think."
When asked if he was looking further ahead from Saturday's game to the Lions tour, Warburton just laughed.
"Not one player has mentioned the Lions to each other because we have a little ongoing joke in camp here, even if it's for selections, he said.
"If I went downstairs now and asked: "Which boots are you going to wear in the game Saturday?" to one of the boys and he answered, then we'd all all take the mick out of him for presuming he's going to be playing. So we don't even do it here."
France v Wales kicks off at 2.45pm on Saturday at Stade de France.