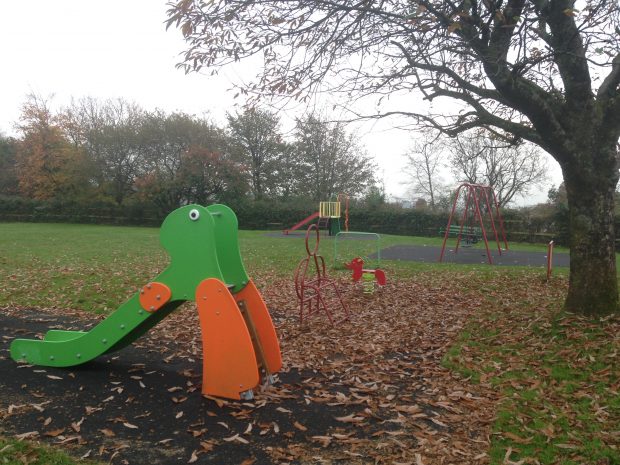 A GROUP of Pentyrch residents have a formed committee to raise up to £80,000 to revamp the village park.
The Pentyrch memorial park is located opposite the Lewis Arms on Heol Goch in a large plot owned by the British Legion, on long term lease to Pentyrch Community Council until at least 2050.
The park currently consists of two small slides, a set of swings and a small climbing frame, all of which are rusty.
According to Emma Phillips, a member of the Pentyrch Active Recreation Committee, or PARC for short: "For any children over the age of four the park is useless, but there is potential to do so much with the space.
"If we want to take the children to the park, we have to get in the car and drive two miles to Peterston-super-Ely, where they have an amazing park".
Ms Phillips said: "We have been talking about it for a long time, but in the last couple of months, we decided something had to be done."
The project is estimated to cost around £70-80,000 due to the high cost of play equipment, the cost of the work and the need for high health and safety standards.
The committee are also hoping to be able to make the park accessible to disabled children.
PARC have submitted an application for an Aviva Community Fund grant for £20,000 and the results will be released on 16th January.
Voting for the Aviva Community fund closes on 21st November and you can vote here.
The committee will be coming up with other fund-raising ideas for the rest of the money needed and they are also setting up a Crowdfunding page.
PARC said: "The project is of great importance to the morale and well-being of the children living in Pentyrch. The committee consists of a collection of local residents who all feel passionately about providing an adequate play area for children within this close-knit community."
Councillor Gavin Hill-John is also on the committee and said: "The memorial park is in need of development and upgrading and I'm delighted to be working as part of the team to raise money for this cause".