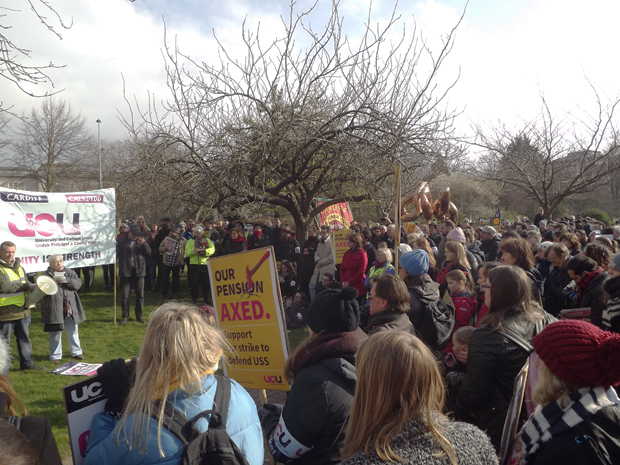 A STRIKE by university staff entered its second day today with hundreds of people turning out in support.
Lecturers and students manned a picket line outside Cardiff University Main Building today while many more attended a rally in nearby Alexandra Gardens, yesterday, which was addressed by various politicians.
University staff who are members of the University College Union (UCU) are striking due to changes which would reduce their pension schemes.
"It's amazing how emotional we are, it's because our hearts are in it," said Professor Jenny Kitzinger.
The lecturer from Cardiff School of Journalism, Media and Culture has been in higher education for 32 years and believes it is important for students to know why their lecturers are striking.
"Student solidarity is really important to me," said Prof Kitzinger.
A number of politicians spoke at Thursday's rally, including Cardiff Central MP Jo Stevens, who blames the situation on the "marketisation" of university education.
"I am determined to be the voice of students in Parliament," said Ms Stevens, whose constituency is home to a large number of university students.
Plaid Cymru leader Leanne Wood also voiced her support for students affected by the industrial action.
"I support students who are demanding a refund," said Ms Wood.
An online petition started by Cardiff student Samuel Veal has gathered almost 5,000 signatures calling on the university to offer students either financial compensation or additional time to submit work while their lecturers strike.
Ms Wood also confirmed that she would be raising the concerns of staff and students with the Welsh Government Secretary for Education, Kirsty Williams AM.
Jenny Rathbone, Cardiff Central AM, called on Cardiff University Vice-Chancellor Colin Riordan to enter discussions with staff and unions.
"Let's get around the table," said Ms Rathbone.
Professor Riordan posted an open letter to students on Monday seeking to reassure them that "we are working hard to minimise any adverse impact the industrial action may have".
Cardiff North AM, Julie Morgan, called the pension scheme changes "disgraceful."
What are the changes?
UCU members are striking over changes to the Universities Superannuation Scheme (USS), one of the largest private pension schemes in the UK. This change would see "defined benefits" change to "defined contribution". The first guarantees a specific pension income while the second means that retirement income is subject to stock market movements.
Alongside politicians, UCU President Joanna de Groot addressed the crowd.
"A good university is where staff are treated fairly," said Ms de Groot, who believes that the problem of pensions should not be passed onto staff.
Students at the rally also expressed solidarity with lecturers.
Cardiff student, Adam Johannes, said: "We stand by lecturers and university staff as they strike to defend pensions, the future of higher education and their own livelihoods."
Staff plan to escalate the industrial action, which takes place over four weeks in February and March, with the number of strike days increasing every week.
Cardiff is one of four Welsh universities to launch strike action, with staff from more than 60 universities across the country also taking part in 14 days of strikes.
Sue Jenkins is a lecturer at Cardiff University who believes that it is important for staff to strike due to the "huge changes" being proposed.
Lecturer in Politics and International Relations, Dr Ed Poole, praised the turnout for Friday's strike.
Dr Poole said: "We will have to see if more people join, it is the second day of the five day strike. We have had a lot of students come up and say good luck, which is really great to see.

"We are here for the long haul and if there is a decision to go back to the negotiating table that would be great.
"We will be picketing till the union lets us know otherwise and we want to get back to teaching, that's what we do."