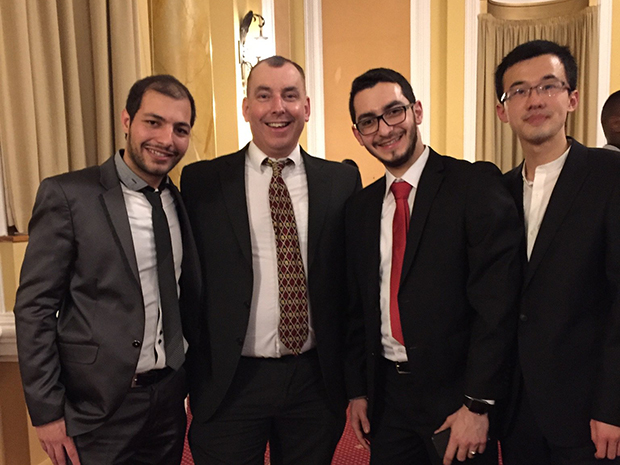 LECTURER Malcolm Anderson, who died earlier this week, was loved and respected by staff and students alike, according to the head of Cardiff University Business School.
Professor Martin Kitchener, spoke exclusively to The Cardiffian about his "dear colleague and friend" Dr Anderson.
Emergency services were called to the Aberconway building on Monday morning (February 19), and took Dr Anderson to the University Hospital of Wales, where he died.
South Wales Police are investigating the death, but are not treating it as suspicious.
Prof Kitchener said: "Malcolm was much loved and respected by students and staff and he will be very sorely missed."
Dr Anderson, 48, taught accounting and financial analysis and had won awards for teaching and enriching student life at Cardiff University.
"We will need time to process this news and come to terms with our loss. The coming days and weeks will be difficult for colleagues and students alike," he said.
Professor Kitchener postponed the department's undergraduate dinner, scheduled for February 20, as a mark of respect.
"Our thoughts are with Malcolm's family at this difficult time," added Prof Kitchener, who has been head of Cardiff Business School for six years,
Support is available from Cardiff University's student support services, and Prof Kitchener urged students to look after those affected by the death.
Dr Anderson was involved in the organisation and teaching of several programmes at Cardiff University.
Abdul Rahman Deeb, of Cardiff, was one of several former students who left tributes online.
"Malcolm was an exceptional lecturer, he made accounting classes a joy to attend and easy to learn," he said.
Mr Deeb was taught accounting, financial analysis and control by Dr Anderson and completed his Master of Business Administration MBA in 2017.
William Duffy, 21, a financial economics masters student, taught by Dr Anderson, said: "The consensus is utter shock. He was by far the best lecturer I ever had, he managed to make accounting fun somehow. He always seemed to have a positive outlook."
"One of my lectures was cancelled because my lecturer was so distraught. It shows how highly he was thought of," he added.
Rachel Williams remembers looking forward to her accounting classes with Dr Anderson for her Business Management degree in 2008.
Ms Williams, 28, of Caephilly, said: "Malcolm managed to make accounting everyone's favourite module. He was so funny, and brilliant at explaining things in a way which everyone could understand."
A decade ago I attended an open day at @cardiffuni. I couldn't decide what subject to do but after an inspiring presentation by Malcolm Anderson I chose business. Such a brilliant man who touched so many lives <3

— Rachel Williams (@RachelWilliamsO) February 20, 2018
A message of condolence left for Dr Anderson and his family said: "We want to say thank-you for being everyone's favourite lecturer; you made our exams and first semester more enjoyable with all your jokes.
"You will be dearly missed by all, thank-you for everything."
A Cardiff University spokesperson said: "Our thoughts are with Malcolm's family, friends, colleagues and students at this extremely difficult and emotional time.
"Malcolm was much loved and respected by students and staff. He was widely recognised for his work and valued by the University, academic colleagues and his students. He will be very sorely missed. Out of respect to the family, and until the outcome of the on-going investigation is known, it would be inappropriate to comment any further.
"Malcolm's family wish to express their heartfelt thanks to the staff and students for all of the support given to Malcolm and his family over the years."