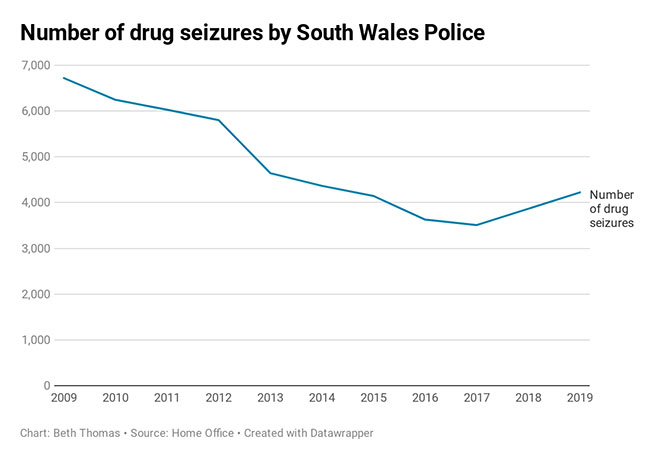 Cannabis made up nearly 65% of drug seizures
DRUG seizures by South Wales Police have increased for the first time in 10 years, Home Office data shows.
In the year to March 2019, seizures by South Wales Police rose by 20% on the previous year.
This increase followed a steady downturn in the number of drug seizures from 2009.
A spokesperson for South Wales Police said: "Much of the increase may be a result of proactive policing – examples in Cardiff include Operation Crater, which has taken more than £500,000 off the streets in Cardiff and arrested more than 200 suspected drug dealers.
"Across the force we carry out about 1,000 stop-searches a month, and in February 2020 alone in Cardiff specifically, 459 were carried out.
"We also have our Op Sceptre team in Cardiff. They are a dedicated team who tackle knife crime, drugs, and associated criminality."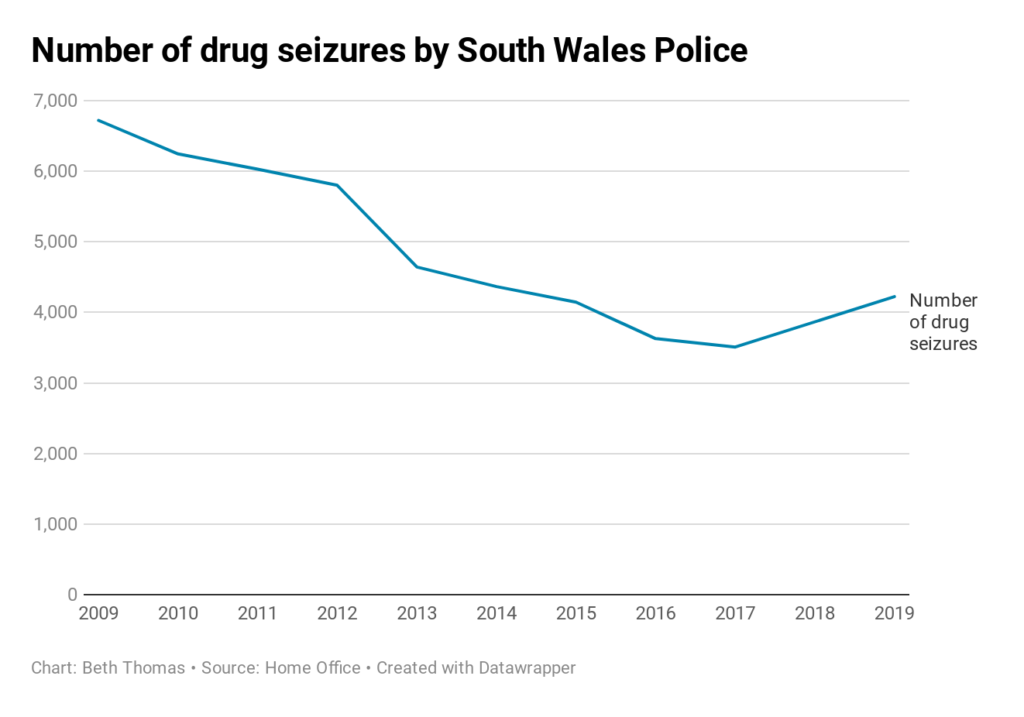 Operation Sceptre was launched in July 2018 in Cardiff with the aim of tackling drug supply, knife crime, and serious violence. It was expanded with teams in Swansea a year later.
Operation Crater was launched at the beginning of April 2019 to tackle drug supply in Cardiff.
In a statement, Detective Superintendent Esyr Jones said: "Op Crater continues to make significant progress in disrupting Class A drug supply and the associated violence which accompanies this form of criminality; criminality which causes misery and heartache to communities throughout Cardiff.

"As always, we would urge our communities to support us as we continue relentlessly to achieve this aim. We can, and regularly do, act upon the information provided to us by the public, so please keep it coming."
The number of drug seizures by South Wales Police, in line with national trends, had been decreasing since 2008, where they had peaked at 6,720.
There were 4,223 drug seizures in 2018-2019, with seizures of cannabis making up nearly 65%.
Esther Jones, a 23-year-old teacher in Newport, studied at Cardiff University for four years and lived in Cathays.
"I lived in Cathays when I was a student, and it seemed to be a popular area for drug dealers, I think because it was an area where lots of students lived.
"I always felt safe living there, but I was always aware that drug dealers were operating in the area.
"I think it's the same with any student area, to be honest, as dealers will probably try to target them.
"I think it's positive that the police are increasing their activity and trying to steam drug crime in the area. Hopefully, it should make the people who live there feel safer."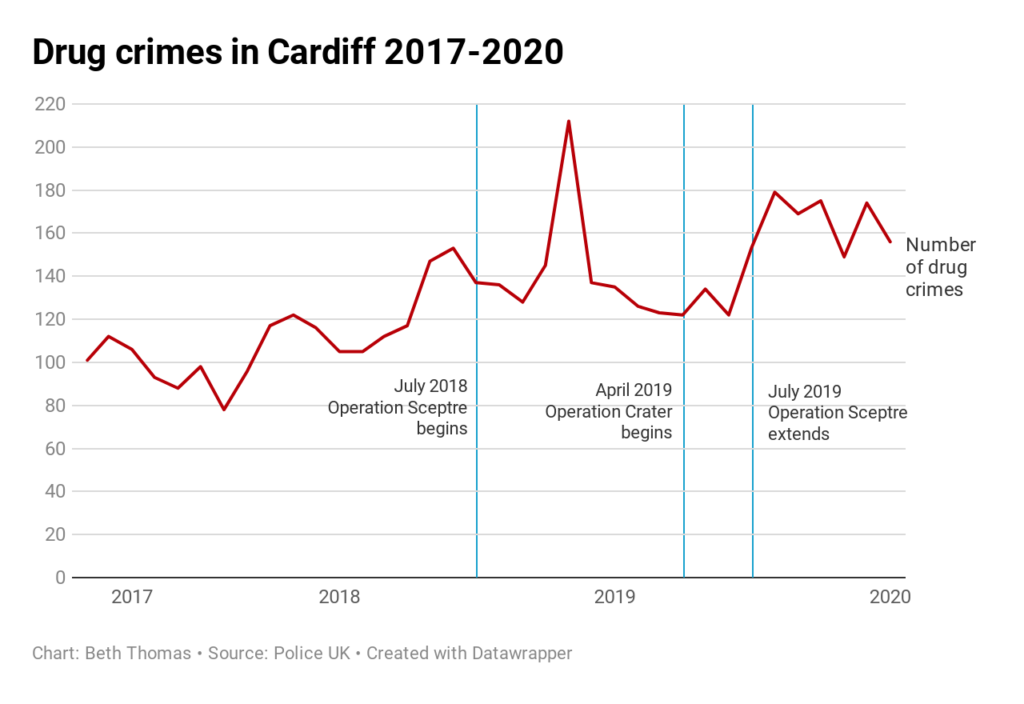 Between January 2019 and January 2020 there were 1,890 drug crimes in Cardiff.
According to data from Police UK, the number of drug crimes for that year peaked in August 2019, with 179 that month.
Lowri Jenkins, 23, has been living in Cardiff since August after moving from Swansea.
"The fact that drug activity is happening in Cardiff is tragic. It can ruin people's lives," Ms Jenkins said.
"It seems the police are putting a lot of resources into it, but it makes me wonder whether that's tackling the supply chain."
Drug seizures in Wales overall have increased in 2018-2019 by 24%, with North Wales Police increasing the most by 71%.
Martin Blakebrough, CEO of Kaleidoscope Project, a charity that provides drug and alcohol support services across Wales said: ''Keeping any volume of drugs out of our communities is a positive, however, these seizures represent a drop in the ocean of supply.
"Earlier this year it was reported that Class A drug seizures had risen in England and Wales by 13% on the previous year, yet we see the rate of drug deaths continue to rise unabated."
Kaleidoscope provides services in Cardiff through their Dyfodol project, which targets those in the criminal justice system.
"As long as we pursue failed prohibition policies over properly investing in harm reduction strategies and support services, I don't believe we will see a reversal in this trend," Mr Blakebrough said.
"In fact, just last month two men were jailed after a 750kg haul of cocaine was seized in Fishguard, however this seizure, one of the largest hauls in UK history, did little to impact Newport's streets dealers, and made no visible difference to the number of people in Newport and across Gwent receiving support from Kaleidoscope's services.''