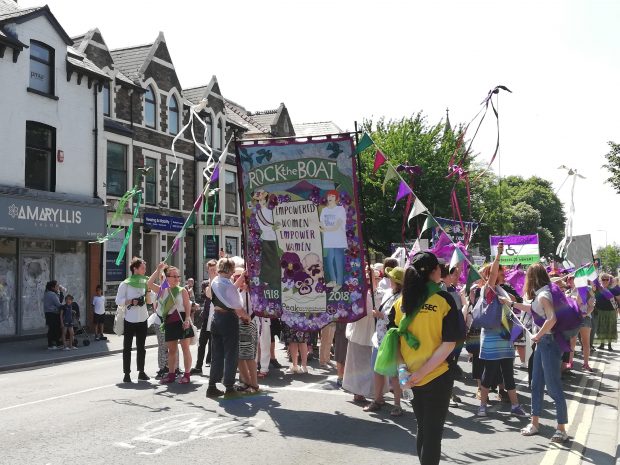 THOUSANDS of women from across Wales and beyond joined Procession Cardiff's march to mark the 100-year anniversary of women being given the vote.
The march celebrated the passage of the Representation of the People Act 1918 which gave some women the right to vote in the UK for the first time.
Procession Cardiff was one of four marches that took place in the four capitals of the UK: London, Belfast, Cardiff and Edinburgh.
The march took a two-mile route through the streets starting at Cardiff City Stadium and finishing up in Bute Park.
Marchers wore scarves of white, green or purple — the colours of the Suffragettes — in the coordinated mass participation artwork.
Many Women's Institute (WI), Girl Guiding and community groups made their own beautifully made sewn banners to celebrate how far women have come in the last 100 years.
The Roath Appreciation Society took a trip yesterday to London to visit Millicent Fawcett statue unveiled in April.
The group of about 40 to 50 ladies meets monthly to appreciate the little things in life that go unappreciated. Their recent meetings have included a Scandinavian Midsummer night, a tribute to George Michael and a celebration of 70 years of the NHS.

They also get involved in a variety of different charitable projects including fighting against period poverty.
Textile designer Emma Sampson and her 12-year-old daughter Nell came to from Chepstow with their hand-sewn banners. They heard about the march on Women's Hour on BBC Radio Four.
"It's a celebration of what women can do when we work together and I wanted my daughter to come to show her that we will break the glass ceiling," said Ms Sampson.
Members of Garden Village WI who sewed their banner over drinks in the pub came from Wrexham to join the celebration.
Bex Raven, 38, said: "We couldn't not come. This is at the heart of what we do at the WI. We need to make sure women are still standing together and supporting each other.
"Making the banner was a great bonding experience for the group, and a chance to learn new skills in an informal atmosphere, so it's not just about today, we've all worked really hard."
Co-chair of the Women's Equality Network Bethan Webber, 43, said: "We wanted to bring out children, the next generation of warriors, to show what people can achieve when you work together."