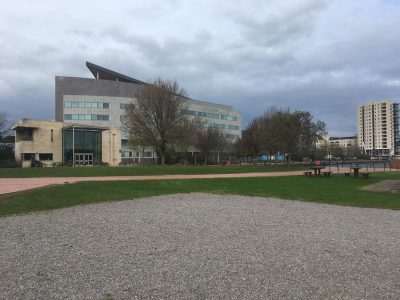 TRADERS have welcomed plans to build a new leisure quarter and restaurant in Cardiff Bay.
Cardiff Council are set to regenerate Britannia Park after bringing land along the water's edge into public ownership and outlining plans for a new restaurant and leisure quarter  which will bring more investment to the area.
The area that has been bought by the council for an undisclosed sum is situated at either side of the road which runs between the Norweigian Church and The Waterguard Pub. The land fronts onto the Bay at one side and Roath Lock, opposite the BBC studios, at the other.
The plans have been welcomed by Waterguard Pub manager Kieran Howell, 22. He said: "It's like a ghost town on this side of the Bay, there's always more things going on over the other side. It would benefit all businesses around here.
"There's loads of potential over here in the Bay, but we need something else, more activities to do over here because people will just walk past us at the Waterguard – there just nothing to entice people over this side of the Bay."
Cardiff Council wants to secure all of the Bay edge into public ownership which they hope will help bring business back to Cardiff Bay.
A spokesperson for Cardiff Council said: "The council wants to ensure the public always has access to the Bay edge and that the primary use of the Bay remains protected as a leisure destination."
Last year, plans to build a new 24-storey block of flats were turned down, but the council's new leisure-centred approach has gained a positive reaction.
Hilary Butler, 60, who works at Café Norsk inside the Norweigian Church, said: "It would be brilliant for this side of the bay – there's nothing to draw people down to this area.
"You need people to naturally come down here, at times this side of the bay can look like a wasteland – the potential for business is here, hopefully this can bring that."
Councillors announced the decision to purchase the Britannia Park site at a Cabinet meeting.