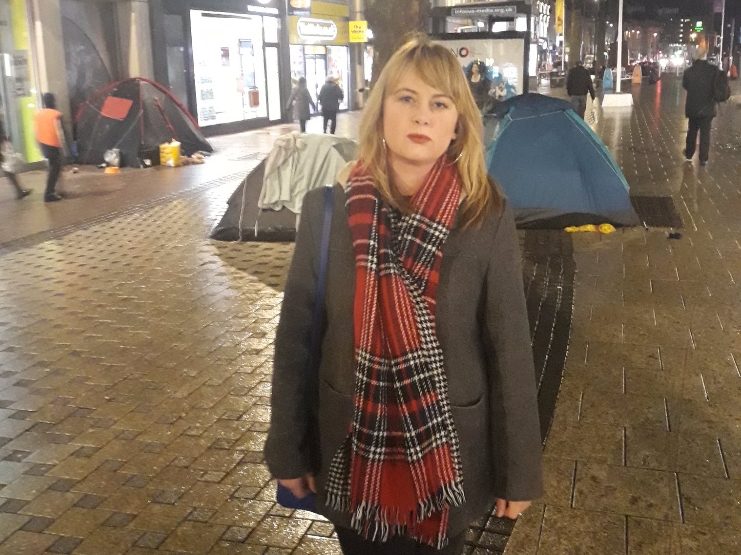 A COUNCILLOR who said she wanted Cardiff's homeless tents "torn down" has had her suspension lifted.
Kathryn Kelloway, the Tory councillor for Cyncoed, was suspended from the Welsh Conservative Party over the weekend for her tweet to council leader Huw Thomas, calling for the removal of the tents on Queen Street.
Today Coun Kelloway revealed that the Conservative group had lifted her suspension and reiterated her call to remove the tents.
My suspension from the Cardiff Conservative Council group has now been lifted. I'm very grateful for the support of the group. Now we can focus on the issue. The tents need to go ASAP. They put homeless people at risk and damage Cardiff's city centre.

— Kathryn Kelloway (@kathkelloway) January 28, 2019
Coun Kelloway speaking to The Cardiffian said, "I am very grateful for the support of my Conservative colleagues. I stand by my comments, the tents put the street homeless at risk as well as damaging Cardiff's reputation.
"There are more than enough hostel spaces available in Cardiff. The Council has acknowledged that there is no reason for anyone to sleep rough here. The provision for homeless people here is some of the best in the UK and the Council deserve credit for that.
"By the Council's own admission, these tents are causing fewer homeless people to stay in hostels and receive proper support and medical help. Tents are causing harm to the homeless and to the city. They must be taken down as soon as possible."
Coun Kelloway has stood by her comments as she believes that the tents are bad for the homeless as they discourage the use of the proper, available accommodation as well as damaging the reputation of the city.
The Welsh Conservative group said: "Councillor Kathryn Kelloway has had her suspension from the Cardiff Conservative Group lifted following a meeting of the group.
"Councillor Kelloway called on Cardiff Council to removed tents from the city centre and attracted controversy by tweeting about the issue.
"The Conservative group recognises whilst Cllr Kelloway's comment did not meet the universal approval that are in line with current views held by Cardiff Council the tents must be removed as they deter rough sleepers from seeking safe accommodation."
Liberal Democrat councillor Bablin Molik, who shares the ward of Cyncoed with Ms Kelloway, said: "Shocking. A comment that outraged so many people, that was seen as inhuman and appalling is obviously not a concern amongst the Conservatives.
"The hate and demonising culture of the less fortunate amongst Conservatives has yet been proven again. No apology and no regret and yet welcomed back in, unacceptable."
Since the news this morning Ms Kelloway has been involved in a further twitter spat with Coun Molik, with Ms Kelloway defending her tweets: "You obviously haven't read my tweets properly Bablin. It's obvious I was calling for them to come inside. I want them in accommodation, not in tents. Stop trying to score political point".
I have nothing to apologise for. What is inhuman about calling for homeless people to come inside Bablin? Would you rather they be at risk on the street?

— Kathryn Kelloway (@kathkelloway) January 29, 2019
On Friday the Welsh Conservative group distanced themselves from Ms Kelloway's comments, telling ITV: "Councillor Kelloway's comments in no way reflect the views of the Welsh Conservatives. Homelessness is a distressing and extremely complex issue that requires everyone in society to play their part if it is to be tackled   effectively.
"The truth is – nobody should have to sleep rough. Everyone deserves a place to call home, and we believe everything possible must be done to help the most vulnerable in our society get the help they need.
"The UK Government has made extra funding available to local authorities to address all forms of homelessness, and that money needs to be used to help turn lives around."
Ms Kelloway's original comments were  branded as 'inhuman' and 'disgusting' by political figures and members of the public after her original tweet.
A council spokesperson said: "The Council is aware of the growing number of tents in the city and is arranging a meeting with partners including the police, homeless shelters and charities and businesses in the city centre to develop a way forward.
"We are concerned that the rise in the number of tents is having a direct impact on the numbers of rough sleepers who are deciding against taking up offers of support to come off the streets to get the specialist help they need to turn their lives around.
"The issue of homelessness is one which can be seen across the UK. It is an immensely complicated issue and there are no easy or straightforward answers, but Cardiff does have measures in place and enough places so that people do not have to stay on the streets. It is only by encouraging them to take up our offers of support that we can begin the process of helping people off the streets for good."
Tara Rowe, 34, from Cardiff, has been on and off the streets for 20 years. She has currently been homeless for six months and has just received a section 35 dispersal order from police for sleeping in a shop doorway.
Ms Rowe said Coun Kelloway's comments were 'so wrong' and accused the politician of lacking any understanding about the reality of life for a homeless person because she feels life on the streets is a 'different time scale' and that the constant battle against feeling tired and cold means its hard to function.
Ms Kelloways view has received support from the Council cabinet member for Housing and Communities, Cllr Lynda Thorne, who condemned the charities providing homeless tents in a tweet, "The charities giving out tents need to understand they are putting rough sleepers at risk. They are disengaging with services and many are missing vital health appointments."
Lynda Thorne, speaking to the Cardiffian said: "Our homeless outreach team works closely with individuals who are sleeping rough and have a good record of helping people off the streets – last year we helped 204 people into accommodation and support services, where they are obviously far safer and can begin rebuilding their lives.
"However, the team are noticing a marked shift on the streets whereby less people are willing to accept our support and even individuals who previously agreed to a place are declining offers of assistance once they have obtained a tent.
"In December we helped only four people off the streets when the average is 15 people a month
"We only want to help people who find themselves in this terrible situation. Cardiff has some of the best services available in the country to help rough sleepers. We want people to come in and access those services. My message is clear – we have safe and secure accommodation available and we want to help."