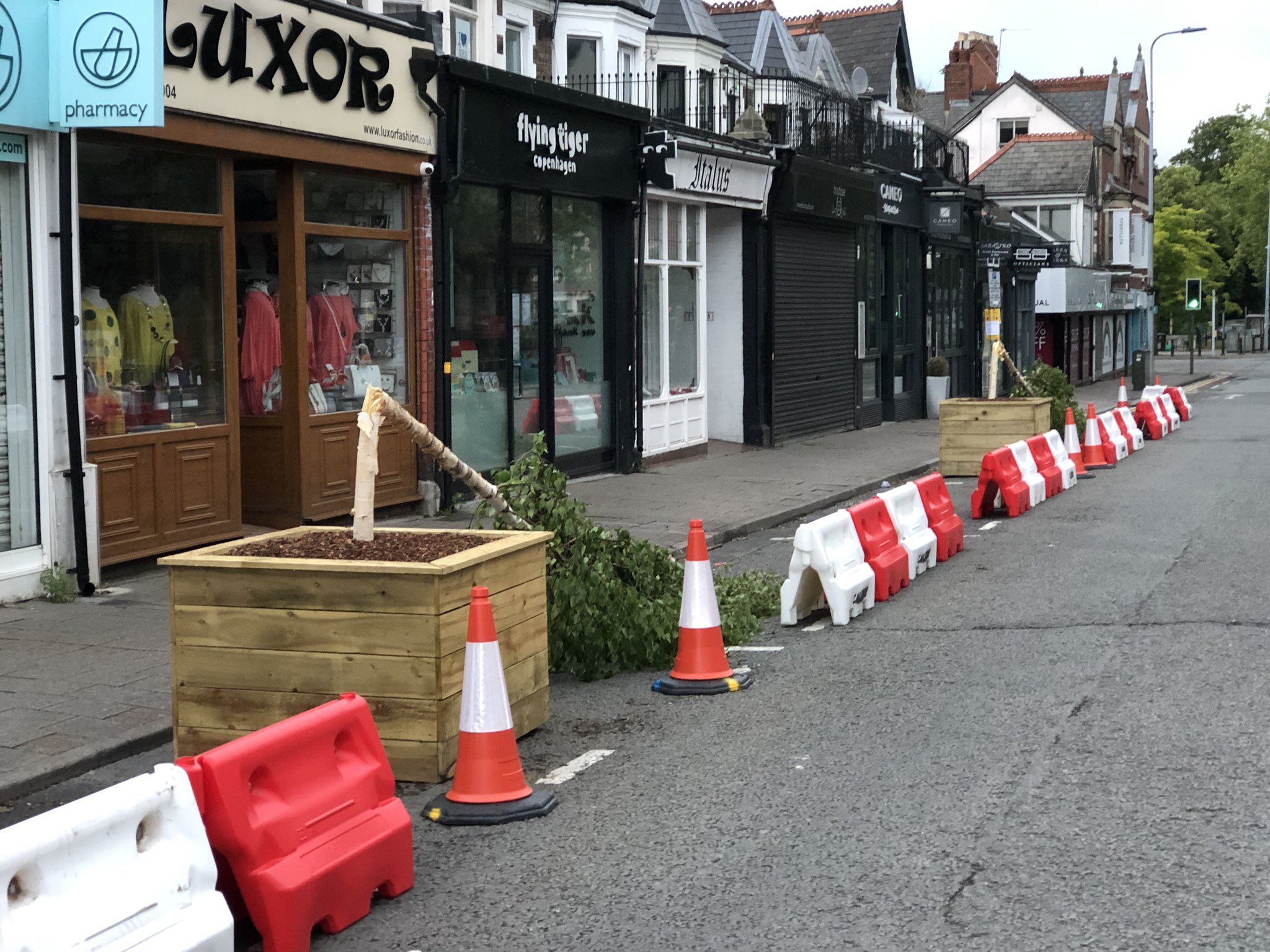 Spots were removed to make space for social distancing
WELLFIELD Road traders say business is "really suffering" after parking spots were removed to make space for social distancing.
Still, they have raised £800 to replace two trees after they were vandalised.
Wellfield Road has been lined first with cones, then with trees, since the end of June.
The pavement scheme has expanded the road's pavements to help people social distance – but it means shoppers can't park on the street.
Jaymin Patel, owner of 7 Clothing, a men's clothing shop, said the shop had lost over half of its footfall.
"I haven't got a measure of if it's because of COVID or if it's because of the parking search, but what I can say is: footfall is definitely down in our store," said Mr Patel.
"I'd say it's more than half down. More than 50 percent."
The store has been on Wellfield Road for 15 years and Mr Patel says its location, outside of the city centre and with easy parking, is key to its success.
But when the scheme came in, he says that traders were taken by surprise without consultation.
According to Cardiff Council, the plans were an urgent measure to help businesses reopen safely, but the next phase of the scheme isn't agreed yet.
But businesses worry they won't survive losing so many customers.
"They told us it's so people can stop and hide behind them while somebody else walks past and it makes the area look a little bit nicer, which I agree with," said Mr Patel.

"They do look nice, but ultimately, the tree can look as lovely as it wants at the moment but if shops are going to be boarded up and closed, and it's not going to look so nice.
"And then it totally beats the objective of what the parking was taken away for."
Still, after the trees were vandalised in late June, businesses on the street felt it was important to do something about it.
Mr Patel said:  "We literally just went knocking the doors of all the businesses and said: 'look, these trees have been broken.
"We don't really agree with it. We don't want to use even more of taxpayers' money to get these replaced. 
"Why don't we we show that we actually do care about our road, and put some money in ourselves?'
"Everyone paid 20, 20 pounds each apart from Jamie at  quality carpets he actually donated for one whole tree. I think it was 370 pounds himself.
The traders raised nearly £800 and are still fundraising.
They estimate this will replace two trees.
They are still awaiting changes to the parking, which they say are urgently needed.
"We don't want to be standing around in the shop with nobody coming in," said Mr Patel.
"It's a pointless task, rather than have customers coming in and spending.
"We want to see people."
A spokesman for Cardiff Council said: "The council has always said it would engage with business and local councillors in the area to agree next steps and that's what we are doing.
"In fact, regular meetings have been set up so that we can understand business concerns and react accordingly.
"While parking has been suspended on either side of the road to enable social distancing for pedestrians, arrangements have been made for customers to park on nearby streets by providing limited short stay spaces that can now enable more regular turnover of spaces."