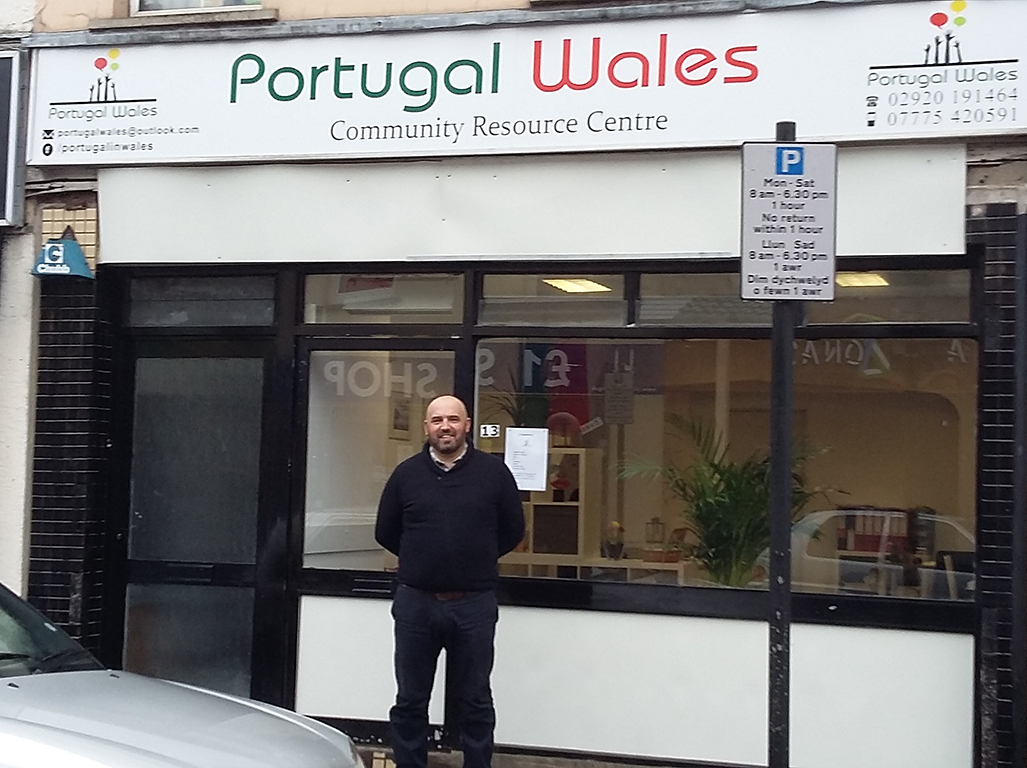 A PORTUGUESE community centre has opened in Adamsdown to support the country's South Wales diaspora.
The Portugal-Wales Community Resource Centre on Clifton Street opened its doors on January 3, offering English language lessons and other support to Portuguese people living in Cardiff and across South Wales.
Nuno Silva, 40, set up the centre to help his fellow countrymen integrate into life in the UK, helping the work of the Portuguese consulate based in Manchester.
He said: "The consulate are able to help people with the basics when they arrive, but I have found out that people need more than just a welcome.
"There's a language barrier for many of them, and they need help with practical things like setting up bank accounts, finding houses, transferring driving licences for use in the UK, and insurance."
For more than a year-and-a-half Mr Silva has worked out of his own house to help the consulate. He decided to set up the community centre as a registered charity as his workload grew.
The centre offers a variety of language classes, including English lessons for newcomers from Portugal, as well as Spanish and Portuguese classes.
A former computer programmer, Mr Silva believes many Portuguese people need gentle encouragement with speaking English.
He said: "The Portuguese people are scared of speaking English and getting it wrong. They worry that people will laugh at them if they do, so we want people to help them by calmly correcting their English and listening carefully.
He added: "But it takes many people to make a community. By being scared the Portuguese are missing out on a lot.
"If you ask a Welsh person if they know about Portuguese custard tarts then 9/10 will know, but if you ask Portuguese people what a Welsh cake is, probably 2/10 will know.
"By creating language courses we think we can create a better quality community. It will be better for businesses, our people will go out more, and they will live better lives."
Mr Silva has lived in the UK for 22 years, and moved to Cardiff from London six years ago. He said: "The Portuguese, we are like the Welsh. We are proud of being who we are, and we have the same strong links and small communities."
Mr Silva would also like to host a celebration for Portugal Day, a national holiday, on June 10 and has plans to host a gastronomic week event to showcase Portuguese food to Cardiff.
He said: "We want to create a Portuguese-Welsh fusion. We want everyone to come and see what we have to offer.
"We also do not want our kids to lose their mother language, we want to celebrate it as they will always have roots and family back in Portugal."
According to the 2011 census, and estimated 88,000 Portuguese people live in the UK.
In the Cardiff area, there are an estimated 2,600 Portuguese people, with more than 5,000 living across the South Wales area with many in Swansea, Newport and Merthyr Tydfil.
Many of them work in manufacturing, the farming and fishing industries, as well as the NHS.
Adamsdown's Clifton Street is home to one of Cardiff's best-known Portuguese eateries, the Nata & Co Bakery, as well as the Amazonas Street Food Restaurant.
For more information about the Portugal Wales Community Resource Centre, visit its Facebook page.