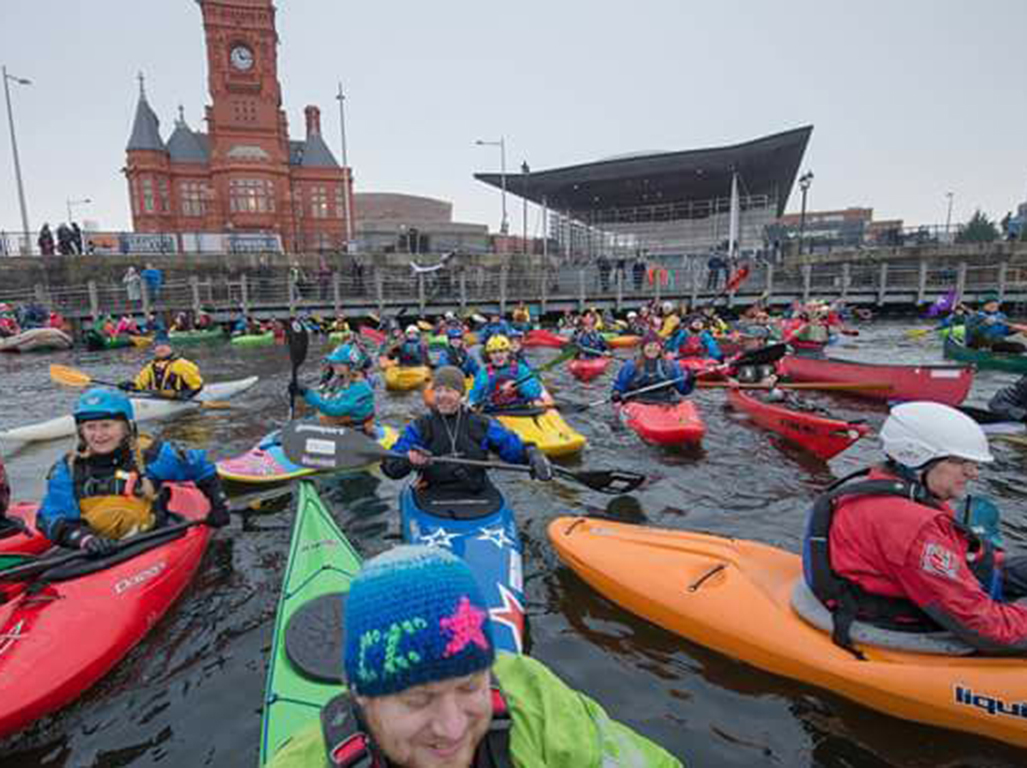 NEARLY 100 people took part in a mass paddle to the Senedd on Tuesday to raise awareness about access to public waterways for outdoor activities.
The paddle was organised by Waters of Wales (WoW) – a Facebook community which is fighting for fair and equal access to public water and land for recreational activities such as kayaking, canoeing and swimming.
The event was organised to support an online petition urging the Welsh Assembly to implement a Bill to establish public rights to access land and water for outdoor activities. It was signed by 3,045 people and is currently being considered by the Petitions Committee.
Paddlers set off from the Cardiff Sailing Centre and arrived at the Senedd before taking part in a quayside rally.
Fiona Butterly, 42, a volunteer for WoW, said: "Around 80-100 people turned up to support us, which was a great turnout considering it was a weekday and many couldn't come because they were working.
"There's a real issue with access to rivers in Wales and it's not commonly known but we feel that the natural resources should be for all and not a select few."
There is uncertainty surrounding the public's legal rights to use waterways because under the current English and Welsh law the water is not owned but the land, including the waterbeds, are privately owned.
Fiona said: "We are lobbying for a change in the law to grant us legal access. This isn't fair and we think these are our natural resources and we should all be able to use them."
The UK's number one para-canoer in 2015, Frances Bateman, 35, from Brecon, also attended the event in the Bay.
She said: "It was a really good event. It was incredible and I was proud of everybody there.
"The main issue is that the laws are as clear as mud and we need clarification. At the moment the government are very much in favour of voluntary access agreements but these discussions don't work well because there are some people who believe that we have no rights.
"It not only affects those who canoe but also parents with children who paddle in the rivers, people walking their dogs and all types of watersports including swimming.
"But it was really amazing seeing that many paddlers at the event, and I hope that we can communicate that we need a change in law."
The mass paddle was supported by Canoe Wales, the national governing body for canoeing and kayaking in Wales. It has been campaigning for the government to approve access to rivers for over 50 years.
Steve Rayner, Canoe Wales Waterways and Environmental Officer, said: "Canoe Wales were delighted to support [the event] in order to raise the profile and the issue with the media and the Welsh Assembly."
In response to the petition, Lesley Griffiths, Cabinet Secretary for Environment and Rural Affairs, said: "Wales needs a better and fairer approach to the public access for outdoor recreation which provides for the wide range of activities people.
"Almost 5,800 responses to the consultation were received. Most of the responses were of the view the current system is too complex and burdensome. There is an enduring dispute over the rights of those participating in water recreation on individual rivers and lakes.
"I intend to develop proposals for consultation on how the current laws could be improved. A resolution should be pursued to establish clarity in this area and to have greater consistency with how other access areas and activities are dealt with."