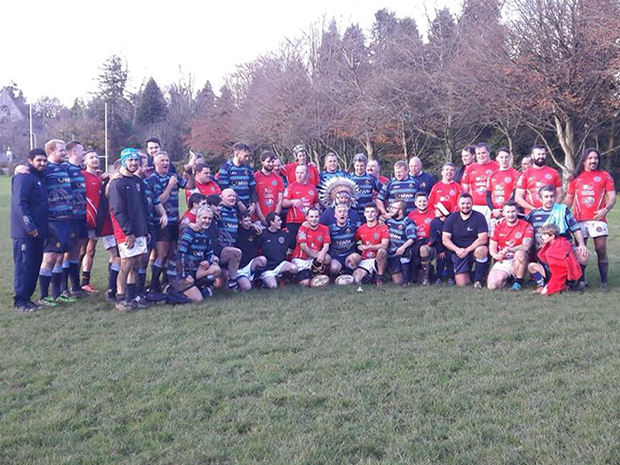 CARDIFF Chiefs made a winning start to life as a mixed ability rugby team, just three weeks after being formed.
The Chiefs held their first training session on Sunday 5 November, and had completed only three sessions before their inaugural game this weekend.
This did not show through on the pitch though, as the newcomers edged out Llanelli Warriors 26-24 at Llandaff Rugby Club.
Mixed ability rugby sees both disabled and able-bodied players compete on the same pitch. The format first started in Wales 22 years ago, and the inaugural Mixed Ability Rugby World Tournament was held in Bradford in 2015.
Team manager Kayleigh Havard said: "It's for people with any sort of physical disabilities, learning difficulties, that are low in confidence, or just older people looking to get back into it. It's for anybody really.
"We've been training for three or four weeks. We've got a good amount of people considering it's only been going for three weeks.
"We are just trying to get as many people involved and into rugby as we can."
Spectators were treated to former Wales captain Ryan Jones turning out at centre for the Chiefs.
The 36-year-old, who has 75 caps for Wales, is the Head of Rugby Participation at the WRU, and played a half for either side.
Chiefs' captain Brian Dias is a self-employed sports massage therapist based at the Victoria Park Clinic, and learnt about the club through his work.
He said: "My clinic manager got me involved with the team to come on board as a sports massage physio and pitchside cover.
"I thought that as I come from an athletics background anyway I might as well play for the team.
"I have a learning disability myself and it's an ideal chance to play with people of all abilities, no matter what background they come from or what their disability is.
"The emphasis, I think, is all about team spirit and enjoying it. Yes we all want to win, but it's about enjoying it more than anything.
"Rugby is a brilliant sport to play and it's nice just to see both teams go away happy and having had a good game."
There are now three mixed ability teams in Wales, with the Chiefs joining their opponents Llanelli Warriors and Swansea Gladiators.
If you would be interested in playing for the Chiefs, they hold training sessions at Llandaff Rugby Club, Western Avenue, on Sundays between 1-3pm. Alternatively, you can contact Kayleigh Havard at kayleighhavard88@gmail.com.