Rugby fan Megan Binns explains how banter at school would never make her switch sides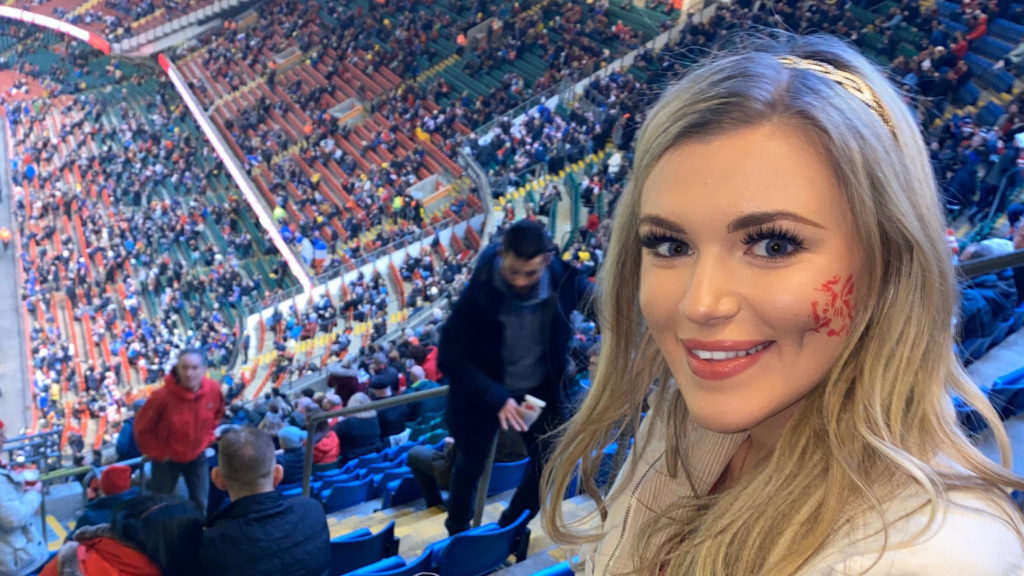 WITH a Welsh mother and English father, both invested in rugby union, I had an important decision to make at a young age.  
I remember as a child being sat with my mum at home in England waiting for a Wales v England fixture to start when my dad invited himself in to watch the game. 
"Oh, you're not bloody supporting Wales again are you Megs?" he said.
At this young age, I naïvely thought the rivalry was largely based on family tensions between my separated parents. 
However, growing up, and more recently moving to Cardiff, has shown me the depth, intensity, and longstanding history of this great rivalry.
I wanted to know more and so appealed to Welsh and English fans for their views.
A number of common themes and perspectives emerged:
Intimacy in Welsh sport
Almost every Welsh fan I contacted mentioned the intimacy and passion in Welsh sport.
"It's a chance for Wales to show that, even if we are the smaller country geographically, we're the bigger country in terms of our calon [heart] and pride. Passion counts for a lot," said Tomos Morris, 21, from Swansea.
I heard several anecdotes involving fans spotting Welsh rugby stars in random, everyday places.
Welsh fan Huw Perry, 24, from Milton Keynes, told me he met James Hook in Sainsbury's and bumped into Alun Wyn Jones at a petrol station.
"I've never met any English players outside of their respective grounds," he added.
Huw, like me, has an English father and Welsh mother.
"You'd think as a kid I'd be more drawn to support England given how much better they were, but I took the Welsh side because I really felt the passion when going to see them play," he said.
Big brother, little brother
"At the basis of the rivalry is the feeling that we've always been treated as the younger brother. That we've always been told what to do by England," said Tomos Morris.
Such perspectives stem back to the 18th and 19th centuries when the Welsh language was restricted in education systems by the 'Welsh Not'.
Children who were overheard speaking their native language were given a small piece of wood to hang around their neck and received punishment at the end of the day.
In 2011, English full-back Ben Foden added fuel to the fire when he claimed Wales was England's little brother which needed to be put in its place.  
Huw Perry said he thought Brexit divisions and the current political climate might have driven up anti-English sentiment.
Strength of Welsh rugby
England fan Tom Keir, 22, from Bacup, Lancashire said the fixture has become even bigger in recent years, since Warren Gatland's reign.
"England have been on the receiving end of some pretty big defeats to Wales, so getting the opportunity to go against them there's always massive anticipation," he said.
Even more important, is Wales' ability to dig deep and win when it really counts.
Obviously deserving a mention is Wales' gutsy 28-25 win at Twickenham in the 2015 World Cup which sent the hosts crashing out of the group stages of the tournament.
Wales secured the stunning second-half victory despite being plagued by an injury crisis which had me, and many others, believing they were down and out.
England fan James Lloyd, 23, from Nuneaton also spoke of the time Wales "famously denied us the Grand Slam in 2013 when they whacked us 30-3 on the last weekend."
English arrogance
Welsh fans were of the perspective that England fans were comparatively more arrogant, especially since winning the 2003 World Cup.
"English fans and players at the time just seemed to have an air of arrogance which I think most Welsh fans, including myself, couldn't stand," said Huw Perry.
Tomos Morris said he thought attitudes might be explained by the different classes playing the sport in the respective nations.
"Whereas in England it's viewed as a public-school game, it is very much a working-class sport in Wales.
"Every man and his dog plays," he said.
Tomos will be attending tomorrow's game with a passionate Englishman.
"I'm not sure how I'll cope with hearing 'Swing Low' beaming around the stadium or that long four-hour journey back to Cardiff with him purring over Owen Farrell again," he joked.
Bragging rights
Accompanying an intense rivalry, of course, comes intense bragging rights.
For me, the torrent of abuse I'd receive from my friends if Wales lost was almost enough to consider taking the Monday off school.
"You really don't want to be going into the office the next morning for an earful on how good Eddie Jones' tactics were.
"It's about having the upper hand when giving out banter," said Tomos Morris.
Rhys Knott, 39, a Welsh fan from Essex said a win was traditionally important to keep everyone at his rugby club quiet.
Similarly, England fan Tom Keir said: "If we do get the win it's a great feeling being able to have a bit of banter with any Welsh people you know.
"But if you lose you just want to keep your head down and forget about it."
Wales v England statistics:
Wales wins: 59
England wins: 63
Drawn: 12
Wales points: 1,593
England points: 1,758
Last five meetings: E E W E W
This morning, I sent my mum and dad the same message, asking for their score predictions and got these predictable responses.
Dad: "25 to 9 in England's favour! X"
Mum: "Wales 24 England 21 xx"
As always, I'm team mum.