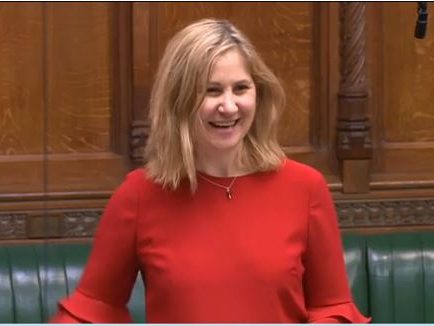 ANNA McMorrin, MP for Cardiff North, co-sponsored a debate in Westminster yesterday after being inspired by the Cardiff school strike for climate change.
Two weeks ago Cardiff saw hundreds of students take part in the world-wide school strike for climate chanting outside the Senedd "What do we want? Climate justice. When do we want it? Now!" and "2-4-6-8, can the climate really wait?".
Mrs McMorrin said: "It is our children who will bear the brunt of our lack of action and on the climate strike just a couple of weeks ago, I am really pleased to say has spread to 14 countries world-wide.
"I was proud to be supporting that strike in Cardiff just the other week, supporting our young people and having that voice and being with my 15-year-old daughter there, who I am proud wanted to have that voice.
"We need to we need to think more like the Welsh, like the Welsh government, leading the way on climate change and leading the way for future generations," she said.
It was pointed out that the UK is currently on track to miss its carbon reduction target and the legally binding 15% renewable energy target by 2020.
Acts such as scrapping the green investment bank, established in 2012 by the coalition government to fund green infrastructure projects, and abolishing the Department for Energy and Climate Change, make reaching those targets harder.
Opening her speech, Anna McMorrin expressed shock that there have only been two debates in Westminster on climate change in the last two years, but drew attention to the fact she had sponsored one of them and co-sponsored yesterday's debate.
She said: "Why are we only holding this hugely important debate now?"
Cardiff's School Strike for Climate was organised by Beth Irving, 17, a student at United World College Atlantic College.
Speaking to The Cardiffian about yesterday's debate, Beth said: "I think the fact that MPs are beginning to talk about climate change as a real issue is promising.
"However, the numbers who turned out were disappointing and, for us, frustrating.
"The school strikes have triggered this debate, obviously this is monumental for our movement and represents a significant shift in attitudes. But it is not enough.
"As a start, we can clearly grow from here but there is so much further to go!
"In debates on Brexit, the House of Commons is packed and yet on climate change, an issue that will overpower any law or policy as it wrecks havoc across the world, there was barely a handful of MPs," she said.
It was recognised that the recent heatwave in the UK – which saw the hottest winter day ever, with temperatures in Trawsgoed, Wales, rising to 20.6C on Monday – should have made this debate more urgent especially in light of the IPCC report published in October 2018.
The IPCC report is the Intergovernmental Panel on Climate Change which is the United Nations report on the science behind climate change explaining we have 12 years left before we have caused irrecoverable damage to Earth's climate.
The report found that if temperatures rose over 1.5C than the risk of severe drought, floods, extreme heat and poverty for hundreds of millions of people is severely increased.
Layla Moran, the Liberal Democrat MP for Oxford West and Abingdon, was the main sponsor of the debate and Caroline Lucas the Green MP for Brighton Pavilion also co-sponsored it.
Mrs McMorrin said one of the most iconic images to emerge from the Katowice conference for her was the hearing Greta Thunberg's voice imploring action. The whole school strike movement was inspired by 16-year-old Greta Thunberg's lone protest on climate change outside the Swedish parliament building.
Beth Irving, 17, the organiser of the Cardiff Strike has said that Greta Thunbergs actions have been an inspiration to her.
Mrs Morrin said in Westminster yesterday: "Since the summit there has been an unwritten agreement that we must tackle climate change but only in so far as it doesn't jeopardize our neo-liberal economic model or damage any encumbered interests.
"Despite its success the Paris agreement didn't fundamentally change this situation…but it did send a signal to the world…that we have to have a very clear trajectory about where we are going towards a zero carbon economy," she said.
A neo-liberal economic model refers to our current economic system which relies on a free-market and capitalist competition.
Anna McMorrin has been a member of the Environmental Audit Committee – whose job is to examine how government department's policies and programmes will affect both environment and sustainable development – since September 2017.
This particular debate was about climate change and how to achieve a net zero for carbon emissions.
Mary Creagh, chair of the Environmental Audit Committee, said politicians needed to shape and bend the financial system to invest in a green economy.
"To achieve net zero we have to reduce our emissions rapidly and at scale in every area of our economy and our lives," she said.
Among those protesting in Cardiff two weeks ago were 18 primary school pupils from Radnor Primary School in Canton, brought by their teacher Eoghan Walsh, 41.
He said the pupils were part of an after school eco club, which achieved Green Flag status, meaning they have reached a national standard in education on environmental issues.
It has been tackling problems like plastic pollution and has started a campaign to encourage pupils and their parents to travel to school by walking, scootering or cycling.
At the end of the protest his students led a moving song about the issue.
The next Cardiff based school strike for climate is on Friday 15th of March 11am – 2pm outside the Senedd.