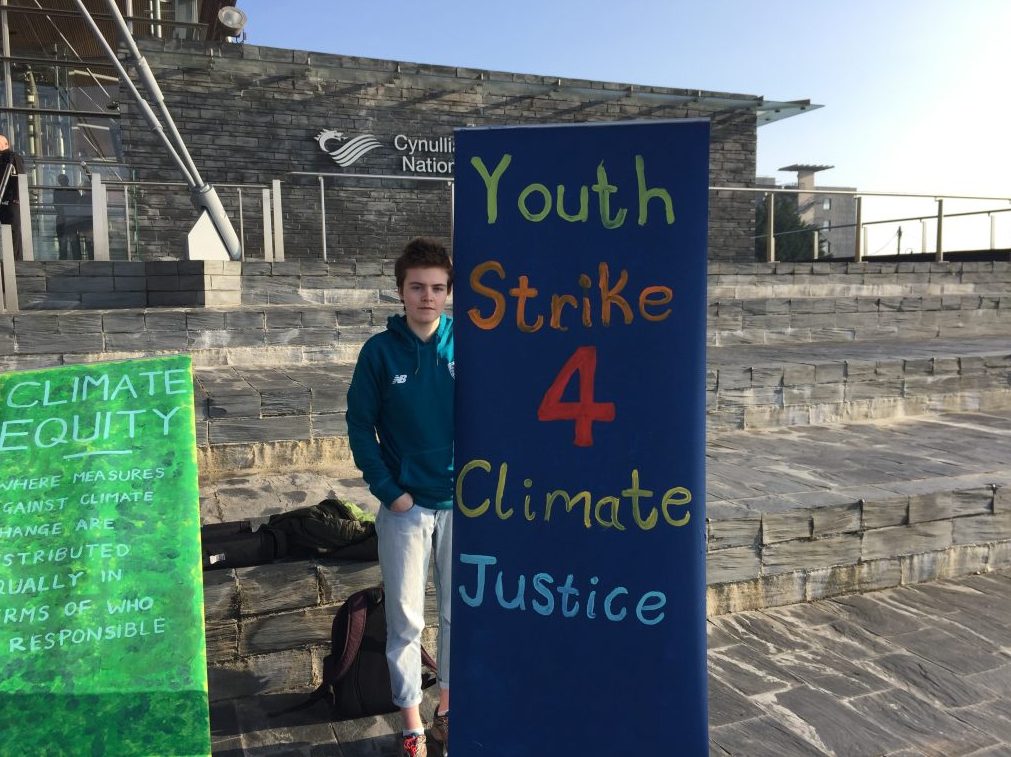 Ahead of the second Cardiff Youth Strike for Climate Justice this Friday 15th March, EMMA ELGEE interviews Beth Irving, its 17-year-old organiser, about why people need to come out and join her.
"When people tell us to go back to school or stop playing truant, I feel like screaming," said Beth Irving.
The 17-year-old student is the Cardiff organiser of the Youth Strike for Climate Justice movement.
This Friday will see Cardiff's second Strike to address the Welsh governments inaction on the impending climate crisis. 
The strike movement has gained global traction with 71 countries taking part – after another young girl – Greta Thunberg, 16, protested alone outside the Swedish Parliament building demanding her government took action on climate change.
Beth, who attends  UWC Atlantic College in the Vale of Glamorgan, said: "Friday needs to be bigger, better and bolder! We will be marching from the City Hall in the centre of Cardiff to the Senedd, blocking the streets. 
"For this to be powerful, we need larger numbers; I hope to get more university students involved and more secondary age pupils. 
"Despite there being a lot further to go, the 15th February was so reassuring. It showed that people do care and that we can change things, or at least get people talking, from just a few hundred children missing school."
Some 400 pupils from schools across South Wales gathered outside the Senedd on February 15th chanting "What do we want? Climate justice. When do we want it? Now!" and "2-4-6-8, can the climate really wait?"
They were inspired by Greta Thunberg's reaction to the Intergovernmental Panel on Climate Change (IPCC) report that said we have 12 years for global warming to be kept to a maximum of 1.5C before there is a significant increased risk for droughts, floods, extreme heat and poverty for hundreds of millions of people.
The movement has four demands:
The government has to declare a climate emergency
A reform of the national curriculum's teaching on climate change
Better education for the public on the wide effects of climate change
Lower the voting age to 16 because young people should have a voice on climate issues.
"If I could speak directly to the government, and if they actually listened, I would ask them to consider how moronically selfish they are being.  
"If we don't address this now then it will be too late and no matter how rich, privileged or powerful you are it will affect you. 
"Climate change does not discriminate," said Beth.
Anna McMorrin, the Welsh Labour MP for Cardiff North, found the Cardiff strike so inspiring that she co-founded a debate on climate change in Westminster two weeks ago. 
Beth said: "One of the most exasperating questions I was asked last time was "What will climate change mean for Wales?". Yes, it means increased coastal erosion, flooding, wildfires and droughts but it means so much more than that – it is a global issue."
Theresa May acknowledged that it was good to see pupils politically engaged but reprimanded them for missing school, saying they needed to learn how to become the professionals who could fix climate change. 
Beth said: "I do not strike lightly – my education is so very important to me. When people tell us to go back to school or stop playing truant, I feel like screaming.  
"It shows such an ignorance of the issue and frankly is extremely patronising. The Prime Minister's comments on the school strikes in general closely follow a quote by Gandhi: 'First they ignore you, then they laugh at you, then they fight you, then you win.' 
"She completely ignored our demands and purpose of striking, simply condoning us for being disruptive – I think, Mrs May, that was the point."  
The event kicks off at 10 am by City Hall – see the Facebook event here.