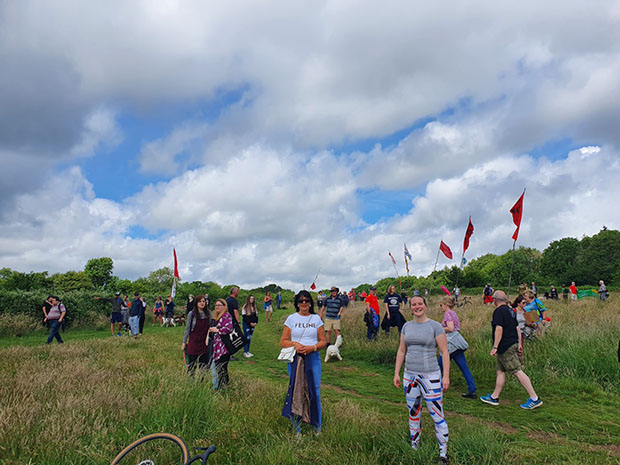 'Yes to Velindre, no to Meadows destruction,' say campaigners
PROTESTERS striving to save the Northern Meadows in Whitchurch from intended development say they will keep fighting until the proposed location is reviewed.
Following a successful initial demonstration last month, the Save Northern Meadows group have more socially-distanced gatherings planned over the coming weeks.
Around 250 people flocked to the nature spot, also known as Whitchurch Meadow, on Saturday, June 20, to protest its intended use for a new Velindre cancer hospital.
The group have also been making official objections to the latest planning application before the deadline on July 16, as well as contacting local politicians and interested parties, writing letters, and attending consultations held by the Velindre development team.
Campaigners have stressed that they do not oppose the building of updated facilities, but believe alternative, brownfield sites nearby would be more suitable.
Leanne Roberts, 39, of Whitchurch is one of the local people who enjoys spending time at the meadows with her husband and son, five.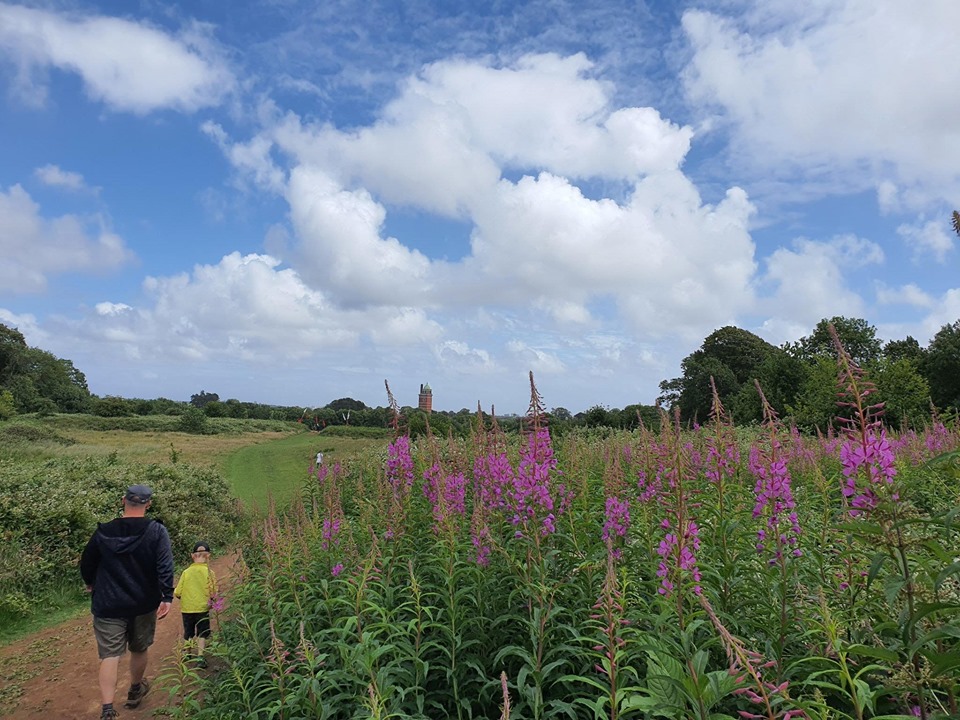 "We love the outdoors and having it so local means we can walk and enjoy it all the time. As soon as we enter the meadows I see my son's spirit lift. He literally bounds across the meadow," she said.
"I will be there every Saturday as much as I can to support the protest. I hope enough objections can be made on the planning permission for the access road that it gets called in to government to be looked at."
Conservative Councillor for Whitchurch and Tongwynlais, Mia Rees, also attended last month's protest.
"If there are sites which mean that green spaces wouldn't disappear or which would actually bring a cancer hospital closer to other medical facilities, I think that's a better place for it," she said.
"You've got the housing estate on one side, and on the other side of the meadow you've got blocks of flats, so that's people with no gardens at all, they just have a car park. If you live in a tower-block and the green space that's really close and really accessible to you is about to be built on, how isolating and bad for your mental health that must be."
Mia Rees urges local people to sign the petition and write to their representatives [Image: Catriona Aitken]

Councillors Linda Morgan (left) and Mia Rees (right) in the Northern Meadows
[Image: Mia Rees]
The issues surrounding the meadows development have been discussed for many years, with each new necessary planning application causing delays and being met with fresh objections.
Campaigners argue that contemporary environment commitments, including declaration of a climate change emergency, made by both Cardiff Council and the Welsh Government, should be taken into consideration.
Alternative, brownfield sites have been suggested by campaigners and previously considered, including the nearby old Whitchurch Hospital, a grade II listed building and former mental health facility which closed in 2016.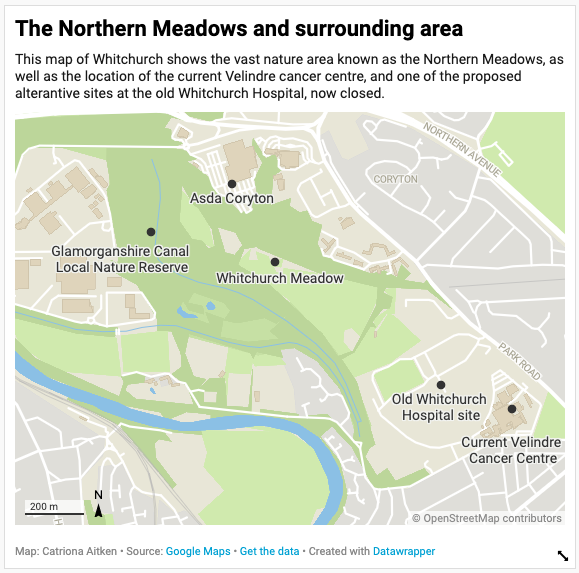 The meadows are one part of a wider nature area, home to a heronry and many wild animals such as various birds and fish, foxes, badgers and hedgehogs.
Over 11,000 objectors have also signed a petition set up by Tessa Marshall on behalf of the Save Northern Meadows group.
The proposed development is being funded by the Welsh Government as part of their Mutual Investment Model (MIM) for delivering infrastructure schemes in partnership with the private sector.
Senedd member Niel McEvoy attended the protest and has voiced support for the cause, this week sending a letter to the Ministers for Health and Environment, asking for urgent call-in of the development plan.
However, Deputy Minister for Health and Senedd member for Cardiff North, Julie Morgan, supports the proposals.
Velindre University NHS Trust say that the meadows site, previously used to grow crops for residents at the self-sufficient mental health facility, has been previously granted planning permission and is owned by the NHS.
It was considered for development alongside several other locations, including the old hospital site and land adjoining the University Hospital Wales (UHW), but was selected as most suitable due to its size, ease of access, the time-frame of the project, and the benefits of the surroundings to patients to be treated there.
A spokesperson for the trust said: "Research shows that nature has a healing and calming effect on humans and our proposals, therefore, place the landscape and its biodiversity in a central role – not only around, but also integrated into the buildings themselves.
"Our vision is for a Velindre Cancer Centre which has the strength to last for the long-term, which promotes excellence in future cancer services and which exceeds the expectations of the future generations who use it.
"We will only be able to achieve it if we work with – and learn from – our neighbours, patients and staff, and would welcome members of local community groups to get in touch with us so we can work together."