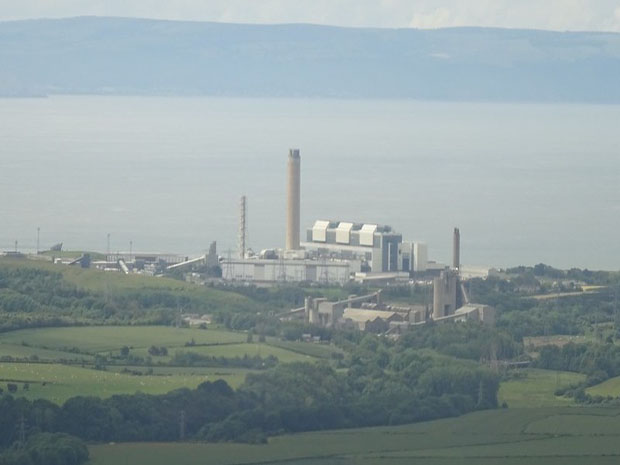 'Clean Air Zone' crucial for Cardiff, say environment campaigners 
CARBON (CO2) emissions in Cardiff are the third highest of any Welsh local authority, according to the newly-released monitoring figures from 2018.
The data, made public by the Department for Business, Energy and Industrial Strategy last month, shows that 1,647 kilotonnes of CO2 was emitted in Cardiff in 2018, down just marginally from 1,653 in 2017.
Bryony Haynes, joint coordinator of Cardiff Friends of the Earth (the local branch of the international environmental campaigning organisation) said: "It is positive to see a decrease in the CO2 emissions in Wales, but it is not at the rate we had hoped for. While individual behaviour and attitudes are important, lowering CO2 emissions further cannot be solely reliant upon that."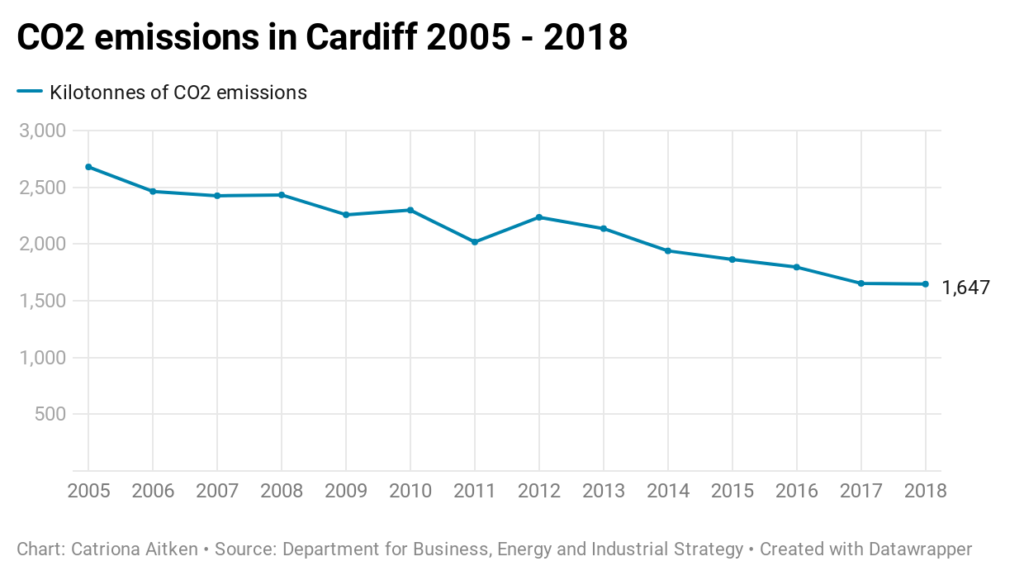 CO2 is the largest contributor to greenhouse gas pollution in the UK. Some CO2 is emitted naturally, and then absorbed by many different plants.
However, use of fossil fuels such as coal, natural gas, and oil releases extra carbon and other greenhouse gasses into the atmosphere, with man-made developments frequently reducing the number of CO2-absorbing trees as well.
Continuing at the current reduction rate, the Net Zero by 2050 target committed to by the Welsh Government and Cardiff Council's own 'One Planet City' 2050 goal, cannot be achieved.
Cardiff's net emissions in 2018 were lower only than those in Flintshire and in Neath Port Talbot, where a large amount of CO2 (5,983 kt) was emitted within the industry sector, but the figures for domestic and road transport emissions were there lower than in Cardiff.
"At the moment, it feels as though we are a long way off. However, in the last year or so, it has been encouraging to see the Welsh Government and local authorities taking more proactive steps in achieving its carbon targets, particularly in 'hidden' sectors such as housing, which accounts for 9% of Wales' total carbon emissions," said Ms Haynes.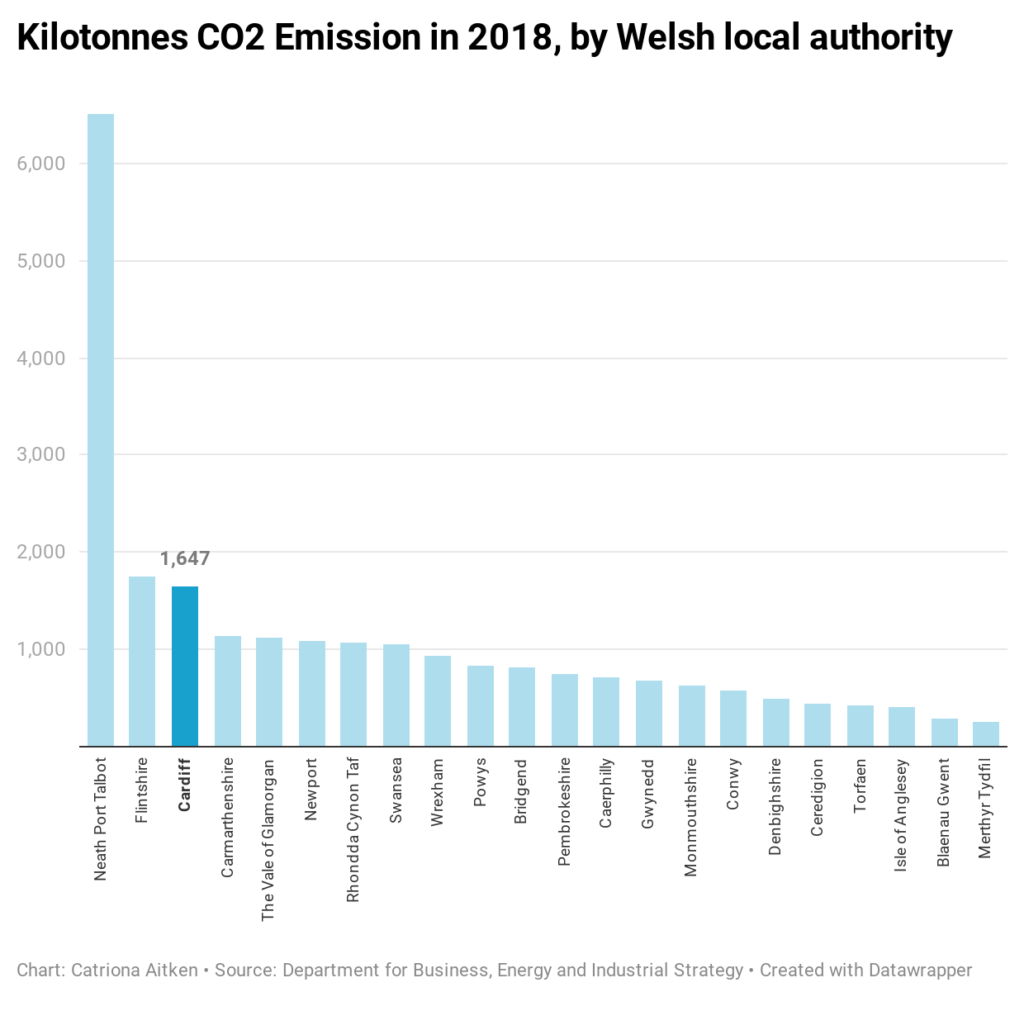 However, when the 2018 figures were weighted against the estimated population of the local authorities that year, Cardiff performed much better with a score of 4.5, just 0.2 higher than Swansea, the next largest area.
"Although we campaign on local environmental issues in Cardiff, we are all too aware of the 'Cardiff bubble'. The rest of Wales cannot be left behind in progressive economical and environmental policies," said Ms Haynes.
When asked about the latest monitoring figures and what policies are in place to help meet the targets set, a spokesperson for Cardiff Council said: "The figures show a decrease in C02 levels in Cardiff, which is obviously good news and welcome, but there is more work to do.
"The council will be launching our One Planet policy document a little later in the year. When we are ready to launch it, we will be in a position to outline the council's position in more detail."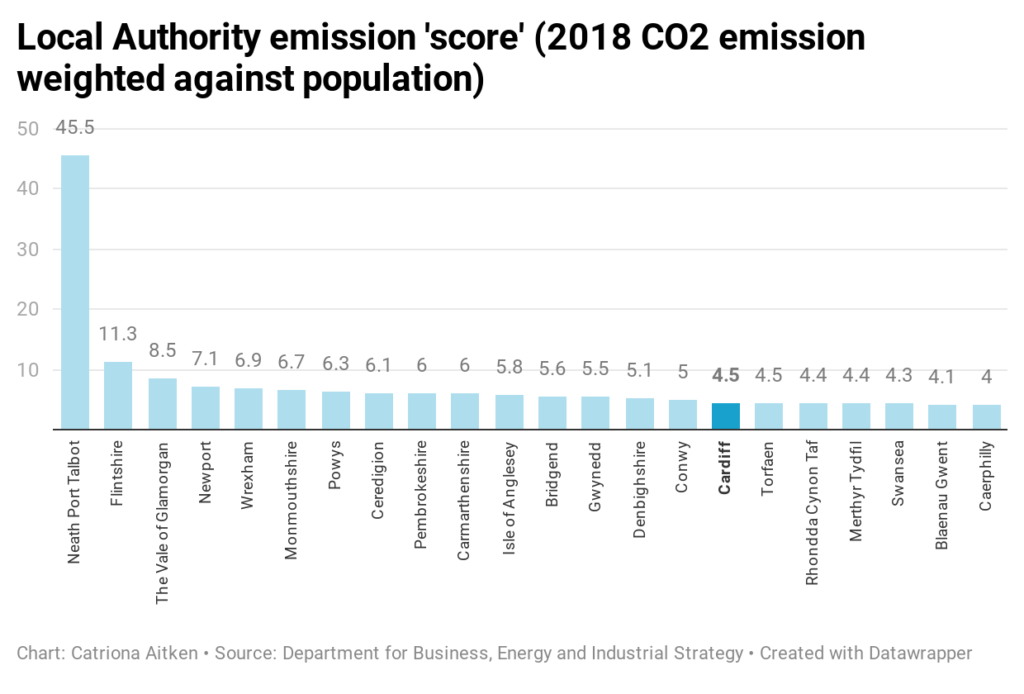 Wales overall had a 2018 figure of 23,624.2 kilotonnes, down from 24,791.7 the previous year.
Industry and Commercial CO2 emissions made up the biggest portion of the Welsh total (53%), but in Cardiff the main culprit was Road transport (40%).
Cardiff Friends of the Earth has been calling for a "Clean Air Zone" in Cardiff for the last year.
"In response to this data, it is clear that more environmental initiatives need to be implemented. For example, better accessibility to public transport," said Ms Haynes.
"We are in the process of building a Clean Air Alliance with other interest groups to build support further. We are all too aware that this needs to be done in a socially just way, with careful thought and consideration for different groups of people across Cardiff."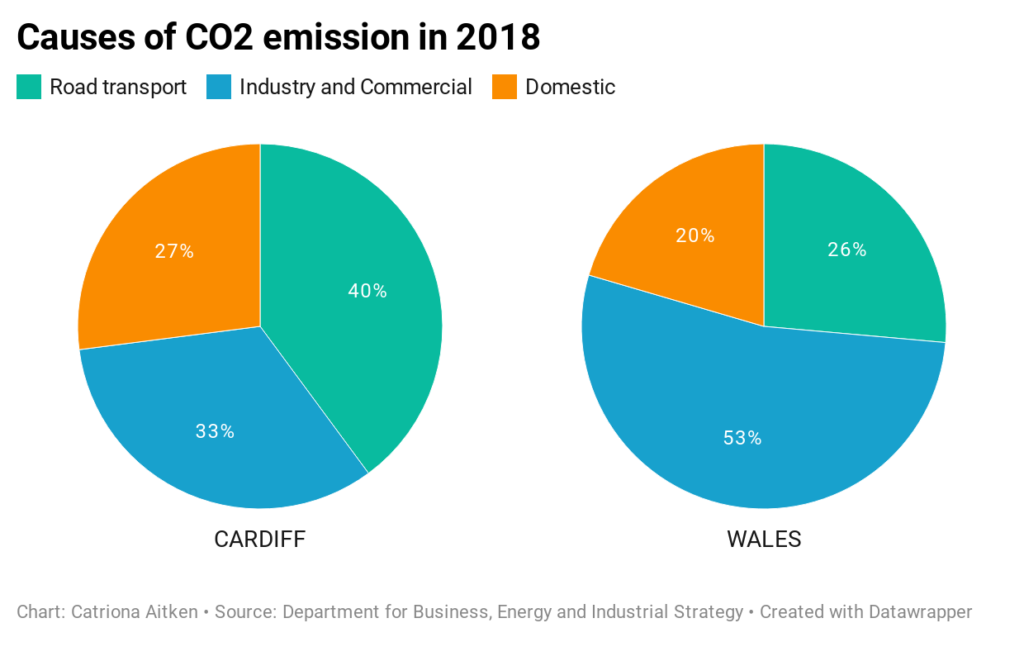 The group believes that the recent lockdown period has made more people aware of their local environment, as has been seen through campaigns such as Save the Northern Meadows in Whitchurch, and welcomes local authority measures to encourage fewer cars in the city.
Bryony Haynes said: "While the effects of the COVID-19 crisis have been devastating for many individuals and families, it has made many people reflective of the local environment they live in, with the need to preserve and improve it for future generations.
"The pedestrianisation and improved cycle lanes on Castle Street in recent weeks has been welcoming to see, particularly as we know how heavily polluted this part of Cardiff is. We hope that careful consultation with local communities in other populous areas of Cardiff can allow similar measures to be introduced in reducing the amount of car use in our city."
There have also been calls for more contemporaneous reporting of monitoring statistics, to aid the government and local authorities in their plans moving forward.
"More frequent statistical releases are needed in order to properly monitor the situation and allow time for careful consideration for effective action. The two-year lag means that we are unable to see any data of this sort in light of the Climate Strikes last September," said Ms Haynes.
"The same statistical measurements for the period that we are in now would be useful to be analysed and released sooner rather than later as we begin to move forward.