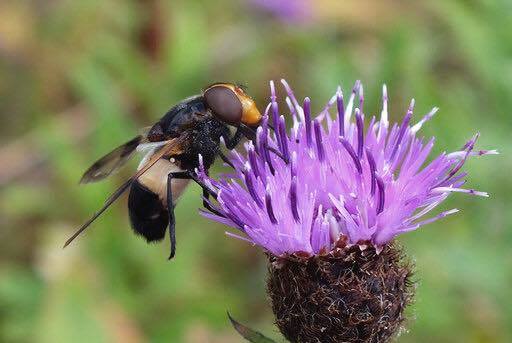 CARDIFF experts are calling for people to make small changes to help slow the decline of insects, which threatens a collapse of the world's ecosystems.
A global review from the Biological Conservation last month found insects are rapidly facing extinction because of climate change, habitat loss, pesticides, pollution and much more.
The review of 73 species of insect found that more than 40% of insect species are in decline and a third are endangered.
The rate of extinction of insects is eight times faster than mammals, birds and reptiles.
In cities like Cardiff, pollinators such as bees, wasps, hoverflies, butterflies and moths are at high risk, particularly as manicured lawns and a lack of hedgerows means there are limited food sources for insects.
But why does it matter?
Liam Olds, 26, a conservation officer from Buglife, Cardiff, said: "Insects and other invertebrates are essential to the functioning of healthy ecosystems.
"They pollinate our food crops and wild plants, keep our soils healthy, recycle nutrients, control pests, provide us with clean air and water, provide food for other animals, and much more.
"Without insects, food webs collapse and ecosystem services fail, threatening the existence of life on Earth, including that of mankind."
What can you do?
We spoke to the wildlife experts of Cardiff to find out how you can do your bit to help the insects.
Make your garden insect-friendly
Liam Olds from Buglife shared his tips for making your garden a sanctuary for creepy-crawlies.
"We can all play our role in halting the decline in insects. This may include simple actions in our gardens and allotments – reducing the frequency with which we mow our lawns, using peat-free soil and leaving an area to go wild.
"Planting insect-friendly plants and flowers, choosing native plants wherever possible and avoiding invasive species."
Invasive species are plants which are not native to the UK.
Building a pond or a 'bug hotel' are also good ways of creating spaces for insects to live and breed without harm. Or creating a compost heap is the perfect habitat for insects.
Useful tips can be found here.
Go wild! flowers
Maria Golightly, 50, a Welsh manager at Kew Gardens, believes the best way to help insects is by planting wild flowers and avoid buying flowers from garden centres.
She said: "Wild flowers are the best. Our insects and flowers have evolved together.
"If you've got plants from B&Q or a garden centre, they have quite often have had the pollen removed. We breed them to look how what we want them to look like.
"Nature made wild flowers to spread pollen; they have evolved to be wide open. They might as well have a 'come and get me' sign for insects."
Having a diversity of flowers is key; for example plants like jasmine and honeysuckle are good night-time plants because their scent is strongest at night, good for insects like moths.
More trees and hedgerows
Rory Francis, spokesperson for the Woodland Trust Wales, explained that their concern is primarily the destruction of habitats and the importance of trees and hedgerows.
Mr Francis said: "Think of the ecosystem like a house; if you took out every third brick it would be unstable and eventually collapse."
The Woodland Trust are giving away hundreds of thousands of trees to schools and communities to create habitats for insects.
They offer eight types of tree pack from hedge, year-round colour, to wildwood.
Mr Francis continued: "Local people could plant trees and provide habitat for food and nectar, create new hedgerows and natural spaces.
"If the insects are declining, it is proof we are causing fundamental damage to our natural habitat."
To order a tree pack for your community or school, click here.
Be(e) friendly
Andrew Lucas, Special Sites Officer for Natural Resources Wales said:
"Declining insect numbers have been a problem that conservationists and environmental bodies have been aware of for some time and is an issue that effects not only the amount of insects but the diversity of insect species.
"Monitoring programmes and the Welsh Government action plan for pollinators encourages communities to become 'bee friendly'."
One of the best ways to be bee-friendly is to avoid pesticides and herbicides which are poisonous to insects and prevent pollination.
Support local green spaces and lobby for change
Cardiff University's Wildlife and Conservation Society are involved in two Grow Wild projects which focus on pollinator habitats around the university and one with Pharmabees.
President of the society, Sapphire Hampshire, 24, said it is important to support green spaces: "People should find out what Cardiff has to offer in terms of wildlife, like a forest farm or go and speak to community rangers about how you can help with supporting insect habitats."
Jordon Cuff, a PhD student of Entomology, the study of insects, at Cardiff University, said: "A way that people can help would be to contact AMs or lobby politicians to make changes about chemicals and pollination."