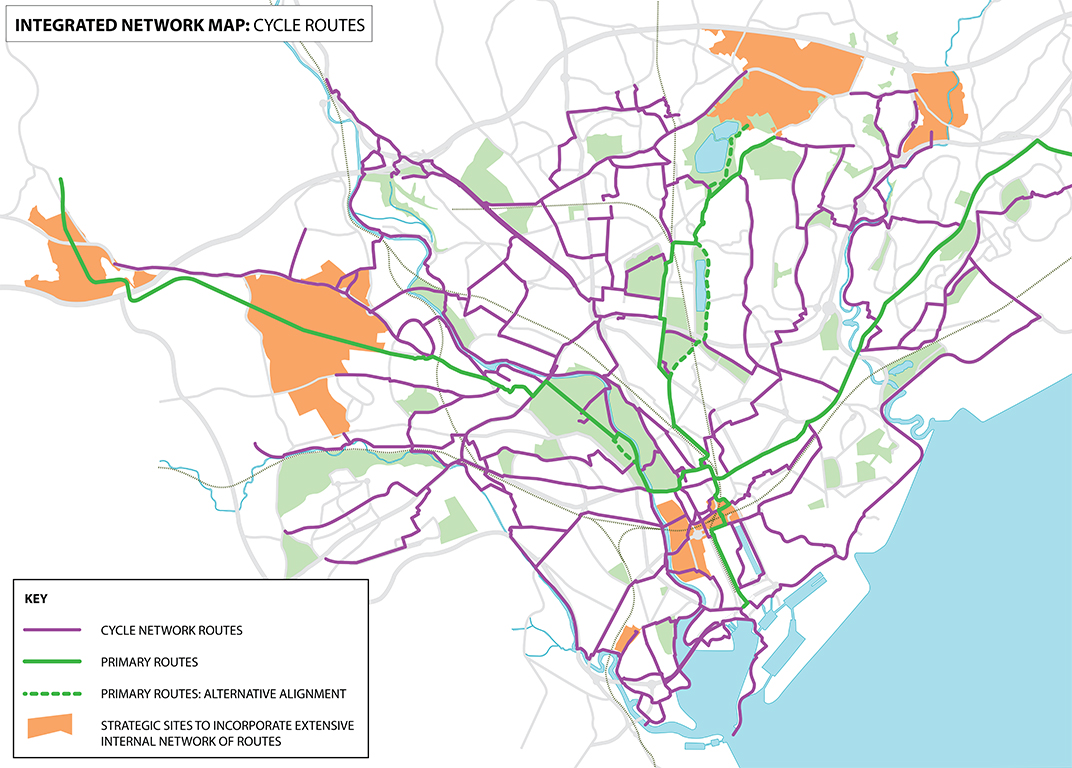 AN AMBITIOUS plan to turn Cardiff into one of the UK's most cycle-friendly cities over the next 10 years has been unveiled by Cardiff Council.
The Cardiff Cycling Strategy aims to ease road congestion by getting half of all the city's commuters cycling, walking or using public transport to travel to work by 2026.
The cycle strategy proposes a linked cycle-lane network across the city, with two major cycling routes running through the city: one from north to south, the other from east to west, joining together cycle routes throughout the city.
The north-south route would run from Cardiff Bay in the south, through the city centre, passing Cardiff University campus and turning north-east towards the Heath.
The east-west route would run from St Mellon's Business Park in the east along Newport Road, run through the city centre, and turn north-west towards Cardiff Metropolitan University's campus.
There are also proposals to link these main cycling thoroughfares to new housing developments that are part of the council's Local Development Plan.
Other routes have been proposed which criss-cross the districts of the city and link to the main cycle routes.
About 64,000 of Cardiff's daily commuter population of 80,000 travel into the city by car.
But cycling is on the rise, with 9.4 per cent of commuters said to have made their daily journey to work by bike in 2015, up from 4.3 per cent in 2005.
The city is the fastest growing in the UK, with an expected population rise just under 80,000 between 2006 and 2026 and 40,000 or more jobs to be generated.
The cycle strategy would help the city cope with this massive influx of new workers and residents.
A major innovation of the strategy is to create segregated cycle paths along the main routes, to make would-be cyclists feel safer.
Cardiff council claims in the strategy that 28 per cent of Cardiff residents do not cycle but would like to if there were improved conditions.
Councillor Ramesh Patel, cabinet member for Transport, Planning and Sustainability said: "From public consultation there is evidence that people are keen to use other means of transport instead of cars.
"About 52 per cent of trips within Cardiff are less than a few miles, and if you go by bike it will take less than a few minutes, so why should you not?"
Coun Patel has stressed the gradual nature of change the strategy hopes to encourage, citing similar changes that have taken place in other cities like Copenhagen.
He said: "What you have got to remember is this is not going to happen overnight. This is why we need a 10-year plan."
The plan has been met with a positive reaction from Cardiff's cycling community.
Writing in a blog post, Gavin Lewis of the campaign group Cardiff Cycle City said: "We must admit to being cautiously optimistic.
"On the face of it the strategy is saying the right things. It has ticked off a number of items on the wish list and gives us cause for optimism."
He added: "There are council elections next year and a lot can change with a new crop of councillors steering the ship. In an ideal world the new councillors will push ahead at a faster rate with these plans, but it could also conceivably go the other way."
When questioned how local elections in May might affect the future of the strategy Coun Patel said: "We are the administration and we have a focus on what we are delivering, and as far as we are concerned we will win the election in May. When we do, we will be taking this vision to the people of the city."
The cycling strategy has been put together after Cardiff Council visited Copenhagen to take advice from Gehl Architects, a firm which champions "cities for people" by promoting sustainable living, public spaces, and affordable housing.
After agreeing to take action on the draft plan at last week's cabinet meeting, Cardiff Council have launched a public consultation into the cycle strategy, with the first meeting planned for February 23 in City Hall.