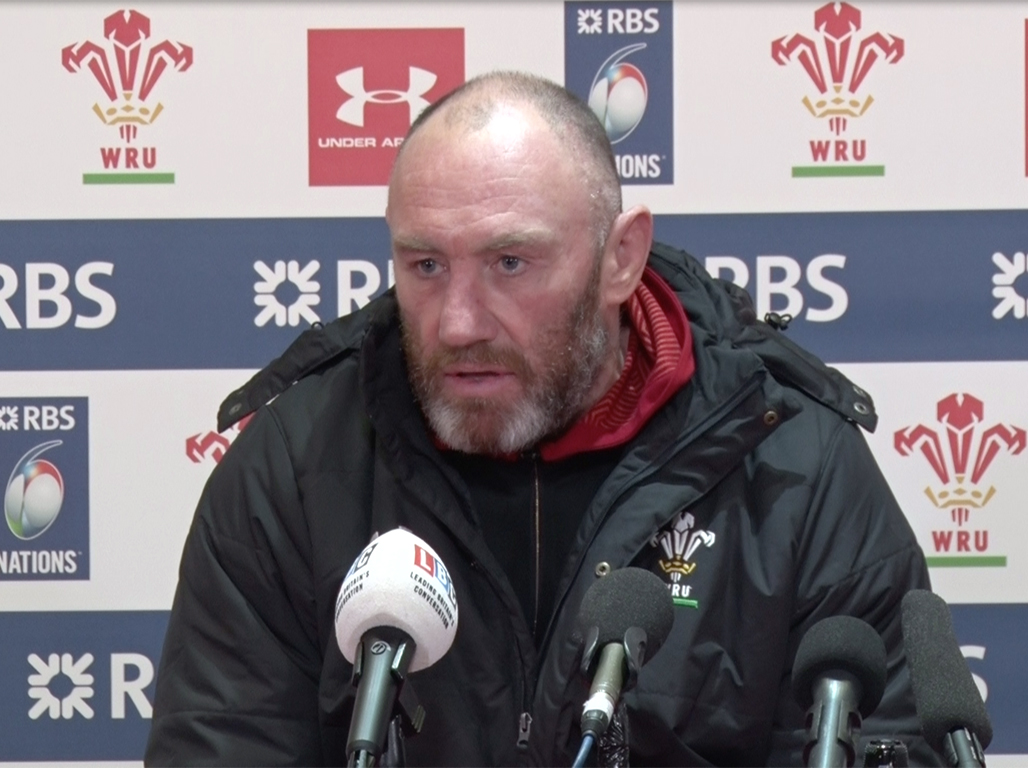 THE last press conference ahead of Saturday's Wales v England clash was dominated by questions on the fitness of winger George North.
North and outside-half Dan Biggar were injured in last Sunday's Six Nations victory over Italy.
Forwards coach Robin McBryde, bombarded with questions, said: "They both took part in training today. I can't say any more than that we're at the same place that we were yesterday, leading up to the game.
"Everything that we've asked him to do he's been able to do. Obviously we've got contingency plans. We've got both Steff Evans and Alex Cuthbert with the squad as well. Everyone's got their heads on, psychologically."
Alex Cuthbert was seen exercising while North stretched in training today. Cuthbert has been tipped to be North's replacement if his fitness is not up to scratch.
McBryde was asked about the poor form of Alex Cuthbert, and the readiness of Steff Evans, who has one cap for the under-20s team: "They'll be ready for it. We're playing against England — second best team in the world. It doesn't matter who's on wing, they'll be ready for it."
England coach Eddie Jones yesterday used his his veto to keep the Principality Stadium's roof open. "It's gonna be a fantastic occasion, it'll be dry tomorrow, and I don't think it'll really make much of a difference."
Jones made some controversial comments in the run-up to the game, describing Wales as a "Principality". McBryde was unconcerned about the possibility of mind games: "Not interested really. You'll have to ask Eddie. I'm not really the best person to ask. We're just focussing on the game tomorrow."
When asked what makes Wales v England so special, McBryde was coy. "Well, we're neighbours, aren't we. I've got to be careful what I say, as I've got two English brothers-in-law. It's just that English / Welsh rivalry, really. Wanting to get the better of your neighbour. Simple as that."
McBryde talked about the quality of the forward play in Sunday's match, and alerting the referee to their style of play after a poor call early on against Wales.
"There are one or two things I think we'll raise with him. I thought we scrummaged very well last week. We scrummaged very legally. The ref, JP Doyle, was perfectly honest after the game, he said we should have got the first penalty and he got it wrong, but our dominance grew as the game went on and we got that legally, and we're looking to do the same tomorrow.
"We've worked hard on our reputation as a scrummaging unit, we rely on that, and hopefully we'll see a positive attitude from both teams, and some great running rugby on top of the tighter aspects."
Sunday also saw props Rob Evans and Tomas Francis replace Samson Lee and Nicky Smith. Their success in the pack has seen them named a part of the starting XV this Saturday.
"They came on and made an impact, as did all the subs last week. Just rewarding them for that, really. The challenge for those two is to start in the same vein, and for the two boys who missed out and started on the bench, it's to come on and make the same impact tomorrow."
McBryde said the challenge was to keep up a consistently good performance across two halves.
"Don't hold anything back. We know we've got two good scrummagers on the bench, and across the board, they all offer something with a ball in hand. There's a lot of talk about the ball-carrying abilities of the English back, but the Welsh have an equal number of effective ball-carriers too.
Praise was then lavished on Osprey player Sam Davies, who replaced Biggar as fly-half for the entire second half of the Italy match: "He's not fazed by anything. There's a freedom about him, the ability to forget what's gone on before, and just focus on the present. He's mature, he's part of a young leaders group that we've got in the squad, and he's a very confident individual.
"We've been very impressed by what he offers off the field as well as on it. Obviously, the Ospreys know him very well, but he's still fitted in really well with the rest of the squad." McBryde paused, and laughed. "Nothing like his father."
At the end of the press conference, the questions turned back to George North. "I can't go into 50/50s or 60/40s, all I can do is rely on what the medics are telling me. It's obviously a close call because we're leaving it late, but whatever happens, we're making sure we're ready for the kickoff tomorrow.
"Rob will make the final call on George. [The regulations require the starting XV to be finalised 1 hour before kickoff.] We're giving him as long as possible. The other two boys are dropping in and out. What will be, will be."
The final question was about the difficulty of players not knowing whether they were due to start: "I know that Rob's spoken with all the players involved just to make sure everyone's ready, should the call come. It's been a short week, and they've dropped in and out of things as often as possible. It's not ideal, but it's something professional Rugby players are used to, and it just means they've got be a little more diligent in their work off the field."
Wales v England kicks off at 4.50pm on February 11 in Cardiff.