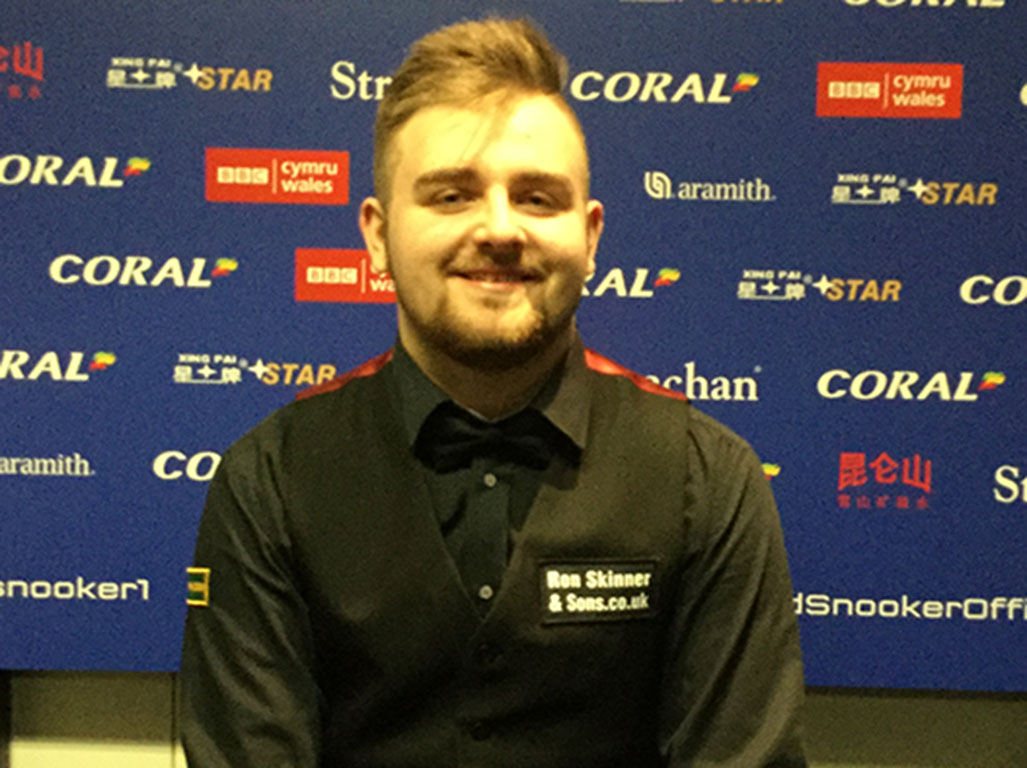 IN every master-and-protégé relationship, there comes a time when the master is outshone by the protégé. For Mark Williams — twice world snooker champion — that time was earlier this week in the Welsh Open at Cardiff's Motorpoint Arena.
On Monday afternoon, Williams' young practice partner, 15-year-old amateur Jackson Page, played in his first-ever match at a professional snooker tournament.
Even under the glare of the TV cameras and all the extra pressure that brings for the first-timer, Page won the match. But simply to say that Page won the match is to leave out some important details.
Page did not just win. He won in emphatic style.
At 3-1 down, the schoolboy from Ebbw Vale was on the verge of defeat. His opponent, 46-year-old Jason Weston, needed one more frame to claim victory and seal the expected result.
In actual fact, for Weston even to have lost one frame to his amateur opponent was a bit of a surprise. OK, Weston himself was not exactly a superstar, but being the 123rd-best snooker player in the world was a damned sight better than not being on the radar at all, which is precisely where Page was.
But Weston lost a frame. And then another. And then, somehow, against all the odds, Page and Weston were tied at three frames apiece and battling it out for a place in the second round of the Welsh Open and a cheque of £2,500.
"When I play snooker I don't really focus on the money," said Page after the match.
But you can bet your bottom dollar that Weston had money on his mind on Monday afternoon. Your mind is bound to linger on the subject when you're 46 years old and ranked 123rd in the world in a sport where wages are for winners only.
So, when Weston moved 41-20 ahead in the final frame and left himself with a pottable black to extend his lead, he must have had a whiff of the precious money awaiting him on the imminent finish line.
But — horror of horrors — the black did not drop.
Ten minutes later, with Page at the table, the score was 53-40 in Weston's favour.
The table was bare except for the pink and black. If Page could pot both balls, the 13 points he would receive in return would be enough to put him level with Weston on 53 points. Then, with the table empty, the referee would return the black ball to the table to set up a next-pot-wins, winner-takes-all finale.
To the snooker fan, a black ball shoot-out is the ultimate gift. But a black ball shoot-out in a deciding frame is what heaven is made of.
On 28 April, 1985, a TV audience of 18.5 million watched, riveted, as Steve Davis and Dennis Taylor contested a black ball in the deciding frame of snooker's world championship final.
However, a black ball game was a distant prospect for Page, who had a near-insurmountable challenge before him.
Even in the relaxed atmosphere of the practice room, potting the long pink, perched near the cushion, would be considered a commendable achievement. To pot this pink during a high-stakes tournament match would take a near-miracle.
And to pot the pink in a fashion which would allow the cue ball to travel back up the table and near the black…well…that was unthinkable. 
Yet Page potted the pink.
And he potted the black. And snooker fans were getting a black ball shoot-out.
Weston's break-off shot was a good one, knocking the black into an unpottable position and leaving the white against the cushion to hamper Page's cueing.
Page did more than return the gesture, executing a perfectly-weighted safety shot of his own.
This was all it took for Weston to buckle. He fluffed his lines so as to leave the black ball invitingly close to a corner pocket.
However, the white ball had settled towards the opposite end of the table, making the pot that little bit trickier, if not potentially missable. If Page was to complete the job, he could not afford to lose his focus.
If there was any self-doubt in the 15-year-old's mind, he didn't show it. Without hesitation, he sent the white ball gliding across the table to meet its mark, which it did.
"When that last black went it, I didn't know what to feel — it was just unreal," said Page afterwards.
And yes — it was unreal. A 15-year-old amateur, whose entry into the tournament was by virtue of a wildcard, had demonstrated the composure of a champion.
In fact, as would transpire one day later, his composure was even more finely-tuned than that of a champion.
When Mark Williams faced a deciding frame against world number 115 Elliot Slessor, the former world number 1 could not produce the goods. The pride of the valleys crashed out at the first hurdle in his home tournament — an event he had won twice in his career.
"How the hell I'm in the top 16 I'll never know," said Williams in his post-match press conference. "I'm a shadow of the player I used to be and that's why I put in a performance like that — I'm just not that good anymore."
Williams' searing self-critique was almost heart-breaking to listen to. Yet much of its power lay in its proximity to the truth.
In the 10 years between 1995 and 2005, Williams scooped a haul of 16 ranking titles, including world championships in 2000 and 2003. And all of this during the reign of Stephen Hendry — often regarded as the greatest snooker player of all time.
But with just two ranking titles to his name since the 2005/6 season, Williams is well aware that he is indeed a "shadow" of his former self.
It is very unlikely that the 41-year-old Welshman will ever win another big tournament in what remains of his career.
However, he still has an important job to do.
"It's great playing with Mark Williams. You look at the shots Mark plays and then you learn from it, so it's great," said Jackson Page, whose practice sessions at Williams' club in Tredegar have been integral to his recent success.
If Protégé Page is to fulfil the promise he broadcast to the world this week, he will need Master Williams close by his side.