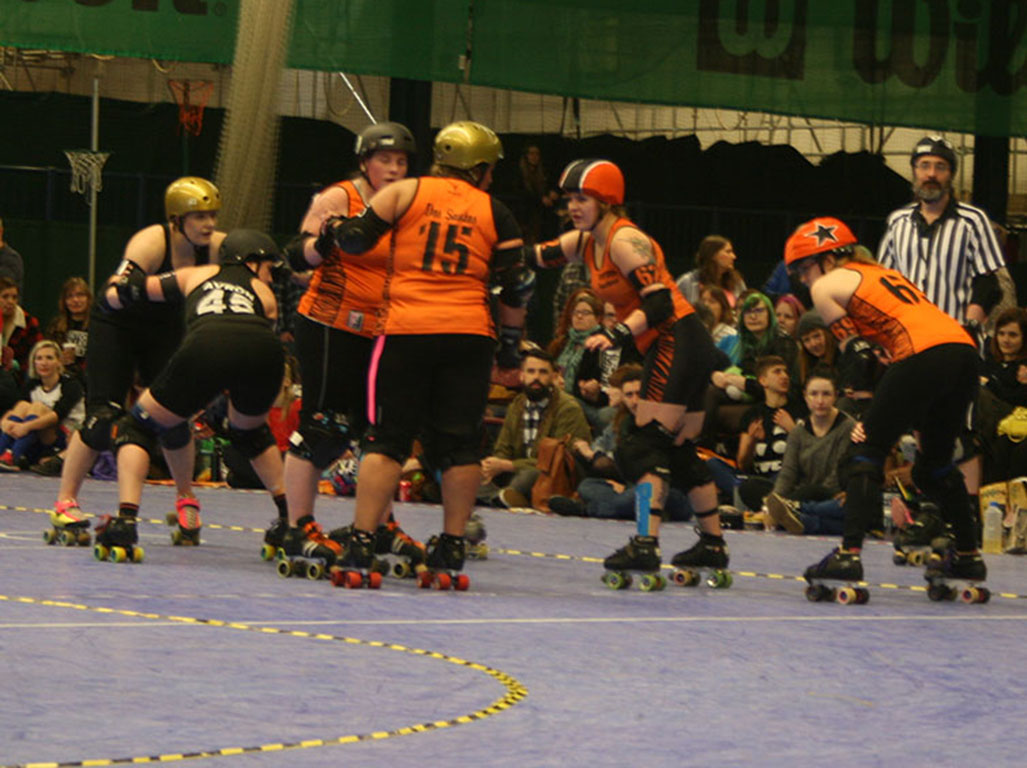 WALES' first international roller derby team,the Tiger Bay Brawlers, beat Leeds Roller Derby 294-44 in their first home appearance of the season.
The Brawlers played in the second of two matches at Cardiff Central Youth Centre on Sunday, following the defeat of Bristol Roller Derby by the Birmingham Blitz Dames, who won 115-53.
Despite being a month away from losing their training venue, the Brawlers showed that they're still a force to be reckoned with among the British champions of roller derby.
Before the match, the Brawlers were overwhelmingly positive about their chances –leaving spectators in no doubt that every skater was there for the love of the game.
Team member and co-captain Donna 'Thrill Collins' Hartley said: "I'm pretty pumped. It's the first A-team game and I'm feeling pretty good and excited."
The Brawlers, concerned that Leeds' style of play might be difficult to anticipate having just merged two different teams together, had thought it would be a close match.
Steph Howarth, the other half of the co-captain duo, said: "We know some of their key players, but they're an unknown element. They've got the best of two teams and so they put the best of both teams together."
Fellow team member Zoe Clarke echoed this. She said: "Leeds are kind of an unknown, so we don't know if they are a good team. The Blitz Dames have been going for years, there's stuff online we can watch and we can guess what they're going to be doing, but we can't do that with Leeds."
Ten minutes into the game, it was clear that the Brawlers had a clear advantage over Leeds, having trained together for much longer. By half-time, the scores were 165-13.
If Leeds were an unknown element, then in contrast the Brawlers were a finely-tuned machine. Head coach Pip Gray said: "We're very blessed with our jammers."
Nothing about the Brawlers' play style disagreed with this. In her first official A-team match, Zoe Clarke became lead jammer in her first jam. There were also stunning displays by fellow jammers Steph Howarth and Billie Pistol, and solid blocking from every Brawler as a result of their new manoeuvres and footwork.
The hard work definitely paid off. After the match ended, Billie Pistol said: "I'm worried when all the adrenaline wears off and my whole body just hurts."
After a victory lap around the track, the Brawlers and Leeds Roller Derby traded high fives before giving out awards for their own team members. From the Brawlers' team, Best Blocker went to Donna 'Thrill Collins' Hartley, Best Jammer went to Billie Pistol, and MVP went to Ava Assassin.
FINAL SCORES: