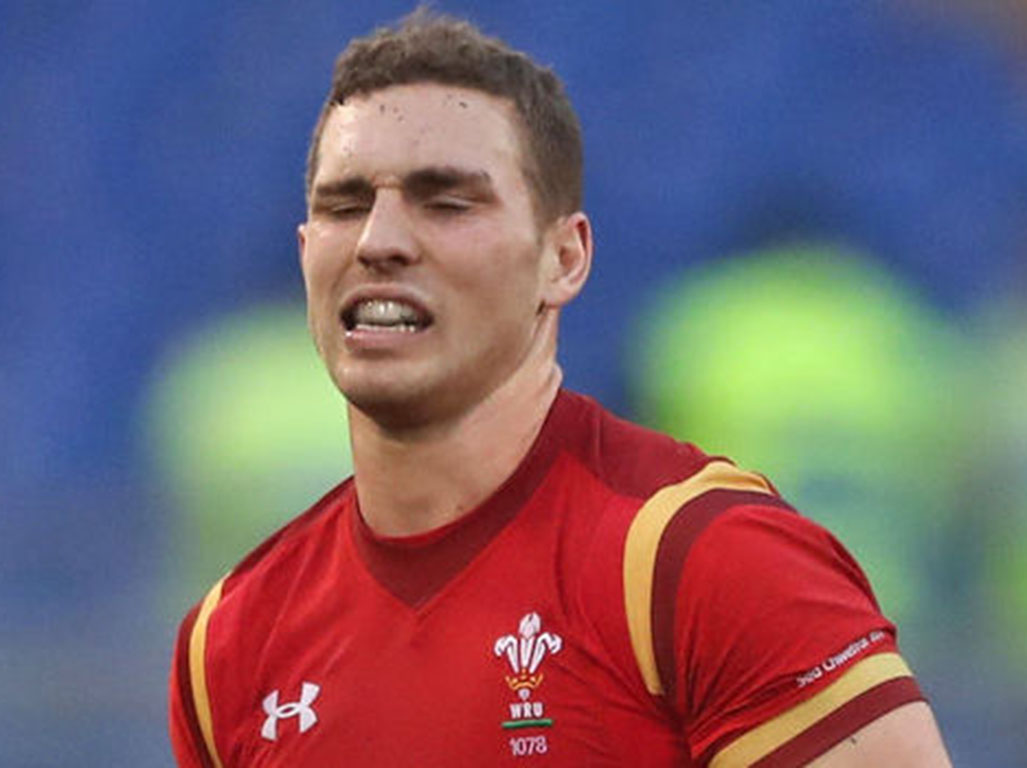 "IF he is selected, I expect George to certainly be on his mettle."
Wales' defence coach Shaun Edwards was not shy in scrutinising the form of superstar wing George North in Monday's press conference.
"He wasn't at his best against Scotland but I think great players, who've done great things for you in the past, sometimes deserve a warning."
It is likely this is only a warning, designed to gee him up for Friday's game against Ireland, but this is the first time since North's Wales career began in earnest that there has been any kind of debate over his place in the starting 15. Since breaking through as a teenager during the 2011 World Cup, if he has been fit to play, he has played. No questions asked.
But injuries have led to a disrupted tournament, coming off the back of a disrupted couple of years. And now his disappointing performance against Scotland has led to his coaches directly challenging him in front of the media.
It is not as if North's form has been catastrophically bad, not even close. Edwards was referring directly to the try Tim Visser scored down the right-hand wing which ultimately put the match (and any hopes of winning the championship) beyond Wales, but the overall malaise of their defence is not just down to one man — it is indicative of a wider problem within the team.
North matched up surprisingly poorly against the Dutch-born Scottish wing, but the wings have been a defensive weak link all tournament. Nobody needs to look any further than the tries Tommy Seymour and Elliot Daly ran in against Liam Williams and Alex Cuthbert respectively. They've been exposed badly out wide.
Although no player can assume their selection is guaranteed regardless of form it is worth remembering the positives the 24-year-old brings to the team. In last season's Championships, he finished as the tournament's top try scorer with four and his 60m run in against Italy was the fifth Six Nations game in a row in which he had crossed the whitewash. He also made a tournament high of seven clean breaks in the last tournament. Essentially, there are very few wingers in world rugby who compare favourably to the former Scarlet.
If North's position was to come under serious threat, though, it is hard to imagine anyone coming in who would be an improvement, unless his blip against Scotland became more of a long-term drop off.
When North was injured against England, Wales brought in the much-maligned Alex Cuthbert to fill in. Not only did they experience the same problems defensively on the right wing as they did against Scotland, but the Blues wing also failed to make any positive impact on the front foot. Cuthbert made just three metres with the ball in hand during the whole match.
In fact, despite North's rather meagre total of four tries for club and country this season, there are very few proven wingers who can offer much of an improvement on those statistics.
Liam Williams, who currently occupies Wales' other wing with distinction only has three tries for Scarlets this season (admittedly from full-back). Cuthbert has five for the Blues but looked exposed in his last international and throwing him back in against Ireland will do nothing for his already fragile confidence.
The only other real options for Wales are uncapped and untried at international level, something which doesn't look like changing any time soon as Rob Howley continues to hold off blooding new players in the absence of Warren Gatland, away on Lions duty.
But these uncapped starlets may hold the key for Wales' future if given the chance, much in the same way that North was seven years ago. Steff Evans of the Scarlets has made the final squad of 24 this tournament but has yet to sit on the bench at international level. He has six tries in 20 appearances for the west Walian region in all competitions this season.
Then there's Keelan Giles. The 19-year-old started the season playing Principality Premiership rugby for lowly Swansea, but since being promoted to the Ospreys has scored 12 tries in 12 matches at regional level. No other Welsh winger can touch this try scoring ratio at the moment, but Giles has not yet been recalled to the national squad after a hamstring problem he picked up at the start of the calendar year.
The issue for these youngsters is that Edwards was calling North out on his defensive skills, an area in which it is essential they both improve.
Even though there is no serious risk at this time of North being dropped, despite the increasingly exciting options available to Howley should he wish to buck the trend of his temporary charge and experiment, North will not be able to continue to drop off in form and expect to keep his place long term.
Not only are there younger, hungrier players coming through the ranks such as Giles, Evans and Newport Gwent Dragons' Ashton Hewitt, but North is at a critical stage of his career in terms of fitness.
As a youthful addition to the national squad, North was fearless in his rampaging, all-action style, both going forward and making the tackle. But now, after five concussions in the space of two years, it is yet to be seen what sort of effect this could have on his game.
North is not one to get scared, nor admit to the media that he is seriously considering retirement to protect himself from any further brain injuries — but the last few seasons have shown a very slight but consistent dip in his try scoring totals.
At the peak of his powers, during his final season at Scarlets and first season at Northampton Saints, he was scoring a try almost every other game. He scored nine tries in both the 2012/13 and 2013/14 campaigns. In 2014/15 this dropped to seven. Last year he managed only five. This season he has three. Although he clearly still has the explosiveness which he showed in that remarkable score against Italy, his overall effectiveness, especially in defence, appears to be slightly on the wane.
Whether this slow drop off in try scoring is as a result of those head injuries as is terminal is up for debate, but the time is fast approaching when North is not going to be an automatic pick in the Wales team anymore. Edwards may have just been trying to shake him from his short term slumber, but there may be tough times ahead for Wales' try-scoring poster boy.