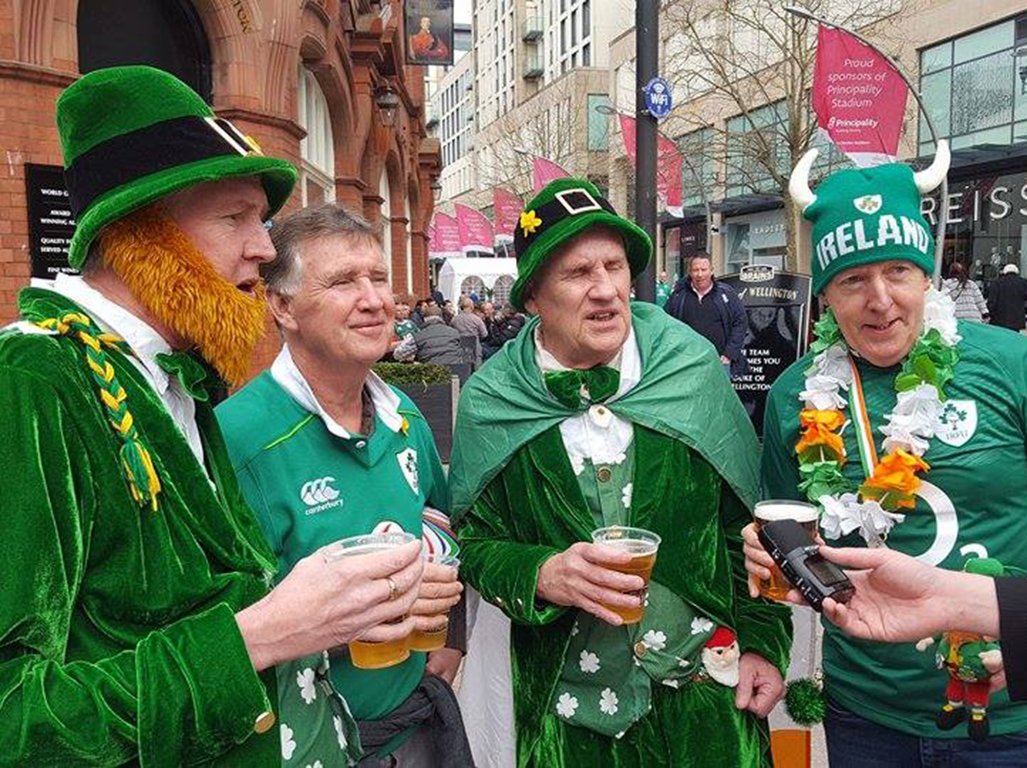 THOUSANDS of rugby fans are enjoying themselves in the city this lunchtime as they look forward to tonight's Six Nations clash between Wales and Ireland.
With the Principality Stadium a 74,000 capacity sell-out and tens of thousands more fans expected to watch in Cardiff's pubs and bars, a lively atmosphere has already developed. 
"We came over here yesterday, and we think we'll win by 30! Bonus points, that's what we want," said Paddy from Roscommon, Connaught, who was among a group of fans enjoying a lunchtime pint.
Declan, also from Roscommon disagreed. "We'll win, but it'll be tight. A few points at most.
"Halfpenny, that's where the danger is. His kicking, if he's on fire, will help Wales stay in the game."
Their friend Gerard was similarly optimistic and was hoping for a double celebration if Scotland beat England in tomorrow's game. He said: "We've only had a few hours sleep, but tonight it's victory celebrations. And tomorrow, we're all Scottish."
The McAleer brothers, Seamus and Michael are from Tyrone, and are visiting family in Cardiff.
"There'll be 10 or 12 of us altogether. We'll all be going out for a pint later – or a few," said Seamus.

"We've been to Cardiff a number of times. Last time was about six or seven years ago. If our nine and 10 play as well as they did in the last game we'll win. They're the best nine and 10 in the Six Nations.
"The biggest threat from you will be George North. Definitely."
His brother Michael offered a score prediction: "Ireland by three or four points. I think we should be playing for points. We'll have to. I think we can beat Wales. And I think we can beat England too," he said.
Pubs are expecting a roaring trade throughout the day.
Samuel Stradling, who manages the Irish bar O'Neills on St Mary's Street said: "We'll get really busy around 3pm, give or take. We have a capacity of about 500 when we open upstairs, and we'll probably hit that around 4pm, maybe 5pm.
"We've got around 150 kegs of Guinness, which is about 4,000 pints. And we expect to sell that.
"The England v Wales game was a hell of a lot of drinks. But we're an Irish bar serving Irishmen. We'll sell more tonight than we did then.
"I'm actually English, so I'm staying neutral on this one. An Englishman managing an Irish bar in Wales – how multicultural."
Gareth Tudor, 63 from Cardiff, was camped out in the City Arms proudly wearing paint on his face.
"Honestly, Welsh rugby's gone down the tubes. The reason I got this skull – it represents death. If we lose today, we're finished. We're not progressing. All the teams are progressing but Italy, and were going the same way.
"It's down to the managerial and coaching staff. The teams changed over the years, but the staff's not.
"We shouldn't have let Gatland go to the Lions. We've done it twice in… eight years? And it's gone badly every time.
"I think we'll win though. By three points tops. We'll win. Wales are motivated, but so are the Irish. Wales have a lot to prove and Ireland don't — they're a very good side.
"Bring on the youngsters. What have we got to lose? Bring them on!
"I'm gonna get paralytic. It's too expensive for a ticket these days so I'm going down the old arcade, as I always do."
Cardiff Council are closing off many of the roads in the city centre between 6pm and 11pm. They include:
Kingsway from its junction with North Rd to its junction with Duke St.

Cowbridge Road East from its junction with Cathedral Rd to its junction with Westgate St.

Tudor St from its junction with Clare Rd to its junction with Wood St (access for residents & traders will be permitted via Fitzhammon Embankment)

Plantagenet St & Beauchamp St from their junctions with Despenser Place to their junctions with Tudor St (access for residents & traders will be permitted)

Saunders Road from its junction with St Mary Street

Customhouse Street throughout its length (access to private car parks will be permitted)

Penarth Road from its junction with Saunders Road to the entrance leading into the rear of the Central Train Station
The following roads will also be fully closed to traffic: Duke St, Castle St, High St, St.Mary St, Caroline St, Wood St, Central Sq, Westgate St, Quay St, Guildhall Pl, Golate, Park St, Havelock St & Scott Rd.
Arriva Trains Wales have said that all services to and from Cardiff will be extremely busy throughout the day, and are advising travellers to arrive three hours in advance of kick-off.
Though the company is putting on extra carriages for all return journeys, travellers are being told they should return directly to Cardiff Central station after the game, as space on trains will be limited.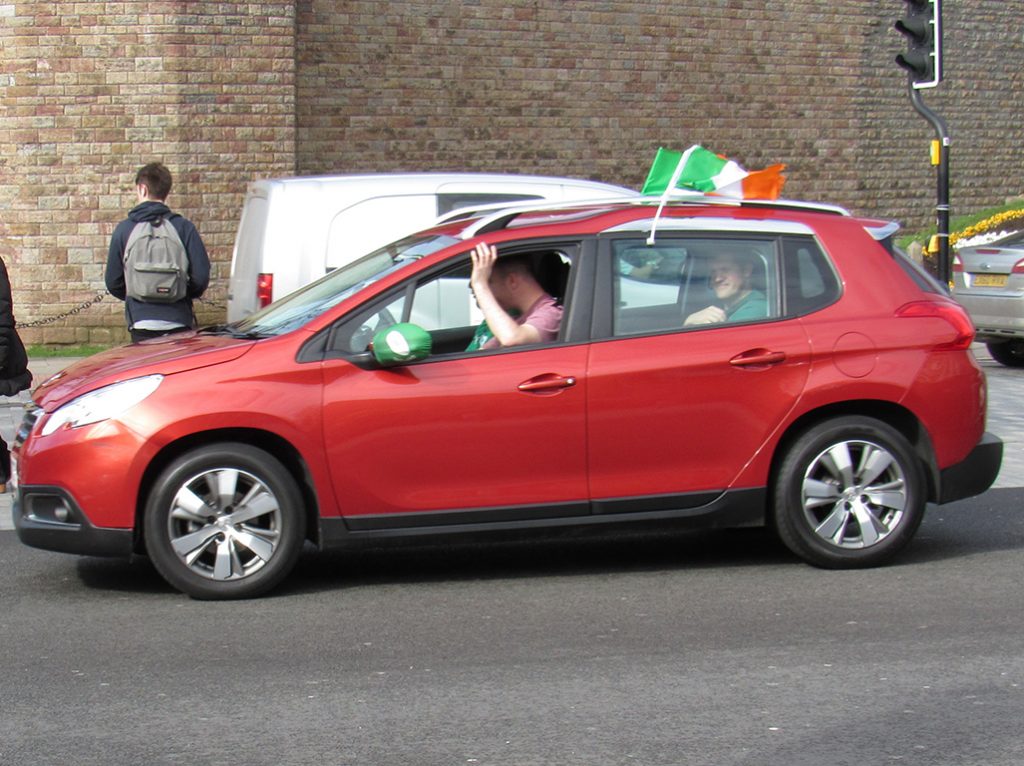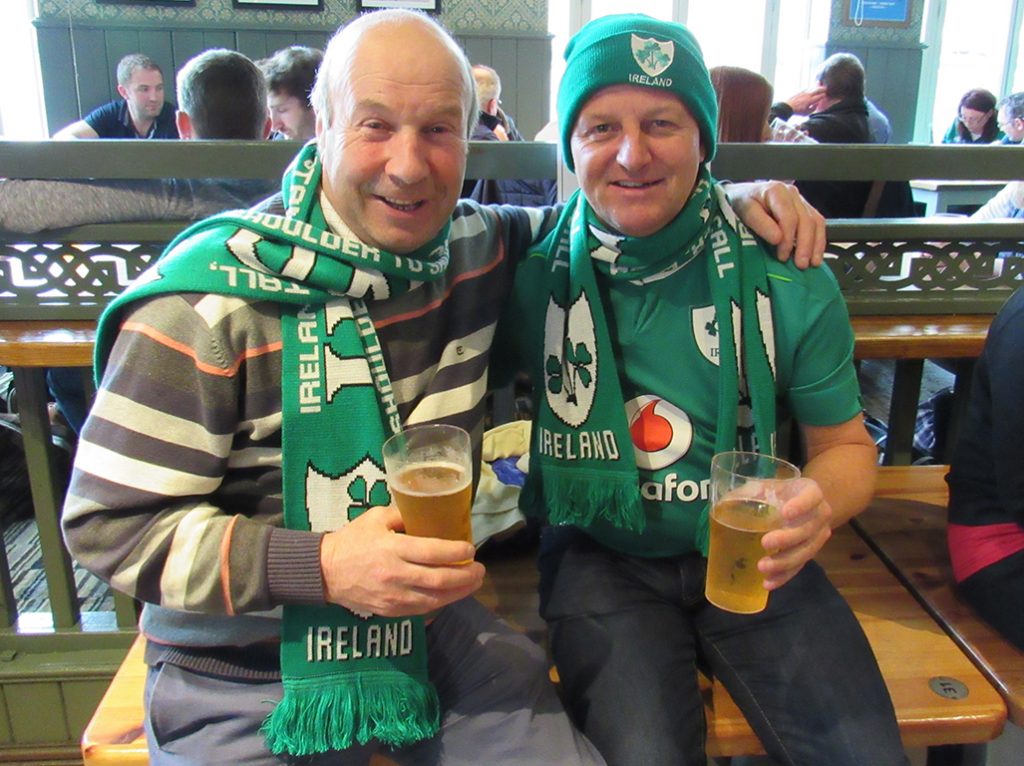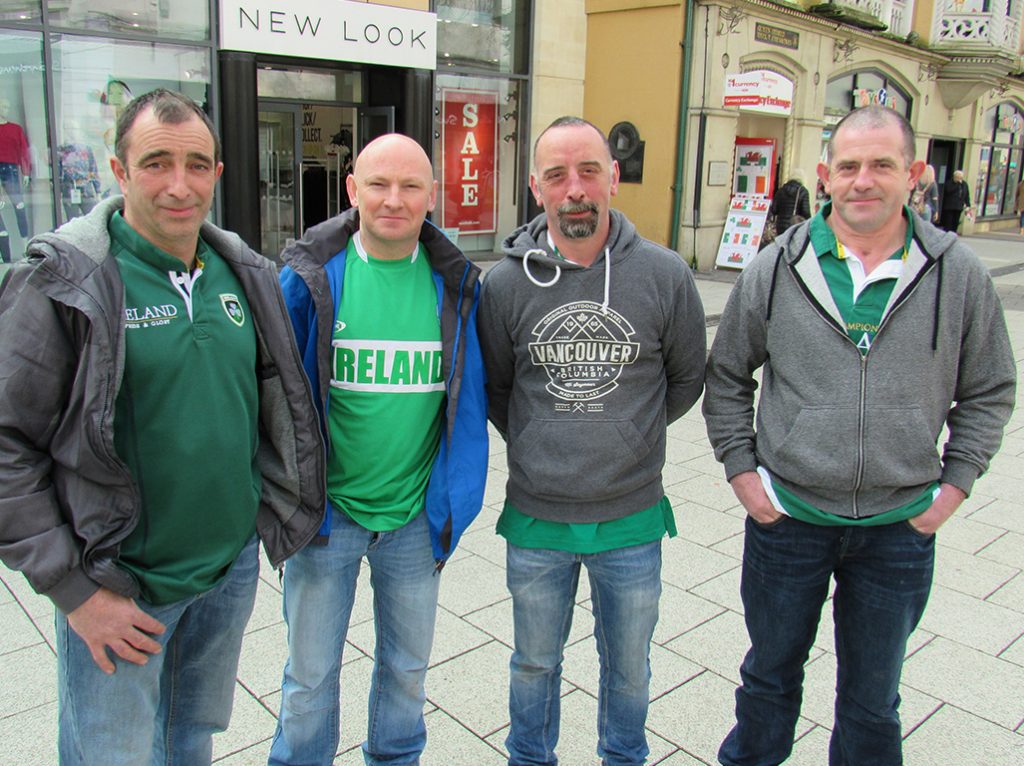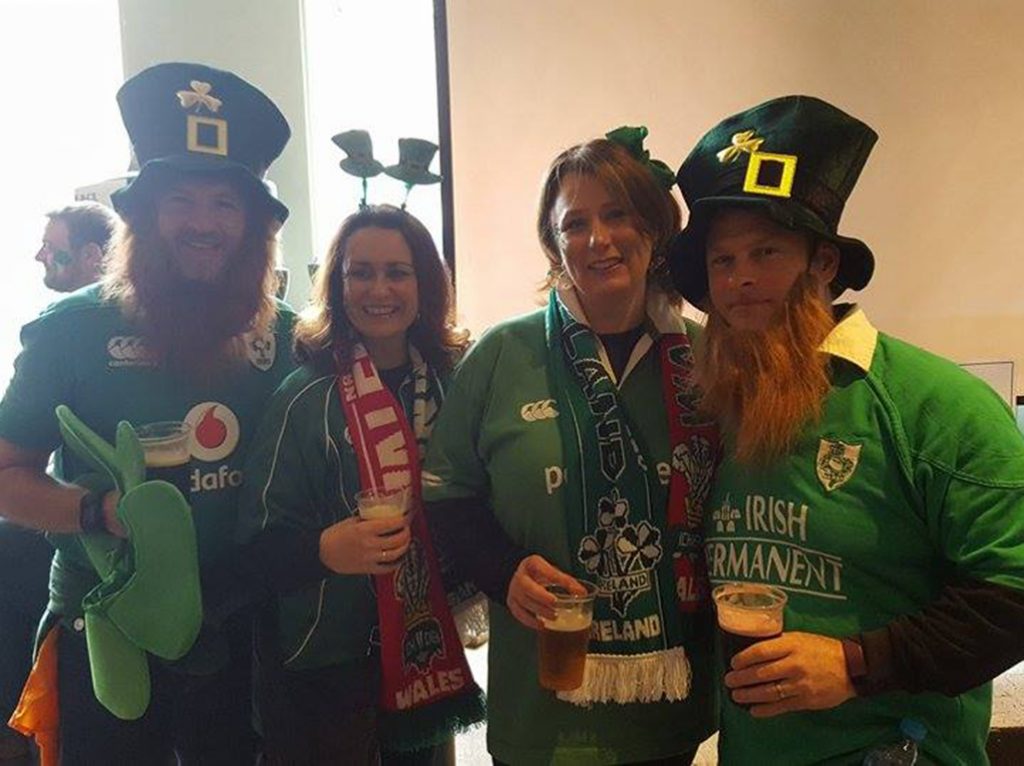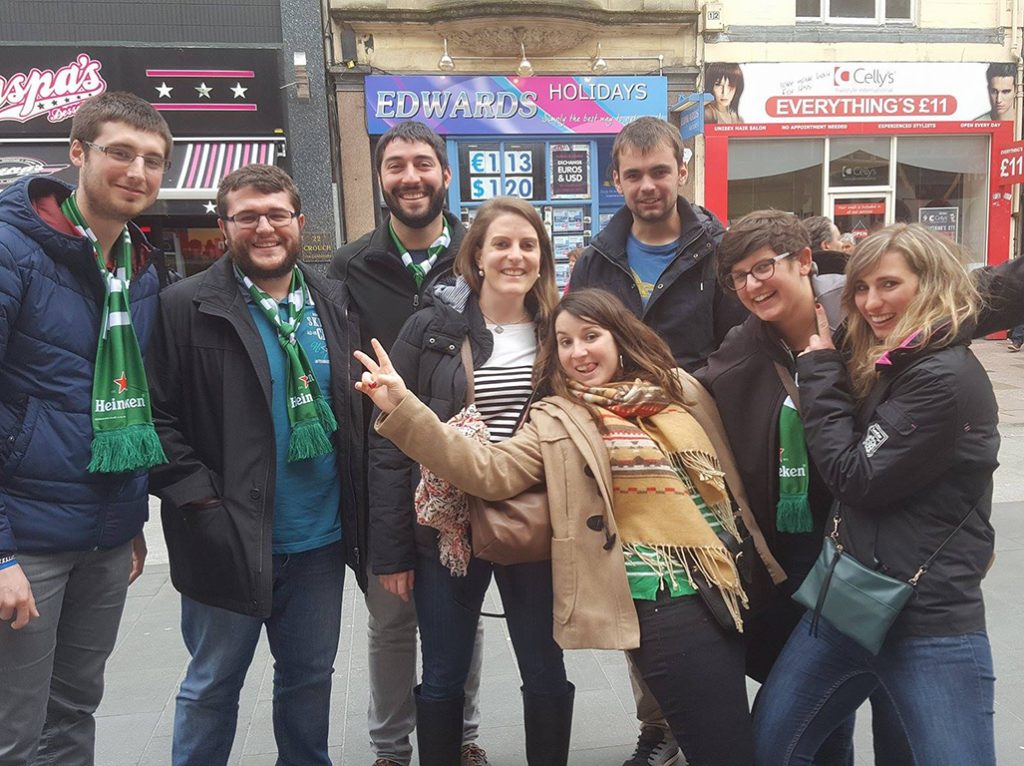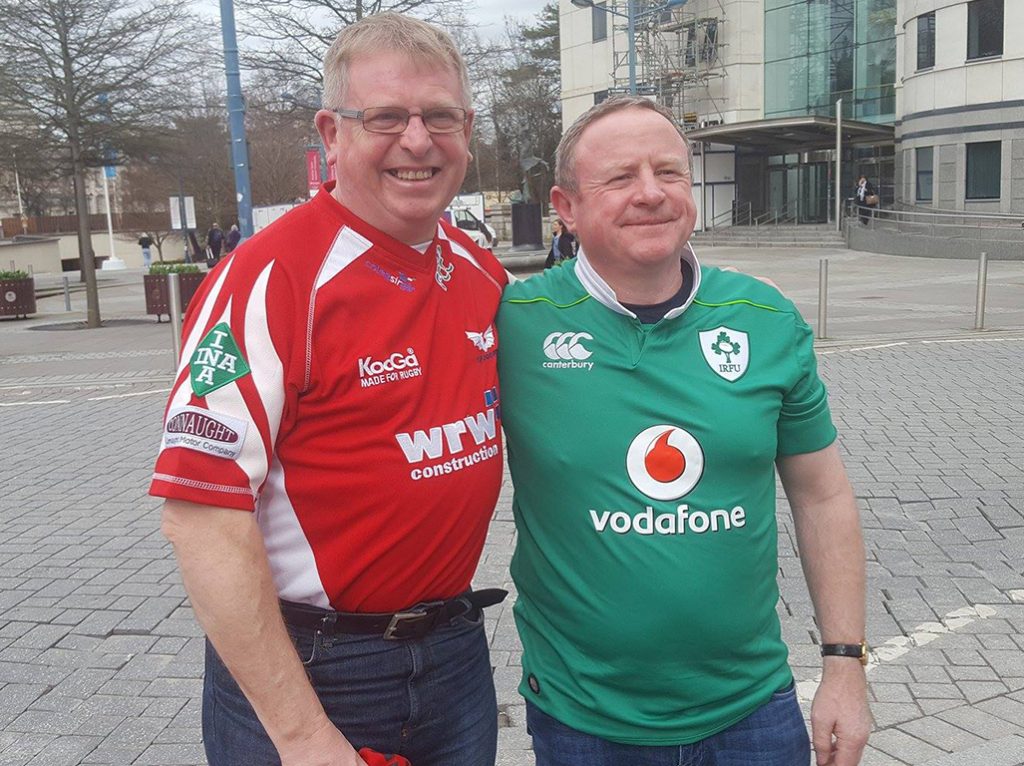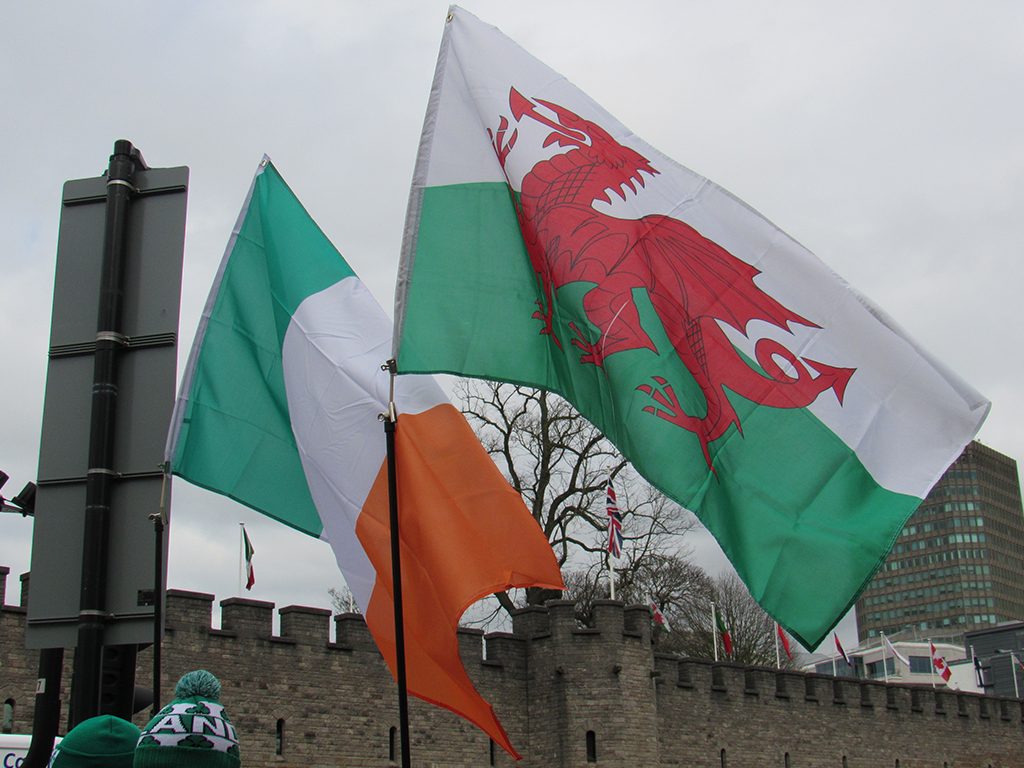 cardiff
,
Entertainer
,
fans
,
game
,
Ireland
,
Ireland Rugby
,
Irish
,
match
,
matchday
,
Millenium
,
Principality
,
rugby
,
six nations
,
stadium
,
Streets
,
Wales rugby
,
WALvIRE
,
Welsh
,
WRU