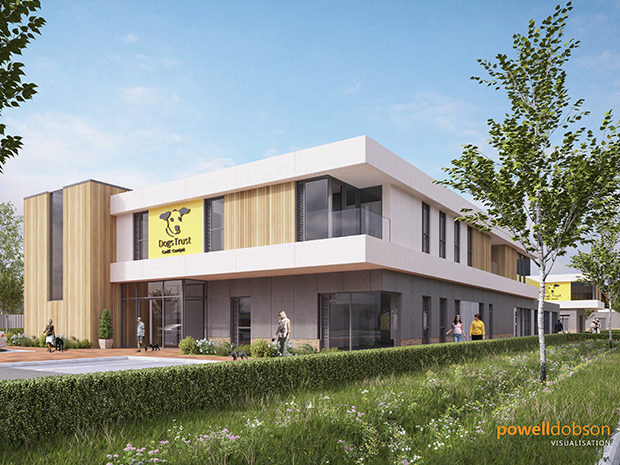 THE architects behind the new £18m Dogs Trust rehoming centre planned for Cardiff say work could start as early as next autumn.
However, questions remain as to what will happen to Cardiff's existing council-run dog shelter when national charity Dogs Trust opens its doors.
It has been almost a month since national charity Dogs Trust gained planning permission for an £18 million rehoming centre in Splott.
The architects say the development on Nettlefold Road promises to be a "world class" facility, with kennels for more than 150 dogs. It will provide the equivalent of 50 full-time jobs.
"We are hopeful of being on site by September 2018," said Oli Henshall, senior architectural technologist at Powell Dobson.
But planning is still in the early stages, he added, so this date may change.
Many pet owners have welcomed the plans. However, not everyone is convinced the city needs a new stray dog service.
Here's what Dogs Trust, Cardiff Dogs Home and local pet owners had to say about the plans:
Dogs Trust
In the application, Dogs Trust property director Matthew Taylor said Cardiff did not have a dog welfare service "operating on the necessary scale to meet the prevention and curative needs of the local population".
Dogs Trust builds rehoming centres "where such a need exists and is proven", Taylor said – and they would be meeting a "proven need" in Cardiff.
According to Taylor, Dogs Trust had been in "active dialogue" with Cardiff Council over a potential partnership since June 2015. They were keen to restart talks over "a proposal for Cardiff City Council to occupy and operate from a new stray / reclaim facility at the subject site."
Cardiff Dogs Home
Cardiff Dogs Home fulfils the council's duty to deal with stray dogs.
The new Dogs Trust home would in some ways do a similar job but operational manager Martin Birch says Cardiff Dogs Home is not currently operating to capacity,.
"The home questions the need for an additional rehoming facility," Birch wrote.
Many of the things Dogs Trust promises "are already successfully being done by Cardiff Dogs Home and the local authority," he argued, meaning the new centre would create a "duplication of services".
"Aside from the modern facilities, it would be difficult to see what benefits there would be to the Dogs Trust providing kennelling for the strays beyond what can be offered by Cardiff council," Birch wrote.
And what about this proposed partnership between Dogs Trust and Cardiff Council?
"No agreement has been reached about how a possible partnership arrangement can be achieved," Birch wrote.
"A letter has been sent to the Dogs Trust stating that Cardiff Council does not wish to enter into a partnership arrangement with the Dogs Trust in respect of it discharging its statutory duties connected with dealing with the City's stray and abandoned dogs."
Pet owners
Many pet owners said that while Cardiff Dogs Home does a good job, they would still welcome another rehoming service.
"Perhaps CDH isn't at capacity but there are other pounds in Wales, as well as nationwide which are struggling," said airline worker Emma Gray.
"Every additional rescue space is a chance to save another dog, no matter where they come from."
"It seems a lot of dog rescues in areas surrounding Cardiff often have to turn people away so it's great to have more options for people who sadly have to re-home their pets," said student Cerys Pearson.
"I also think the increased number of opportunities for people wanting to get involved in working in rescue in Wales is exciting."
"I can't understand why CDH aren't welcoming this," said former veterinary nurse Holly Brinkworth, who noted how often the service takes to social media to find homes for strays.
"As long as the dogs have a safe place to be where they will be looked after and not left out in the cold, I can't see it being a bad thing."
Marketing manager Louise Llewellyn-Jones, who owns three rescue dogs, also supported the plans.
"I honestly can't understand how a multi-million pound investment into improving the welfare of stray dogs in the capital city of Wales can possibly be seen as a bad thing," she said, adding, "CDH might not be running at full capacity at the moment, but they have been in the past and almost certainly will in the future."
"The Dogs Trust would have undertaken a great deal of research into the requirement for a rehoming centre in Cardiff before drawing up plans, and this research would have been scrutinised many times by many individuals."
However, healthcare company trainer Jan Rees-Richards felt the money might be better placed elsewhere. "If we hand all the millions proposed to build the new Dogs Trust centre to local and smaller dog rescues, they could work miracles with it," she said.
So what will happen now?
The Dogs Trust runs solely on public donations and this new development  will not involve any funding from the Welsh Government.
A spokesperson said the charity was delighted to receive planning permission for the centre, which will "raise the bar for all dog-friendly cities across the world".
"This development will offer significant benefits to the local community," they said.
"Alongside dog training, an education team will help to teach thousands of school children the importance of responsible dog ownership and a campaigns team will run local initiatives, including neutering and microchipping, to encourage responsible dog ownership."
However, the future is unclear for Cardiff Dogs Home.
Before the plans were announced, Birch said the shelter was "committed to continue to provide their service in house whilst looking at improving facilities and services offered".
However, a Cardiff council spokesman said the council is "currently reviewing the arrangements for Cardiff Dogs Home".
Asked if the council's position had changed since Birch's comments, they said this had been "a response as a stakeholder" rather than any decision or policy – and that a number of options were currently being considered.