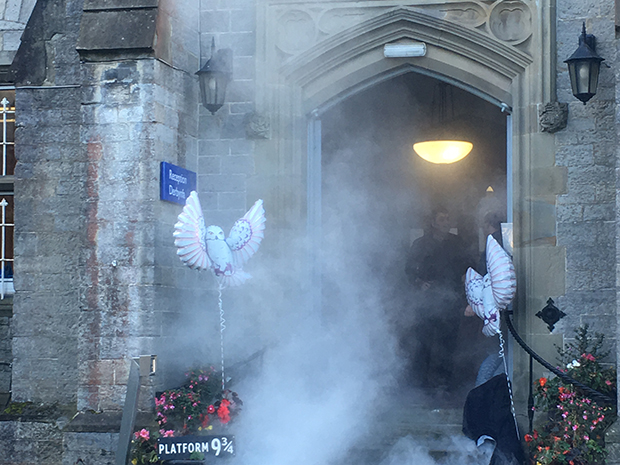 CHILDREN from four Cardiff primary schools had a magical Harry Potter themed day at Howell's School in Llandaff.
Hogwarts at Howell's brought the Harry Potter books to life for 150 pupils from Lansdowne, Herbert Thompson, St Monica's Church in Wales, and Whitchurch primary schools.
Howell's teachers in flowing gowns met the children at the school entrance and guided them to the Great Hall through candle-lit corridors.
The children were sorted into houses by the Sorting Hat, before taking part in taster sessions for potions, spell writing, wand making, composing, dance and magical maps.
The lessons were a creative twist on science, English, art, music, physical education and geography.
Lunch was a banquet of sandwiches, cakes and green jelly, served buffet style in the school's newly restored Great Hall.
Lacey, a Year Five pupil at Herbert Thompson Primary School, is a big Harry Potter fan. She wrote about the day in her thinking book.
Lacey said: "Hogwarts day at Howell's certainly turned on my light of happiness. I was in the Granger group and we did the classes – kindness, spells, mystical movements, paranormal portraits and many more.
"My favourite class was mystical movements because it was really active and enjoyable. Howell's was just like Hogwarts to me. There were candles and cobwebs and the house flags!"
Ruqiyah Saleban, a Year Six pupil in Brunswick class at Lansdowne Primary, said: "It was a spectacular event at Hogwarts. We were able to do lots of adventurous things like potions, wand making and spells and magic.
"My favourite activity was when we visited the science lab and made a popping potion, a colour potion and even a fire potion, which was awesome. It was a great honour to be invited!"
Bruce McInnes, teacher of the Brunswick class at Lansdowne, said working in a lab was a new experience for his pupils. 
Mr McInnes said creating chemical reactions had the children "gasping and laughing with delight".
"Another highlight was the wand-making workshop, particularly as they got to use the wand they had made later in the day against a Death Eater," he said.
Acting deputy head teacher of Lansdowne, Catherine Cooper, said last week's event gave a "real sense of community and a coming together for a shared love of Harry Potter and JK Rowling".
She added: "Our school is quite different to Howell's in that it is very diverse with many children with no English and serves the inner-city areas of Cardiff.
"So, it was a wonderful opportunity for our pupils to be able to experience the grandeur and elegance of the historic interior of Howell's and the ambitious learning opportunities that Hogwarts at Howell's provided.
"Many thanks to the staff at Howell's for sharing this with us at Lansdowne in such a warm and inclusive way."
A spokeswoman for Howell's School said: "Mixing with witches and wizards from different schools, the girls and boys learned to make their voices heard outside of the usual classroom environment, felt their confidence grow through the day as they experienced learning in a different way and developed their team working skills."