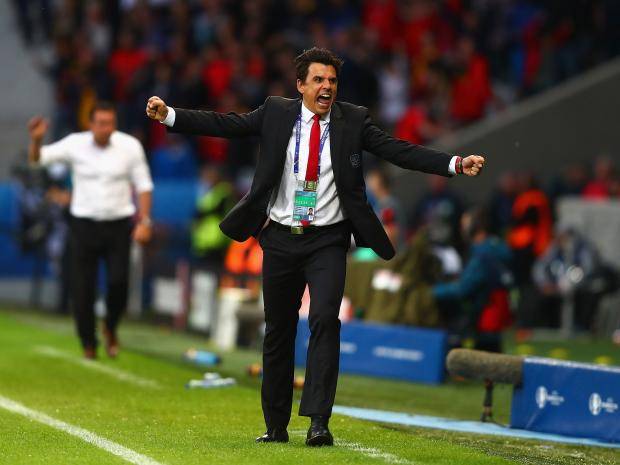 Following Chris Coleman's departure we look at the likely candidates to replace Wales' most successful manager ever.
Cardiffian reporter Amir Mohammed asked Cardiff locals who they wanted to succeed Coleman:
Here is a look at the current favourites to take up the mantle for Wales:
Ryan Giggs
The Wales and Manchester United legend is yet to take the plunge into full-time management. He was appointed player-coach under David Moyes at the Old Trafford club in 2013 and took over for four games as caretaker manager when Moyes was sacked a year later.
Fellow United and Welsh legend Mark Hughes recently supported the call for Giggs to succeed Coleman. "Giggs would be a good choice," Hughes told BBC 5 Live.
"I know from my experience of getting the Welsh job early in my career, they weren't ideal circumstances if I'm honest.
"But as a very young manager finding my way, all that was a learning experience for myself and I found it invaluable."
Tony Pulis
The 59-year old Welshman was always going to be on this list but in the light of his recent sacking by West Brom he is now one of the clear favourites to succeed Coleman.
In contrast to Giggs, he has plenty of managerial experience. However his recent poor record with West Brom and negative tactics could put the FAW off.
Another barrier to appointing Pulis may be his salary. He is used to seven-figure sums and the FAW has made it clear that they could not compete with those sums as they lost Coleman to Sunderland after they offered him £1m a year.
Fellow candidate John Hartson said that Pulis would be a "no-brainer" for the Wales post.
Craig Bellamy
Bellamy is a Cardiff boy and ended his career with the Bluebirds. He recently expressed interest in returning to Cardiff City Stadium as manager of Wales: "I'm passionately Welsh. It's the pinnacle for me and I would definitely always be interested in that job.
"It's a good position so I'm sure there are going to be plenty of people interested in it – and rightly so – due to what the Welsh FA have put in place and the group of players you'd have to work with."
Bellamy currently works under Neil Warnock in the age groups of Cardiff's youth academy and has also been a part of the Welsh youngsters too: "I've worked with Wales' younger age groups so I've got a good idea of the system that's been put in place for producing young players."
Thierry Henry
One surprise candidate is Thierry Henry. The French World Cup winner received his coaching qualifications in Newport and currently coaches the Belgium international team under Roberto Martinez.
While he would surely bring the star quality that Giggs also possesses, he is also a relative unknown in the managerial sphere and this would be a big risk for the FAW.
Having said that it is going to be hard to replace Coleman as he is the most successful manager in Welsh history after defying expectations in guiding them to the semi-finals of Euro 2016.
Other candidates include John Hartson, Kenny Jackett, Dean Saunders and Slaven Bilic.
Who do YOU want to be the new Wales manager? Let us know on our Twitter poll here.