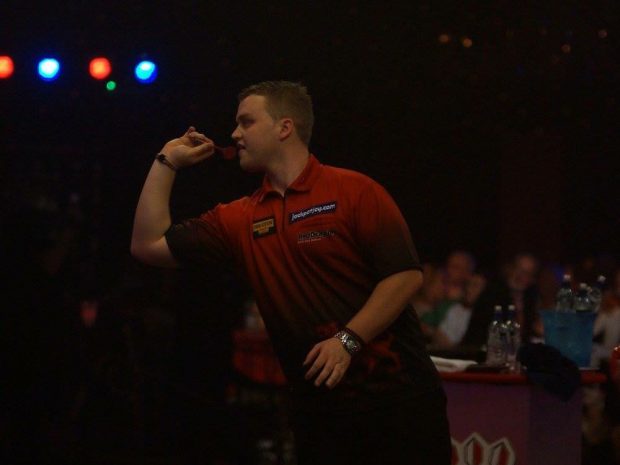 DEAN "Dynamite" Reynolds won £4,500, his second biggest wallet so far, in the British Darts Organisation (BDO) Internationals this January.
The 25-year-old son of a pub landlord has been playing competitively all over Europe, but it started on the Cardiff pub scene.
"My parents were landlord and landlady of the Cornwall pub in Grangetown where I played with my brother-in-law, Les. We moved to the Birchgrove and I was old enough then to play for the pub team

But Mr Reynolds has been playing competitively since he was 14. In 2006, he joined the Cardiff and District League and began working his way up through ranks: Super League, Glamorgan Youth, and then the senior team, who play all over England and Wales.

He said: "This gave me belief to give the BDO Tour a go and compete at the highest level.
"I used to prefer playing football, rugby and cricket before I even picked up a dart. I have always been surrounded with pub culture and I'm pretty sure that I wouldn't have started playing darts if I wasn't brought up in a pub."
Finishing in the last 16 during the BDO Internationals, Mr Reynolds won £4,500, which is the second largest win of his career. The biggest so far was for making the semi-final at BDO's 2016 World Trophy, where he walked away with £5,000.
The prize money will go into savings, though a little maybe used for an Easter holiday.
With mixed emotions, Mr Reynolds said: "You must be confident and believe in your ability. I'm happy to win my first round game, it's the first time I've won on the World Championship stage, but my aims were to win the event.
"I'm thankful to be able to take part in something that I love. My girlfriend, family and friends are right behind me, win or lose.
"My next major competition is the Dutch Open at the beginning of February. My preparation is just to practise as much as I can, when I can.
"Targets for the Dutch Open? At minimum, the last 16. But of course, I am going to win the event!"
"I'd love to make a living out of the game, and hope to be playing competitively for the next 20 or 25 years. Fingers crossed."
Mr Reynolds played on the Development and Challenge Tours at the Professional Darts Corporation (PDC) but is ambitious to become a full-time professional and play on the PDC circuit, on the main tour, within the next two years.
Away from darts, Mr Reynolds is also a sports coach.
"It's a job I love. Growing up, sport was my main interest so I always thought I be would be involved in some form of physical activity. I have recently started playing golf so I'm keen to get a round in on the weekends I have off."
Mr Reynolds lives in Guildford with his girlfriend, but his father is still landlord of The Birchgrove and although his mother stepped down as landlady, she still helps behind the scenes. 
"I miss Cardiff. All my family and friends still live there so I like to travel back and see them. Every time I come back its seems the city is improving for the better."
For someone looking to get in to the sport, Mr Reynolds said: "Enjoy it! Don't put to much pressure on yourself, and if you want to take it seriously practise, practise, practise.
"The key is to feel natural and be relaxed with your stance. Grip and throw. When you put the time in, you'll know what feels comfortable.  
"I don't have any superstitions, I have practice routines which I try to do every day. Before a big competition or game, I try to get to the venue three hours before.
"As for lucky charms I have two, one which my sister TJ gave to me and another is a US one dollar coin, given to me by gentleman called Tommy, who I first started practising with when we moved to the Birchgrove."
Stay up to date:
Follow Dean Reynolds on Twitter
See details of The Dutch Open