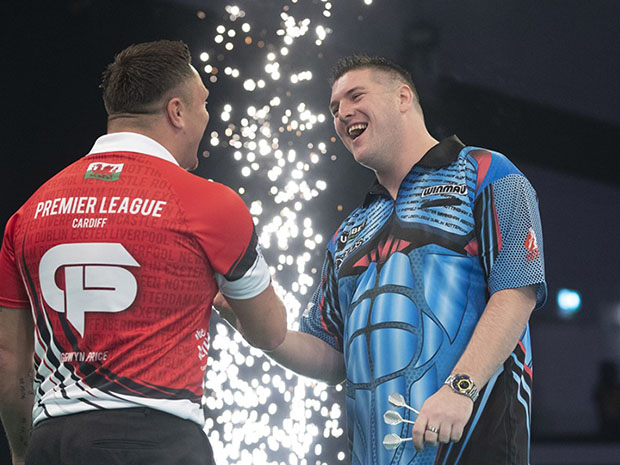 The noise of the crowd couldn't spur Price and Clayton to victory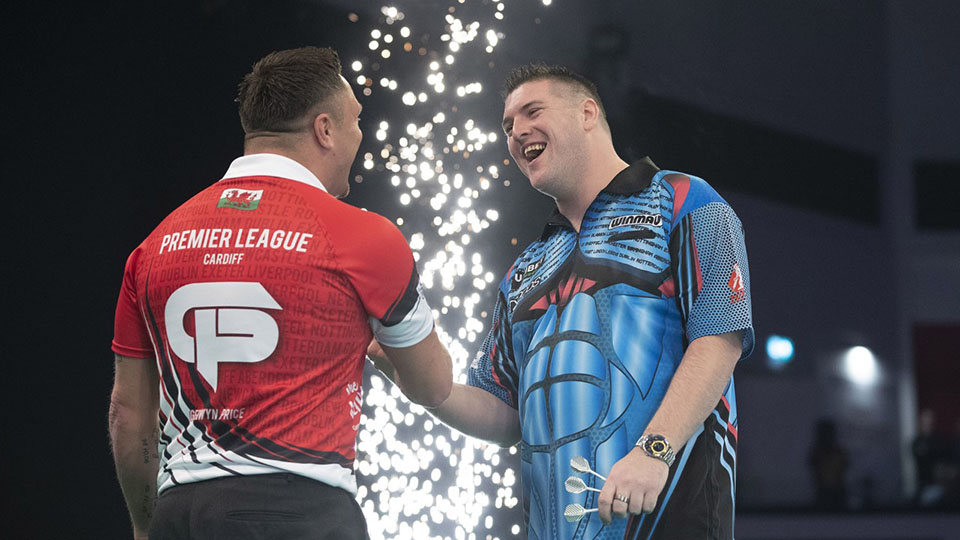 Gerwyn Price lamented the "extra pressure" of a Welsh crowd cheering him on as he drew his match 6-6 with Daryl Gurney.
A chorus of boos rang around the Motorpoint Arena whenever Daryl Gurney went to throw a dart on Thursday, with cheering and chanting for Price. However, this didn't help him to victory.
"The crowd tonight were fantastic; I wish I could've won for them but it wasn't to be," he said.
"I put extra pressure on myself to get a win."
The Welshman, who walked out to the song Ice Ice Baby by Vanilla Ice, was wearing a special red jersey with a Welsh flag on the back for the occasion.
He said: "If I'd won, I would've worn the shirt for the rest of the campaign.
"I'll go back to the blue darts and shirt and you'll see the best of me next week."
Price and Gurney each won the leg in which they threw first until the ninth, when Price broke Gurney's throw to go 5-4 up. Gurney then won two in a row, before Price levelled to draw the match 6-6.
For every round of the Premier League darts, a local challenger is invited to face one of the nine league players. Jonny Clayton was Cardiff's challenger.
Clayton was never fancied to win against world number five, Michael Smith; a challenger has never won a match in the Premier League, although Fallon Sherrock achieved a draw last week.
It was a night of firsts for the Welsh number two. In his first Premier League appearance, he was the first to win a leg and the first to score a 180. However, it wasn't to be and despite posting higher averages for half of the game, he struggled to finish. He took the first leg but was ultimately dismantled 7-1.
"It felt great, coming out in front of all of those people," said Clayton.
"I tried my best but in the end Michael stopped me.
"The way he was finishing here, it was phenomenal. If I'd taken my chances it could have been different."
Few would disagree. Smith's experience showed and his darts only improved throughout the match, checking out a 167 to win the fifth leg. Meanwhile Clayton's average deteriorated as the game went on.
Clayton was disappointed, but he was in good spirits after the game, praising the energy of the crowd.
The best match of the evening was between Michael van Gerwen and Nathan Aspinall, who defeated the world number one 7-5.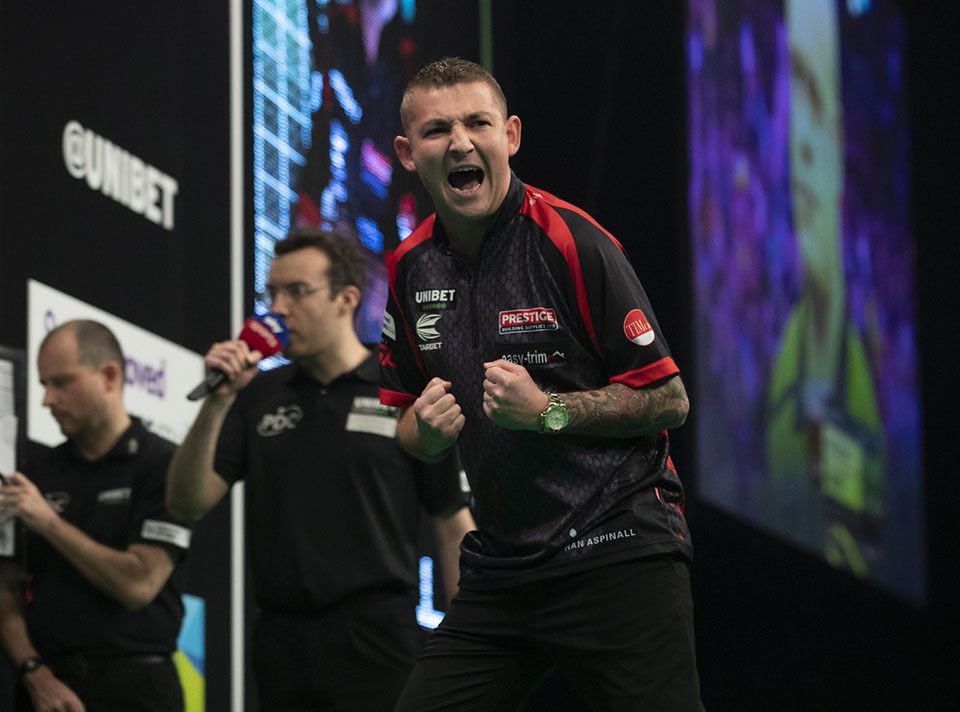 It didn't start well for van Gerwen; his first dart was a triple one. He seemed to find his form quickly, hitting a 180 with darts 10, 11, and 12 and he won the first leg. Aspinall then won three on the trot to take the lead.
After one more each, van Gerwen took three successive legs to go 5-4 up, including six perfect darts in the eighth.
Aspinall played very well to win the final three legs, hitting a 165 to leave double tops to win the game.
He said: "It was a big game for me, I lost last week, and I needed a big result tonight.
"It's a big win against the best player in the world.
"He makes mistakes. He doesn't make many but when he does it's up to us to punish him.
"I did win that game and I am a very happy man tonight."
In the first match of the evening, Peter Wright beat Rob Cross 7-5, although the close scoreline is flattering to Cross, who averaged 15-20 points lower than his opponent for most of the match.
Wright said: "I'm finding it hard work up there, I'm putting pressure on myself and I need to relax a little bit more."
To finish the night, Glen Durrant took the top spot in the standings after beating Gary Anderson 7-4.
Durrant said: "I'm in a great place right now, I never thought I would be top of the Premier League at any point of my career."