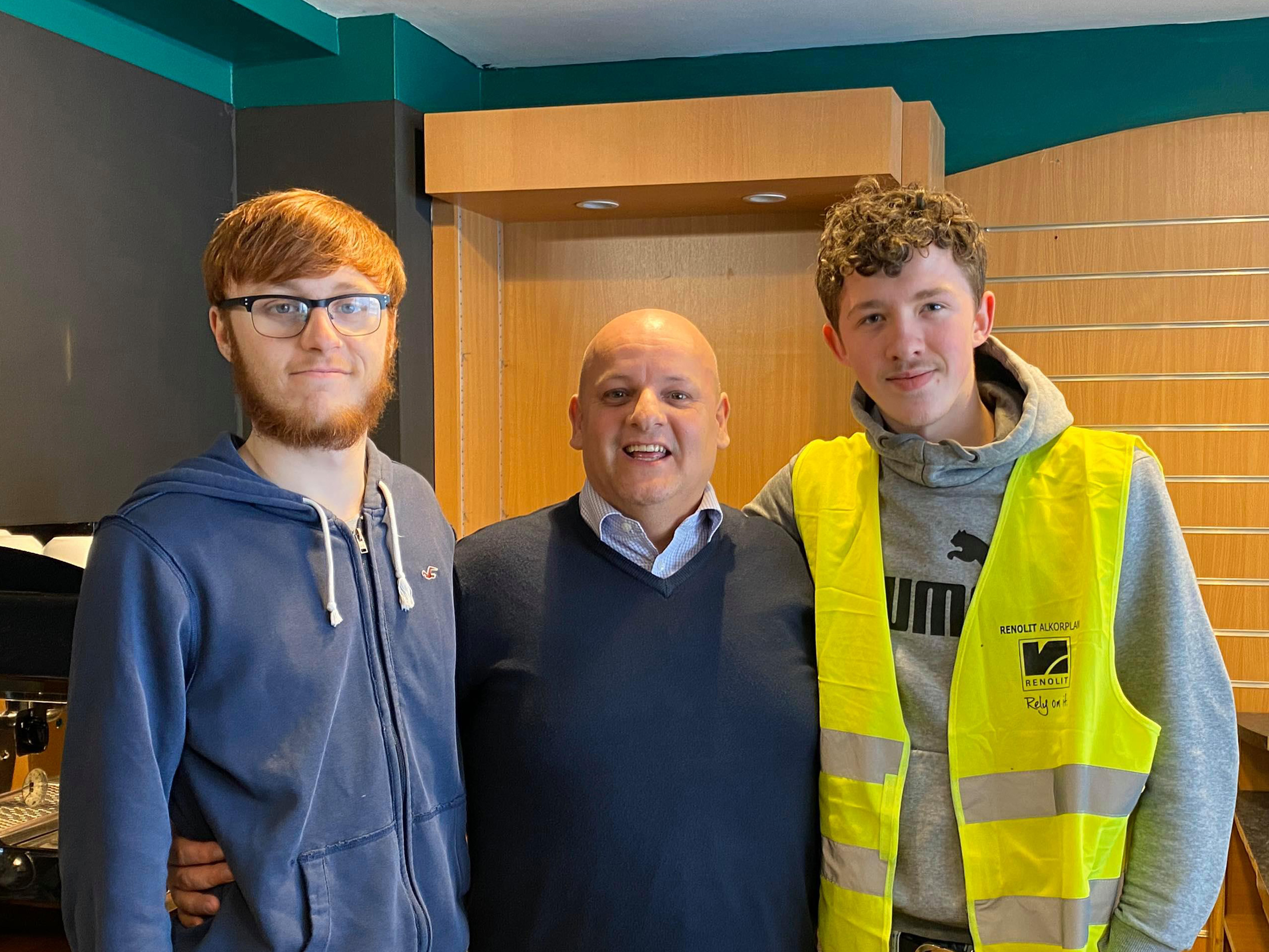 I want to spend the rest of my life making amends, says boss of Poor & Hungry
"SO, what did you do for work before setting up the organisation?" I ask Andrew Mackenzie, chief executive of Poor & Hungry Community Interest Group.
"Good question," he pauses and laughs nervously. "Before I was an ex-offender."
Two years ago, the 52-year-old had just come out of prison for the fifth time.
Mr Mackenzie was jailed for 41 months for his last offence over a VAT tax scam he set up worth almost £700,000.
Today, he is the boss of Poor & Hungry, a not-for-profit organisation which strives to help those in crisis in South Wales.
"I've been homeless. I've been hungry. I've been through the system.
"Turning my life around is an easy thing to say but it's very difficult to do.
"I did 30 years' worth of bad behaviour. My role now is to spend the rest of my life making good," he said.
Poor & Hungry is a community interest company which helps those experiencing poverty or homelessness as well as domestic abuse survivors, ex-prisoners and armed forces and the elderly.
A CIC is a type of company set up to make profit to benefit the community.
Mr Mackenzie started putting the idea for the CIC together in 2016 when he was serving his most recent term in prison.
The organisation provides hot nutritional meals, assistance with sleeping facilities and provides night shelter in seven churches from December to March each year.
The full 100% of all profits go directly to Poor & Hungry and its sister organisation Boomerang Cardiff.
Mr Mackenzie's latest venture involves opening a new café on Caerphilly Road in Birchgrove serving hot drinks, refreshments, sandwiches and cakes.
The café, which Mr Mackenzie described as a "quirky Greggs", opened on June 1 after receiving a £25,000 grant from Cardiff Council to it through the stricter lockdown period.
The café is to be fitted with a fully functioning commercial kitchen where volunteers will make 1,000 meals a week for people in crisis.
At the same time, volunteers can attain qualifications in the catering industry to NVQ Level 3 which can help them build up their skills set to re-enter the world of work.
I had the pleasure of meeting Jordan and Max – two of Poor & Hungry's volunteers who helped transform the former Aga kitchen store into the café.
Both Max and Jordan completed a roofing course in Newcastle upon Tyne , paid for by Poor & Hungry, to help them renovate the café.
They are set to undertake a barista course which Mr Mackenzie hopes will prepare them to take over another new project – a retro-fitted coffee bar, which is to open near a new city centre Lloyd's Bank in May.
Max, who is homeless, suffers from social anxiety.
"We're trying to draw him out of his shell and make him more confident," said Mr Mackenzie.
The opening of the café has relied on the generosity of donations and various grants.
"Literally everything that you see in here has been given. Absolutely everything that we have. From chillers at the front, the counters, the fridges," said Mr Mackenzie.
Mr Mackenzie wants the café can work together closely with the local community.
He said the café fills a gap in the area for a breakfast café collective for residents going to work at 6am.
"We wanted to secure our future here in the town. It's critical for us. It's a unique community here," he said.
The café will sell sandwiches made by The Devonshire Pantry sandwich shop up the road.
"We don't want to take away his trade. We want to enhance it," he said.
Mr Mackenzie also wants to run a scheme with a local primary school, in which the organisation provides breakfasts for the children.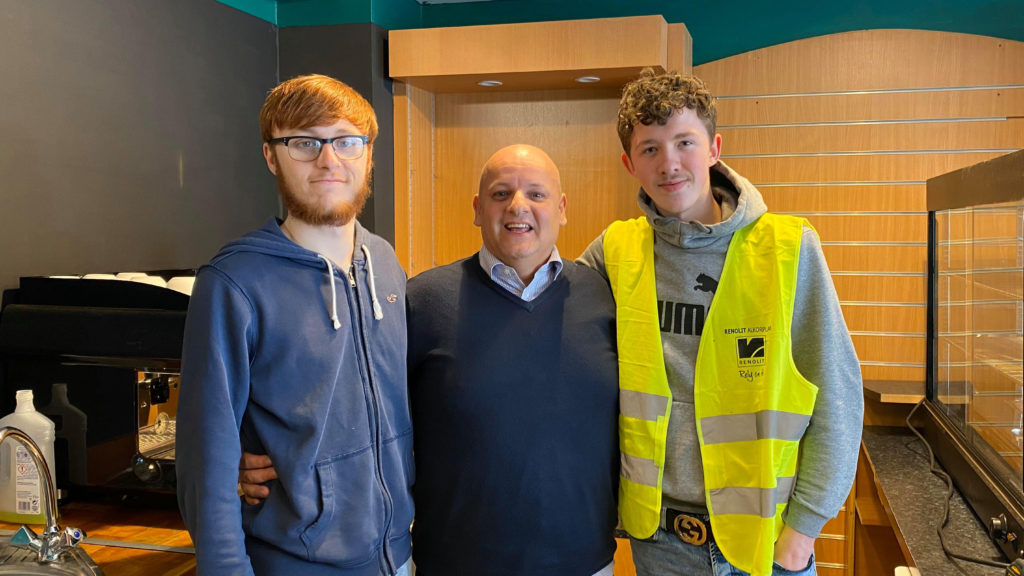 Those who are unemployed can book out the kitchen to come and make food or cakes for sale.
"All we ask in return for the time is if you're making cakes, make some for us," said Mr Mackenzie.
Directors and employees all work as volunteers.
Mr Mackenzie is on working tax credit and has paid out of his own benefits to help pay for travel expenses and food "for the lads".
"If I had £150,000 to pay a managing director for this organisation, why am I not giving it to 100 people to help them get accommodation?
"At the end of the day I'm not driving around in flashy cars," he said.
He points to his watch. "This is just a 'plastic cheapy'," he laughs.
His criminal background meant that Mr Mackenzie struggled to form a charity, opting instead for a community interest company.
He describes the process of becoming caretaker of the organisation a "long road" in which he had to go before the commissioner at Companies House.
Poor & Hungry also leases a mobile food van which travels around office blocks and factories in the centre of Cardiff.
Mr Mackenzie wants the company to buy its own van once the lease is over, to achieve his original plan of breaking into the festival scene.
"We want to go into that high concentration environment, take as much as we possibly can by flooding it with volunteers and products, and bringing the cash back," he said.
Currently, Mr Mackenzie is steering the group's work towards the elderly population.
Mr Mackenzie is concerned at the number of elderly people living in Cardiff who are forced to make a choice between food and gas and electric.
"We want to be able to take away one portion of that issue for as long as they live. We want to be able to help them every day," he said.
About 19% of pensioners in Wales were living in relative income poverty between 2015-16 and 2017-18.
When speaking about his earlier life, Mr Mackenzie said the value of what he's doing now outweighs it all.
"It's the love. It's all about love and kindness towards others. I've done enough damage in my life but it's the old me. It's gone.
"I can't do anything about my past. But I can do everything about my future," he said.
If you would like to become a volunteer, call 07743 049134 for more information.