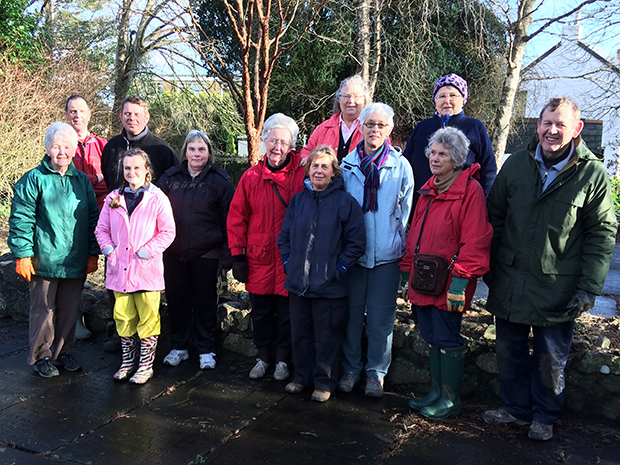 AFTER the success of their first event, local volunteers got together again to help clean up St Mary's Gardens.
Volunteers picked up litter, cleared overgrown foliage and placed bird boxes in the church gardens on Old Church Road, Whitchurch.
Members of Whitchurch Women's Institute teamed up with community park ranger Richard Roberts and RSPB representative Lucy Macnamara for their second working party.
"Everyone worked tirelessly and effectively," said Zoe Pearce, a member of Whitchurch WI, who helps to organise these clean ups.
Luckily for the group the weather was drier than the wet, windy day they braved back in November.
Recent storm damage meant a dead silver birch tree had fallen over in the heavy winds, which had to be cleared. Two bird boxes were also blown down after the clean up, and will be replaced at the group's next event.
"I'm really passionate about the maintenance of these incredible spaces," said Josh Lewis.
Mr Lewis is a Cardiff University student who helps out with the project. He is also a member of Arts Whitchurch Eglwys Newydd (AWEN), a group campaigning to keep the nearby Whitchurch Library open.
Volunteers are keen to get everyone in the local community involved with the project.
"I think the gardens provide an excellent opportunity for the education of young people, particularly in the history of Whitchurch," said Mr Lewis.
The church gardens have a lengthy history:
12th century – Church settlements are established on the site.
15th century – A chapel is built.
17th century – St Mary's Church is built, incorporating the chapel.
1904 – St Mary's Church is demolished after a new parish church is built on Church Road, Whitchurch.
1972 – Cardiff Council take over responsibility for the neglected churchyard in the hope of turning it into a garden.
1974 – St Mary's Gardens officially opens, thanks to a £14,500 council grant from a scheme known as Operation Eyesore. In the same year it wins an award at the Wales in Bloom competition.
At the time of opening, the church gardens had a park keeper, who had his own mess room and shed.
However, more than 30 years later the gardens have become overgrown and neglected, prompting these volunteers to take action.
The next working party will be on February 20, where the group want to plant bulbs and wild flowers in their continuing effort to spruce up the gardens.
"I'm excited to see where this project will go," said Mr Lewis.
Those who wish to volunteer at future community events can contact Zoe Pearce on saintmarysgardens@gmail.com.