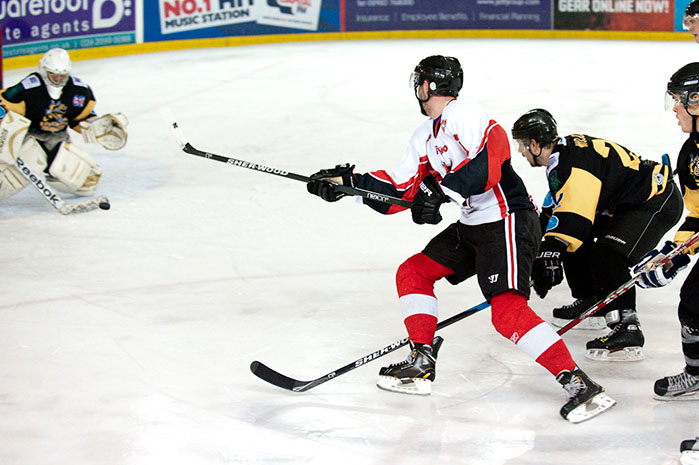 THE Cardiff Devils followed on from that thrilling 7-1 over Sheffield Steelers by seeing off MK Lightning and Nottingham Panthers back-to-back to secure a four-point weekend.
First up was a trip to Milton Keynes to face the Lightning. Cardiff were heavy favourites here despite it being away from home after the Welsh side shut out the Lightning in a 5-0 win the last time they had played.
On the night the score was 4-1 to the Devils. Lightning struck first but goals from Sean Bentivoglio, Joey Martin, Tyson Strachan and Joey Haddad sealed the win.
Ben Bowns was in irresistible form once again in the Cardiff goal, pulling off 19 saves for the victory, but Sean Bentivoglio was awarded Man Of The Match.
After that victory the Devils returned to Cardiff to host Nottingham Panthers. The home fans at Ice Arena Wales had probably only just recovered from Wednesday night's heroics against the Steelers, but they were put through their paces again in a 10-goal thriller.
Justin Faryna was at the top of his attacking game on the night, scoring four goals and registering one assist. Gleason Fournier and captain Jake Morissette each grabbed three assists as well but Faryna was an obvious choice for MOTM.
Layne Ulmer, Joey Haddad and Paul Crowder also scored for the Devils in this 7-3 win.
That four-point weekend saw the Devils stretch their lead at the top of the Elite League standings to nine points as second and third placed teams, Belfast and Manchester, played each other in a 6-3 win for the Storm.
Next up for the Devils is Guildford Flames tomorrow in the first match of a long road trip as Cardiff face five consecutive away games.