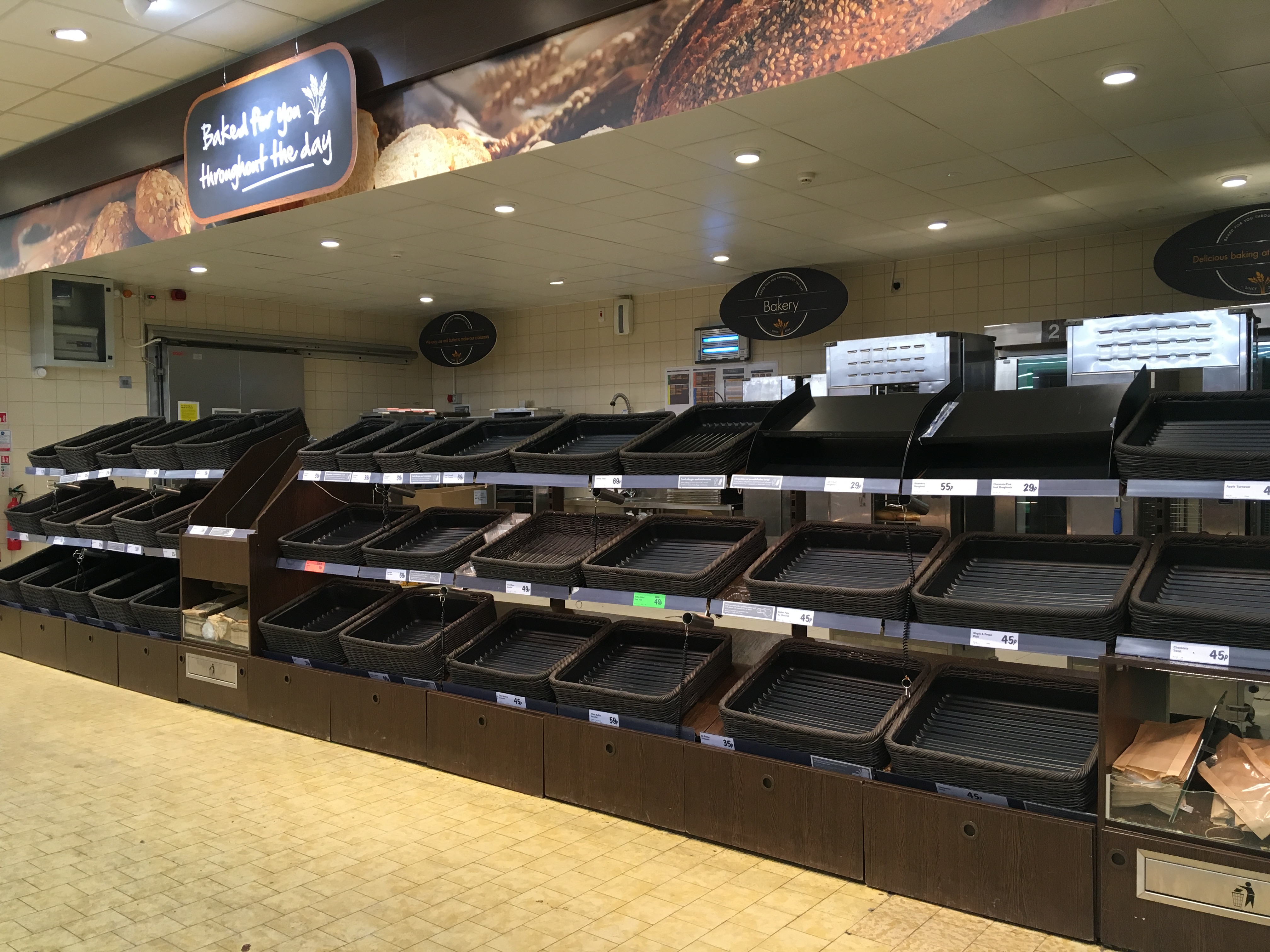 IT'S early afternoon on one of Cardiff's worst ever snow days.
Work is cancelled, schools are closed and once you've Instagrammed the #Snowmageddon and donned seven layers, there's really little to do except catch up on Loose Women.
On a day like today, you'd usually be cooking up a banging brunch – but something's gone horribly wrong. Like a fool (and despite those texts from Mum), you didn't stock up on bread and milk yesterday. And what's a brunch without bread and milk?
Don't worry: this was us this morning, too. So in the spirit of looking out for our readers, we've been round some of the big chains in Cathays and City Centre to see what's on the shelves.
(Spoiler: you should have listened to Mum.)
9am: Tesco Express, Cathays Terrace
"You're joking," one middle-aged man huffs as the doors slide open to reveal an empty bread rack.
Inside, sludgy footprints already stain the linoleum. By the milk (mercifully still in stock), we find two workers who confirm there's been no delivery today – and many staff are snowed in.
"Have you seen the fruit and veg aisle?" one asks, laughing.
There, a young man soldiers on with his shopping list. The reindeer antlers on his woollen hat wobble as he glances from his soggy scrap of paper to the equally sad selection of bagged salad leaves. Maybe today wasn't the day for a health kick.
9:30am: Lidl, Cathays
Battered by hordes of students each day, Lidl's shelves are often a bit worse for wear by the evening. But empty at 9:30am? This is something else.
"We've had no delivery this morning, so we've got no fruit and veg, no bread, no nothing," duty manager Liam McCann says.
It's probably alright though, because most of Cathays has apparently already stocked up.
"Yesterday was crazy busy, one of the busiest days I've ever seen," Mr McCann says.
Milk's still on the shelves here too (although soy is sadly absent). But we'll soon be back to fresh-baked bread, banana mountains and queues halfway down the aisle, right?
"We're hoping there'll be a delivery tomorrow, but again it all depends on the weather: we're not sure if there'll be more snow tonight," Mr McCann says.
We might have to go without reasonably-priced avocados for a little longer then.
10am: Co-op, Cardiff Students' Union
During a quick check in with The Cardiffian news team (we've set up a temporary station in the SU as our newsroom's off-limits like the rest of Cardiff University), we decide to see how Co-op's doing on the bread front.
…not too well, it seems.
10:20am Sainsbury's, Cardiff Queen Street
The salad bar is empty and the tills are mostly unmanned, but after asking a worker what the deal is, there's good news.
"I'm a bit busy at the moment because we've just had a delivery," he says. It was meant to come at about 4am, but better late than never.
Of course, the all-important question is: will there be any bread?
"No, no bread," we're told.
Maybe this is why people were stocking up yesterday, we realise – beginning to curse our reliance on quick refined carbs.
However, with a delivery on the premises, there's solace in the fact that at least some shoppers might have a more successful day than Cathays Tesco salad man.
10:30am Tesco Metro (Capitol shopping centre) and Marks and Spencer (St David's shopping centre)
In a last-ditch attempt to find a solitary freshly-baked bread roll, we nip into Tesco Metro and M&S. Neither have had deliveries, and both are woefully empty on the bread front (although the nation's milk fears remain ungrounded). Tesco reckons there'll be a delivery later.
We're not allowed to take pictures, but let's face it: we've all seen enough empty bread shelves to last us a lifetime.
All attempts to secure fresh bread have failed. With a sign, we unpin the apron, close the "best brunch ideas" recipe tabs and decide to do the honourable thing and give up.