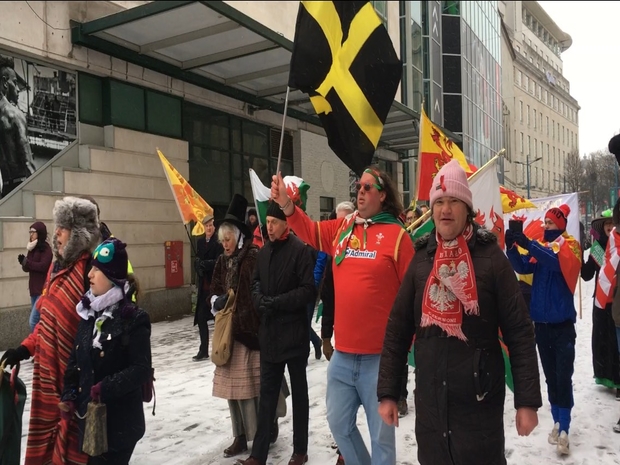 THE SNOW didn't stop a hardcore group of Cardiffians from celebrating St David's Day.
Despite the official parade being called off due to the red weather warning by the Met Office, a group banded together, led by Mike Petersen dressed as St David, to continue the march through the capital yesterday.
Waving Welsh flags, the group followed the normal parade route and sang traditional Welsh songs, including Bread of Heaven.
After the parade had finished, Mike Petersen acted the part and gave a rousing speech, afterwards the celebrations continued at the Owain Glyndwr pub on St John Street.
Rob Mansel Lewis, from Llandeilo, has been attending St David's Day parades every year since 2012, he said: "days like this really revitalise my sense of Welshness.
"We are a nation with a history, and by doing things like this it reminds us of our history, and when we have a history we realise that we also have a future."
Rhian Phillips, from Cardiff, said: "It's really good to see so many actual Welsh people turning out to support Wales and its history!"
Celebrants brought instruments including violins, and continued to sing and dance well into the afternoon.
David Ashley, from Pontypool, said: "I was very proud of all the Welsh people turning up today, especially with the snow.
"We've got a heritage to be proud of, and it's important we march, whatever the weather, to show that."
Llewelyn Smith, from Newport, was draped in the Welsh flag during the parade. He said: "Today is about all things Wales. It's not just St David, it's also the football, the music, the food and the community.
"It's great that so many people turned out just to show their support."
"Hopefully, we'll be able to get St Davids Day recognised as a bank holiday. The Irish have one for St Patrick's Day, as do the Scots with St Andrews, so why not this?" He added.
Mark Evans, from Canton, was particularly proud of the brave few who turned out for the unofficial parade.
He said: "I think it shows the indomitable spirit of those that wanted to celebrate our national holiday in our capital city. We've had a great turnout, even though it's a bad day for it!"