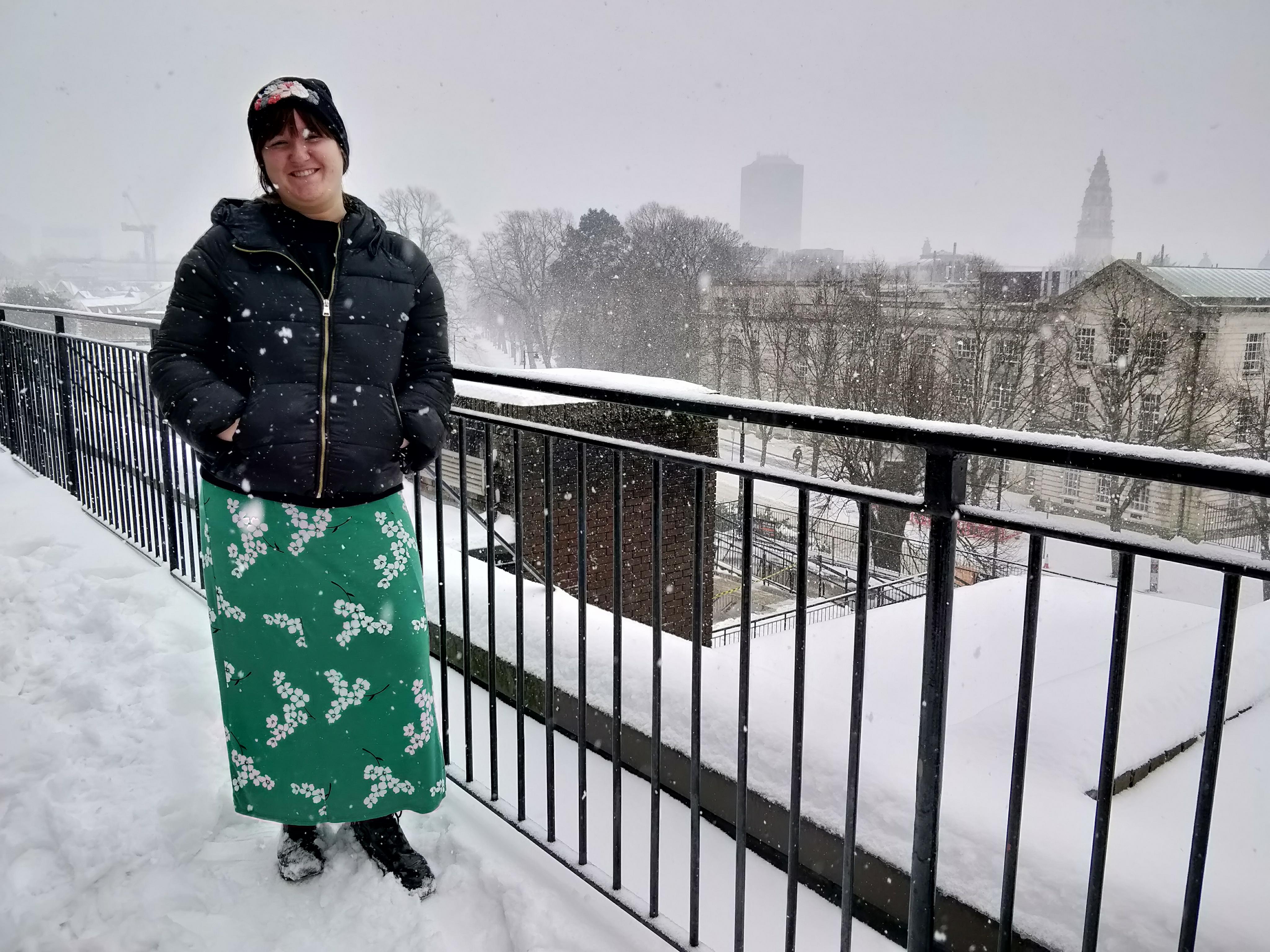 AFTER two days of snowfall and Cardiff being on red alert, very few are braving the weather today. But those who are, are doing so in style.
Skirts, shirts or skis? Check out Cardiff's frozen fashion sense:
Nicola Harris spotted this man coming down from Heol Donon on his pale, wooden skis and couldn't help but strike up conversation. He then left via The Parade past Llandaff station.
Ensuring his dog got the walk he needed, this gentleman was fully prepped for the freeze in a red waterproof and chunky gloves.
Ms Harris said: "He told me he is a mountain guide. He's led ski tours in the Alps and elsewhere and he explained to me how the fish scale effect on the skis works. Then he set off up the road with his collie following in his tracks."
Samantha Ellis, 31, froze her feet in these Converse-type shoes but proves you don't need to pay big for both warmth and practicality. She wore a unicorn onesie, layered up with a contrasting bright red coat and dark hat.
She said: "The onesie is from Tesco of all places. The coat is originally Planet but was a charity shop bargain, only £5."
Five-year-old Kodi doesn't lose creativity when the snow keeps him indoors. Dressed up as Spiderman, he coordinates heritage and colour with a Welsh scarf and Avengers Assemble hat. All that costume padding will certainly keep him warm, but Katrina Hill, Kodi's mum, said she would never let him outside like that.
But Kodi's sister, Temperence, nine, managed to sneak out into the garden sporting the same scarf and Mini Mouse onesie.
And there's no rest for the wicked. Masters student Olivia Williams, 22, studied hard in one of few rooms open in Cardiff Student's Union. Not letting the cold get the best of her, this Scouser wore a mash-up of winter and summer. Her flowing, green skirt was a bold move for the snow but, combined with a classic black puffer jacket, Olivia stayed warm and enjoyed Cardiff's picturesque scenery from a balcony.
What are your best snow outfits? Send in your pictures! @Cardiffian_News on Twitter and click here The Cardiffian on Facebook.
See Cardiff's pet outfits here.